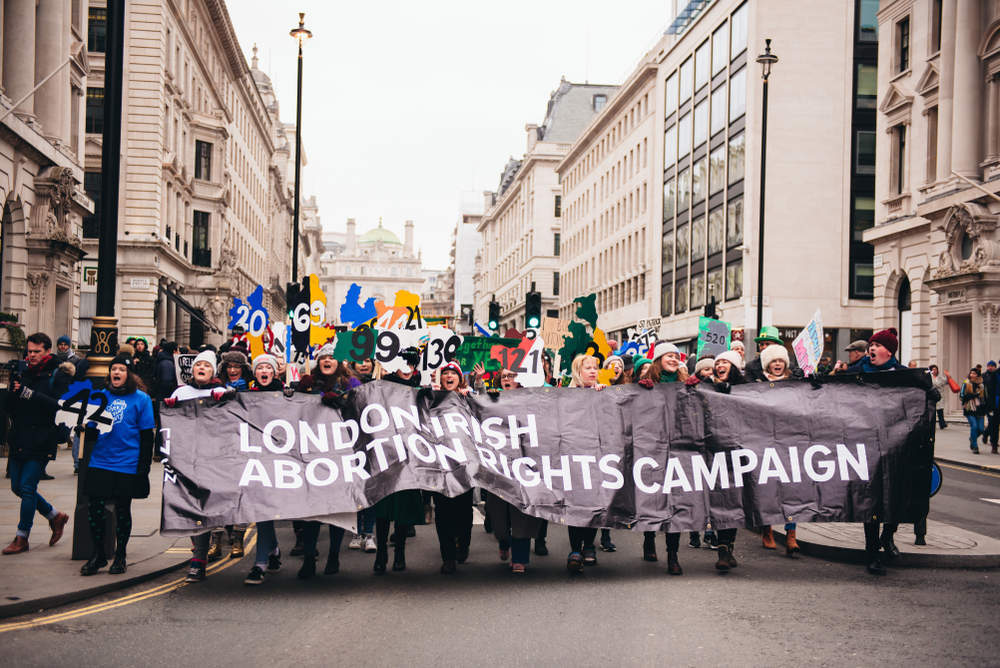 It has been 50 years since the UK Abortion Act became law in 1967 — but in some quarters the issue is far from settled.
Last week protests were held outside the UK's High Court after a London council became the first in the country to ban anti-abortion campaigners from protesting outside a clinic.
Ealing councillors voted unanimously to approve a so-called safe zone to shield women from demonstrators at a centre run by the charity Marie Stopes.
Marie Stopes — an international charity that provides abortions — argues the ban prevents women seeking abortions from being harassed, pro-life organisation Be Here For Me said it "criminalises charitable activity".
A Be Here For Me spokesperson said:
It's important for the ban to be revoked so that women who don't want an abortion (despite being at the abortion centre) don't feel forced into one.

More than 500 women have accepted our help over the past five years and they themselves say that without the vigil they would have had no choice but an unwanted abortion.
Marie Stopes UK managing director Richard Bentley said:
This was never about protest it was about small groups of strangers choosing to gather by our entrance gates where they could harass and intimidate women and try to prevent them from accessing healthcare to which they are legally entitled. Ealing Council has sent a clear message that this kind of behaviour should not be tolerated, and that these groups have no justification for trying to involve themselves in one of the most personal decisions a woman can make for herself.

We know other councils have been watching this process and some are exploring similar measures to increase protection outside clinics in their areas. Ultimately, we believe every woman in the UK should be able to access abortion services without harassment and we hope this decision marks the beginning of the end of the harassment these groups undertake nationwide.
What does the Abortion Act 1967 say?
The Act states that a woman cannot be found guilty of an offence relating to terminating her pregnancy if two medical practitioners form the opinion of the following:
The pregnancy hasn't exceeded 24 weeks

Continuance of the pregnancy would involve a risk of injury or grave permanent injury to the physical and/or mental health of the pregnant woman

Continuance of the pregnancy would involve risk to the life of the pregnant woman

Continuance of the pregnancy would involve a substantial risk that if the child was born, it would suffer from physical or mental abnormalities as to be seriously disabled
Prior to this, thousands of women had to seek alternative methods in order to terminate unwanted pregnancies and this is still currently the case for women in Northern Ireland.
Timeline of events
Abortion in Northern Ireland
In Northern Ireland, women are only allowed to terminate their pregnancy if it is a threat to their lives, which includes medical emergencies or suicide risks. In 1983, the Eighth Amendment of the Constitution of Ireland recognised the right to life of the foetus.
Since then, two referendums were held in 1992 granting the pregnant woman rights to travel for services abroad and on 25 May, a referendum will be held for the people of Ireland to vote to repeal (or not repeal) the eighth amendment.
According to the UK Department of Health's abortion statistics, around 168,703 women and girls accessed UK abortion services between 1980 and 2016. This number doesn't reflect the number of women who didn't provide Irish addresses.
Marie Stopes UK spokesperson said:
In the past 50 years, many women in this country have benefited from access to safe abortion thanks to the 1967 Act. However, while it legalised abortion, the Act did not decriminalise it, merely introducing a very narrow set of exemptions from the criminal law.

We strongly believe that Northern Irish women are entitled to the same NHS services as any other UK taxpayer. Ideally these services would be provided in Northern Ireland itself, but until that happens, it is an important step forward that charges have been dropped.
Abortion laws worldwide face similar difficulties, as abortion is illegal in nearly 70 countries and restricted in around 74.
Restrictive abortion laws have been found not to decrease the number of abortions that take place, however.
England and Wales statistics show that the abortion rate in 2016 (16.00 per 1,000 residents aged 15 to 44) was more than triple the rate in 1969, which was 5.1.