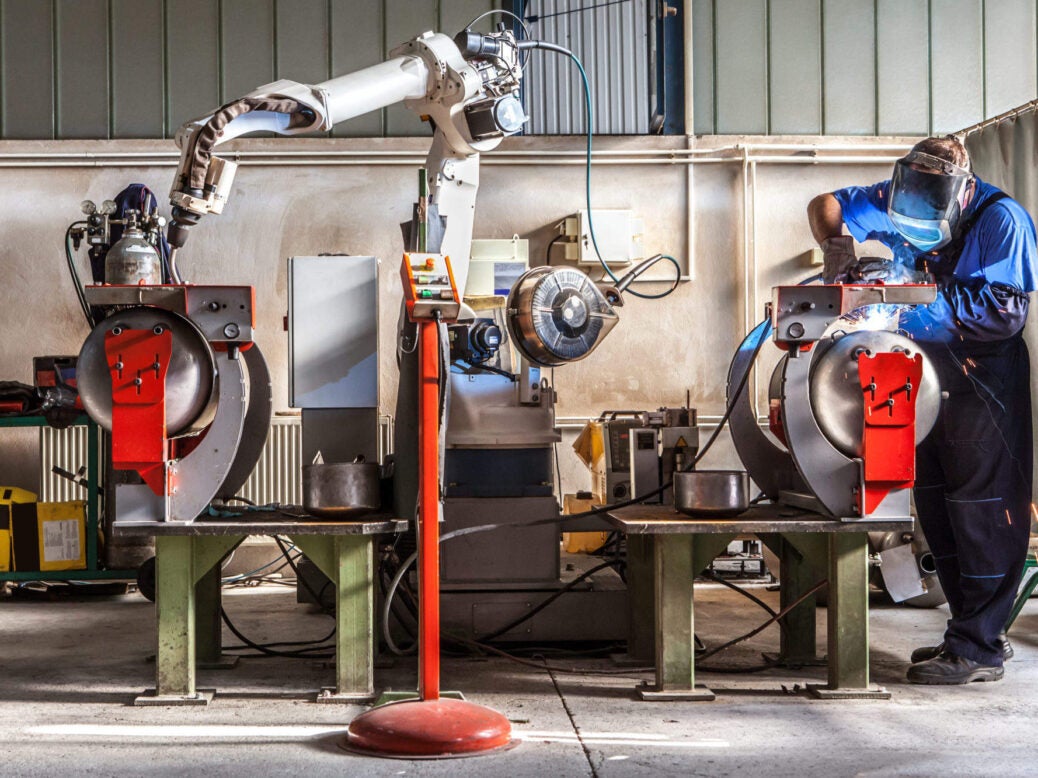 Predictions about the impact of artificial intelligence (AI) on the future of work have ranged from widespread job displacement to booming job creation. However, a new report, commissioned by the British Academy and Royal Society, has reached a more measured conclusion.
Reviewing evidence from over 160 papers by economists, historians, sociologists, data scientists, and law and management specialists, it instead found it most likely that "AI will have a considerable disruptive effect on work, with some jobs being lost, others being created, and others changing."
Despite technological advances, the report said that politics, economics and culture are still important factors shaping the workforce. That being said, making the most of AI in the workforce can be incredibly valuable for organisations and correct planning for an AI future will give businesses and employees the edge.
Professor Alan Wilson, a steering group member for the report, said that the aim of the research was to "bring evidence back into the debate and stimulate ideas on how we can ensure we all benefit from an AI-enabled future."
The report, called The impact of artificial intelligence on work: an evidence synthesis on implications for individuals, communities, and societies, suggested four areas that policymakers should focus on to maximise the benefits of AI in the workforce.
1. Education to be a digital citizen
The report suggests that education can both drive AI adoption and combat inequality. The recommendations are comprehensive. It proposes teaching key AI concepts, such as statistics and coding, from the age of seven.
There have been some steps in the right direction. In 2014, the UK government added coding into the national curriculum, a useful but not compulsory skill for developing AI programmes. However, the government will need to address this skills gap, with two-thirds of teachers saying they cannot effectively teach coding in a YouGov poll.
Education should continue with access to a broad curriculum right up until students finish college. These include mathematics, physics, computing and creative arts. All of these should be developing skills such as communication, research and independent thinking.
At a higher education level, the report suggests investing in research funding to increase the number of AI specialists.
AI education should extend beyond academic institutions, too. Groups that have become displaced by AI and automation should be offered retraining and given opportunities to switch to new careers.
2. Maintain an environment of good work
As AI changes the structure of work, policymakers should consider measures to both utilise AI's benefits and minimise its adverse effects.
One suggestion is the introduction – or at least to review trials – of a universal basic income. The idea has long been floated as a possible solution to the displacement predicted to be caused by AI.
A previous report by the Royal Society suggested a universal basic income of £10,000 per year to every citizen under the age of 55. In this case, the initiative would be funded by imposing new taxes on tech firms, and provide citizens with a social safety net or funds for retraining.
Other measures should address concerns over working conditions. This includes wages, job security and work life balance. Policymakers should ensure that any data-driven solutions are free from bias, which could be tackled by ensuring diversity in those managing solutions.
3. Share growth across communities and businesses
Smaller businesses tend to have limited data, resources and data science talent. In an AI dominated future, this will give larger companies a larger edge.
The report suggests introducing measures to share the benefits of AI across communities. This could be in the form of advice and support on AI technologies. It gives the example of Local Enterprise Partnerships and Growth Hubs.
Growth should also be shared at a local level, with support for business-university collaborations and talent sharing in AI.
"History has shown us the potential for AI to widen inequality, at least in the short term, if some workers are disproportionately affected and the benefits are not widely distributed," said Wilson.
"However, there is much we can do now to ensure the advantages of AI are shared equally among the population, and that technology is used to boost productivity and growth. Adopting a broad post-16 curriculum which incorporates maths, science, humanities and social sciences, would go a long way in building resilience to future change."
4. Invest in research and development
Some have referred to AI as the new space race. This time, it's China going toe to toe with the United States. In 2017, China laid out ambitious plans to become the world leader in AI by 2030. According to some, it is already there.
In Europe, countries such as France and the UK are making investments to ensure they don't get left behind. In April this year, for example, the UK government announced it had put together an AI deal worth more than £1bn to go towards research and grants.
The report says that more investment will help secure technological advances while ensuring that there is a greater understanding of AI in the workforce.
"We are not powerless to address the magnitude of the change ahead," said Wilson. "The future of work is in our hands."