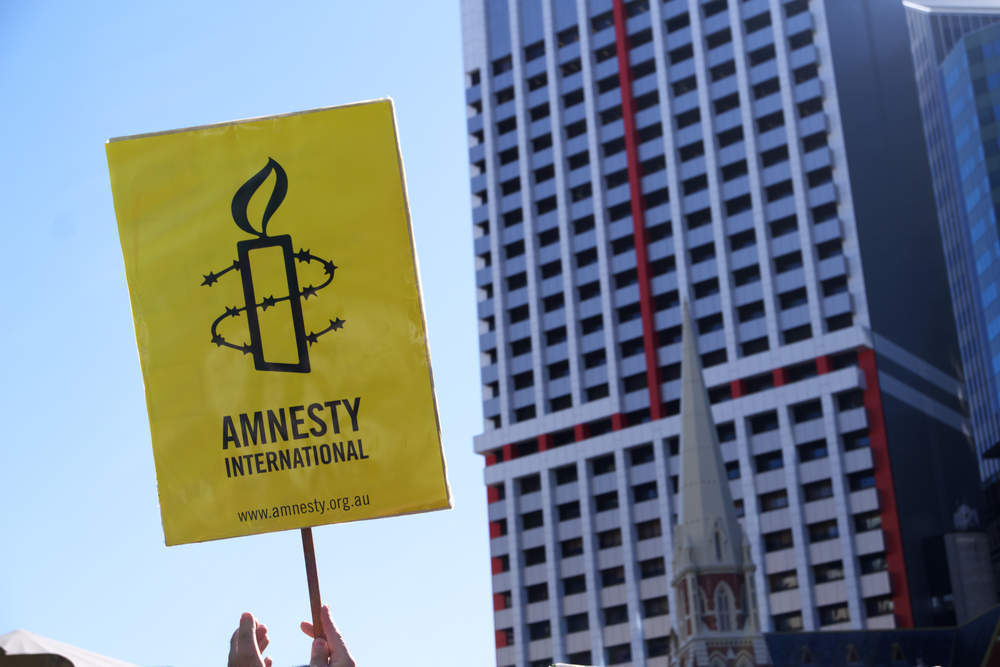 Amnesty International has found that discrimination against marginalised groups is becoming more normalised in its annual report on the state of the world's human rights, out today.
World leaders have abandoned human rights, especially migrants and refugees who are often vilified, the group said.
Rodrigo Duerte of the Philippines, Nicolás Maduro of Venezuela, Vladimir Putin of Russia, Donald Trump of the US and Xi Jinping of China were picked out as some of the worst culprits by the charity.
The report said successive elections have caused a "spectre of hatred and fear" among citizens with repression of citizens' rights of protest and expression occurring around the world.
Turkey, Egypt and China were the biggest jailers of journalists in 2017.
Public spaces are becoming areas of contestation and polarisation between human rights groups and xenophobic demonstrators.
The 2017/8 report also found that millions worldwide are facing precarious access to basic goods and services, including food, housing and healthcare.
The report focused on some cases of particularly grave violations of human rights.
Despite the peace agreement between the Colombian government and the Revolutionary Armed Forces of Colombia (FARC) last year, armed conflict is a daily reality for thousands of Colombians.
This is primarily because other armed groups and narcotics cartels continue to operate in the country. Civilians are the main victims of the violence.
The UN-backed interim government of National Accord in Libya has been unable to assert control leaving to a political vacuum which has had disastrous effects on Libyans and migrants attempting to cross into Europe, the report says.
It also notes that Australia confined those seeking asylum in the country by holding them in prison-like processing centres in Papua New Guinea and Nauru. Incarceration of indigenous people continues.
Although Robert Mugabe was removed as President in Zimbabwe in 2017, repression of dissidence continues and many social rights to food and healthcare are not guaranteed by the government – the report states.
However, in its 2017/8 report, Amnesty paid tribute to those who are fighting for change, both first-time and experienced activists, and the successes they have achieved.
Notable examples include Chile lifting its abortion ban, victory against forced eviction in Abuja Nigeria, the #MeToo movement and Women's Marches in the US.
What was said:
Amnesty International secretary-general Salil Shetty said:
"Last year our world was immersed in crises, with prominent leaders offering us a nightmarish vision of a society blinded by hatred and fear. This emboldened those who promote bigotry, but it inspired far more people to campaign for a more hopeful future."
Talking about the normalisation of discrimination and hatred in civil society, he continued:
"We saw the ultimate consequence of a society encouraged to hate, scapegoat and fear minorities laid bare in the horrific military campaign of ethnic cleansing against the Rohingya people in Myanmar."
Shetty commented on global growing social inequality, saying:
Across the world people are being forced to live an intolerable existence because they are being denied access to adequate food, clean water, health care and basic shelter.

If you take away these human rights, you breed despair with no limit or end. From Venezuela to Iran, we are witnessing the formidable spread of social discontent.
What this means:
Although the report highlighted many examples of repression and violations of human rights across the world, it also discussed the positive response of individuals and human rights groups.
The 2017/8 report is much more optimistic in this respect than two previous reports.
Secretary-general Salil Shetty noted in the 2015/6 report:
"Not only are our rights under threat, so are the laws and the system that protect them. More than 70 years of hard work and human progress lies at risk."
The conclusion of the 2016/7 research was that more needed to be done by civil society to act to protect human rights since governments cannot be relied upon to protect human rights.
Shetty's conclusion in the 2017/8 report said:
We are witnessing history in the making as people rise up and demand justice in greater numbers. If leaders fail to discern what is driving their people to protest, then this ultimately will be their own undoing.

People have made it abundantly clear that they want human rights: the onus now is on governments to show that they are listening.
Background:
Amnesty International is a global movement for human rights. It was founded in 1961 by a British lawyer who sought to gain amnesty for two Portuguese students jailed for raising a
toast to freedom.
Amnesty has transformed from purely seeking the release of political prisoners to working on a range of projects centred on speaking out for those whose freedom and dignity is under threat.
Its annual reports cover 159 countries making them the most comprehensive analysis of the global human rights situations.