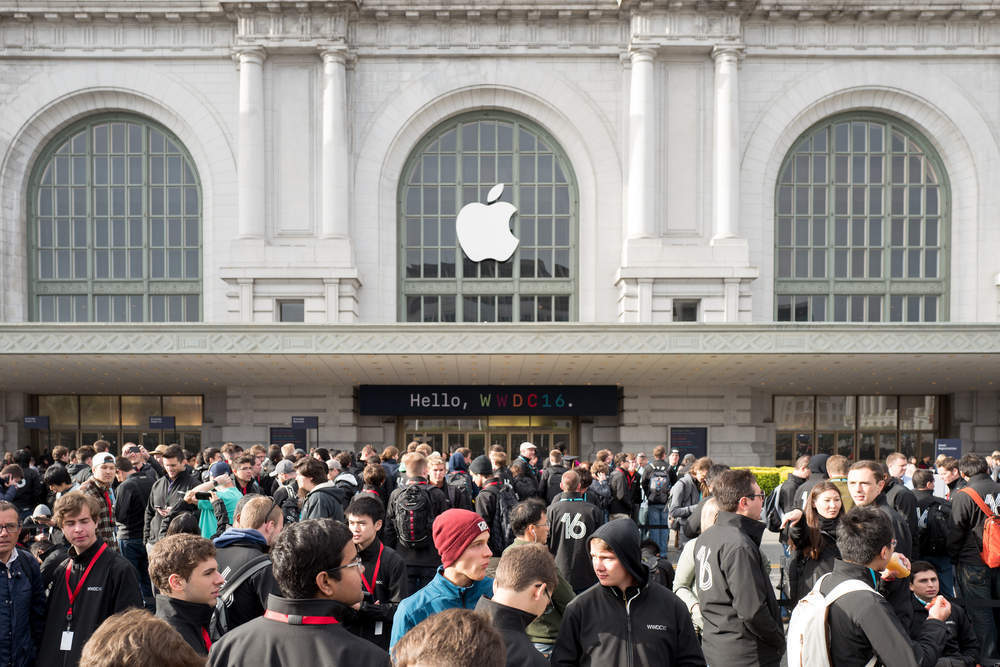 As one of the biggest events in the technology industry, plenty of people will be heading to the Apple Worldwide Developers Conference 2018 in San Jose.
Unlike Apple's other major conference, this one focuses on software. That means we'll probably get a look at updates for iOS and MacOS, along with tvOS and watchOS. Don't expect to see any new iPhones being launched at Apple WWDC 2018, basically.
All the details about the Apple WWDC 2018:
Where is it?
San Jose McEnery Convention Center, 150 W San Carlos St, San Jose, CA 95113, US.
When is it?
Events associated with the conference take place in various locations around the centre between 4-8 June.
Is there an Apple WWDC 2018 livestream?
Yes, there is. You can watch Apple's keynote address here on 4 June 2018. It starts at 10am Pacific Standard Time.
What will be revealed at Apple WWDC 2018?
Industry gossip is every bit as rife as you'd expect.
So far, the major rumours around the conference involve the following reveals:
The launch of iOS 12 and macOS 10.14
New software features designed to help users spend less time on their phones. This could also include new parental control options.
New work-out features for Apple Watch
A new version of Apple's Swift programming language
A serious focus on helping app developers use AR
A big push to play up Apple's credentials around cybersecurity and privacy in the wake of the Cambridge Analytica scandal
Several rumours also point to new product reveals. The likely contenders are a new version of the MacBook Pro or a budget MacBook Air. We could also see more details about the AirPower wireless charging pad. Least likely but mooted by Wired is a new range of child-friendly iPhone SE phones. Still, as the conference is mainly for developers don't expect too many if any product reveals
Where to stay in San Jose
There are plenty of great hotels in San Jose, here are a few of the best.
https://www.instagram.com/p/Bjavi5dhl4T/?tagged=hoteldeanza
A luxury boutique hotel, this one will be a real favourite for those who seek somewhere to stay that's just off the grid but still very much nearby to the action. A ten-minute walk from the San Jose McEnery Convention Center, this hotel is located in the heart of San Jose, right next to plenty of the best bars and restaurants in town.
Rooms range from basic-but-nice to straight-up luxury. There are also plenty of amenities including hotel-wide high-speed internet access and phone calls throughout the United States, plus rooms come with desks, perfect for tech journalists who are covering the conference.
https://www.instagram.com/p/BUiV6F3BEdu/?taken-by=hotelclariana
Another boutique option, the Hotel Clariana is right in the centre of downtown San Jose. It's just next to the local university so there's definitely a youthful vibe in the area and plenty of hipster options for drinking and dining nearby. The bedrooms are decidedly basic but with vast bathrooms which could fit several horses inside, you won't mind. Plus the price definitely reflects the sparse nature of the rooms.
Just five blocks away from the Hotel Clariana is The Tech Musuem of Innovation. Well worth a look for any tech enthusiasts heading for the conference.
https://www.instagram.com/p/BjV2NMAACaP/?taken-at=1059798
While it is quite a lot further from the conference, the Dolce Hayes Mansion will be perfect for those visitors to San Jose looking for luxury. And even with its distance, the hotel is just a 20 minute cab journey from the conference centre.
Where this hotel shines is its unabashed sense of glamour. There's a pool, a spa, and a huge fitness centre. Rooms are massive with large soft beds covered in luxury linens. Suites are tastefully decorated and come with kitchenettes, perfect if you get back to the hotel late and want to make yourself something to eat.
Where to eat in San Jose
https://www.instagram.com/p/Bi7cX6ohm0P/?taken-by=manresarestaurant
The only three-Michelin starred restaurant in San Jose, if you want to spot Tim Cook out for dinner with his business associates, this is your best bet. Manresa is on the outskirts of San Jose so it's out of the hustle and bustle, just what you'll need after a busy day surrounded by the crowds at the Apple conference. The cuisine is classic American, but made with a care and attention you're unlikely to find elsewhere. Manresa is noted for its chefs' use of the best quality ingredients out there. It might be a pricey place to eat, but there's no denying that a dinner in Manresa is a true once-in-a-lifetime experience.
https://www.instagram.com/p/Bh0Rua8g_Rd/?taken-at=756897280
Basic yet delicious, The Grill On The Alley is a must-visit for fans of a classic Californian steak. Guests will find top-quality food cooked to perfection in this upmarket chain restaurant. For those developers heading to the conference to curry favour with tech giants, this might be the ideal location for a business meeting. The food is guaranteed to be universally adored thanks to its unfussy, pretense-free serving.
https://www.instagram.com/p/Bi7x36ylMdY/?taken-at=250379895
Being so close to the border with Mexico, a trip to San Jose without enjoying some Latin fare would be a waste. Fogo de Chao Brazilian Steakhouse can provide that option, just a short taxi journey away from Apple's conference. There's a huge variety of meat dishes on offer from steak cooked in the traditional Brazilian style to the world-famous Chilean sea bass. Every visitor is sure to find something just right for them at this classy yet unpretentious restaurant.
Where to drink in San Jose
https://www.instagram.com/p/BiWDbksBPH3/?taken-at=2747257
If you're looking for a chilled out spot to enjoy a few glasses of locally made Californian wine, this is your best bet. Relaxed, friendly, and not too far from the conference centre, Vintage Wine Bar is the perfect way to end the day and think about all the developments of the day. With a charming interior and an open patio outside, you can soak up the San Jose sun or casually chat to friends inside.
https://www.instagram.com/p/BhrwtY9lzs9/?taken-at=246759771
For all the cocktail lovers out there, Paper Plane is the place you want. Like Vintage Wine Bar it has a relaxed and friendly atmosphere, but there is an even greater variety of drinks on offer as the bartenders know all the latest and greatest cocktails. After listening to all the up-to-the-minute tech news at Apple's conference, it surely follows that you should treat yourself with the latest developments from the world of mixology too, right? Happily, it is right next to the conference centre. No doubt it'll be packed with trendy tech experts to network with too.
https://www.instagram.com/p/BhzTNQnhZwQ/?taken-by=goodkarmasj
As you might expert from a city so filled with tech start-ups, there's a bar for all the hipsters out there. Good Karma Artisan Ales & Café does exactly what you'd expect. It offers artisan ales and the most carefully thought-about brews in the city. Almost every type of beer and ale can be found in the café and plenty of varieties you'd never even thought of before.