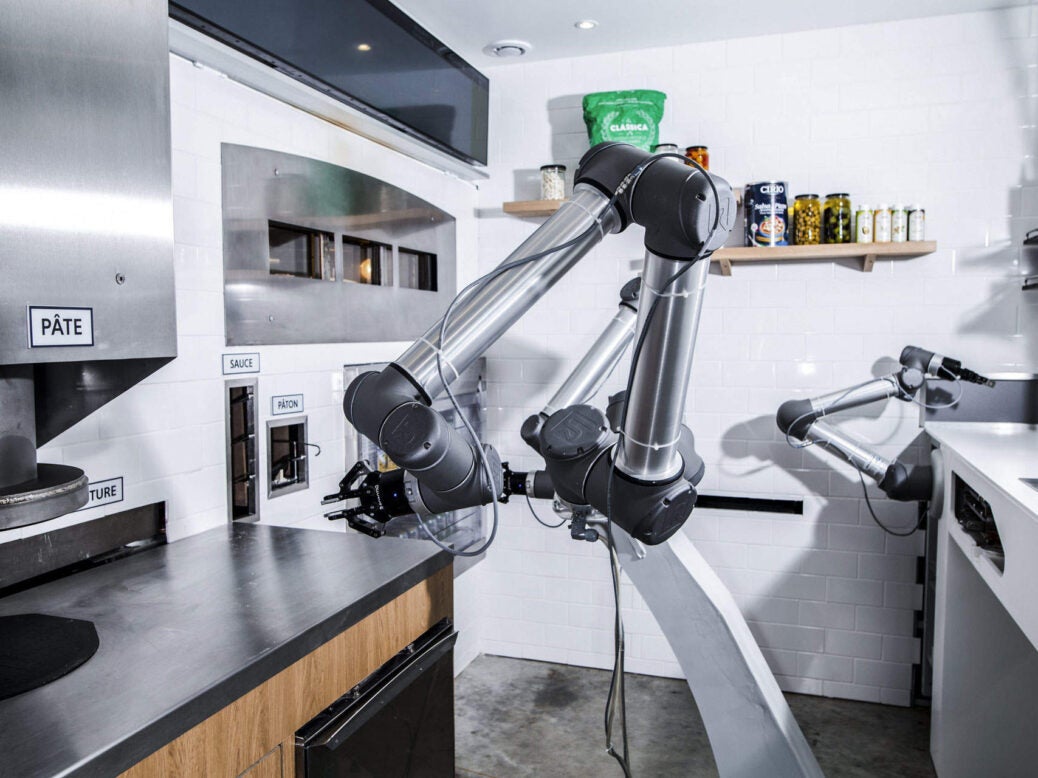 A pizza-making robot that can make up to 10 pizzas at a time has been developed with assistance from a world-champion pizza chef. The pizza robot is entirely autonomous and can safely operate in public places.
Designed by French startup EKIM for Universal Robotics, the pizza robot is equipped with a host of parts from the robotics manufacturer, including three arms. These can all be operated at once, allowing the robot to cut and flatten the dough with one hand, select and place ingredients with a second and bake, cut and package the pizzas with a third.
The arms sit on a counter fitted with a professional-grade oven, giving the robot the appearance of an autonomous kitchen.
Dubbed PAZZI, it was developed with the assistance of three-time world pizza champion Thierry Graffagnino, and is designed to mimic the movements of professional pizza-makers, known as pizzaiolos. The pizza robot can make pizzas from almost five million recipe combinations.
Pizza robot brings 100% autonomy to food
The pizza robot is designed to operate with complete autonomy, allowing customers to place custom orders with the robot, which will then, prepare their pizza, bake it and then cut and box it.
Significantly, it can also operate safely in areas with large numbers of people. This is often a significant challenge, and one of the biggest barriers to collaborative robots.
As this has been overcome, the pizza robot can now be deployed as a high-quality fast food option in busy spaces, including railway stations, airports, shopping centres or campuses.
"The main difficulty experienced, during the design of this culinary spectacle, was the harsh conditions to which the robots were exposed in such a restricted environment. Our robots have risen to the challenge and worked perfectly under these very unique conditions," said Jacob Pascual-Pape, Regional Sales Director for EMEA at Universal Robots.