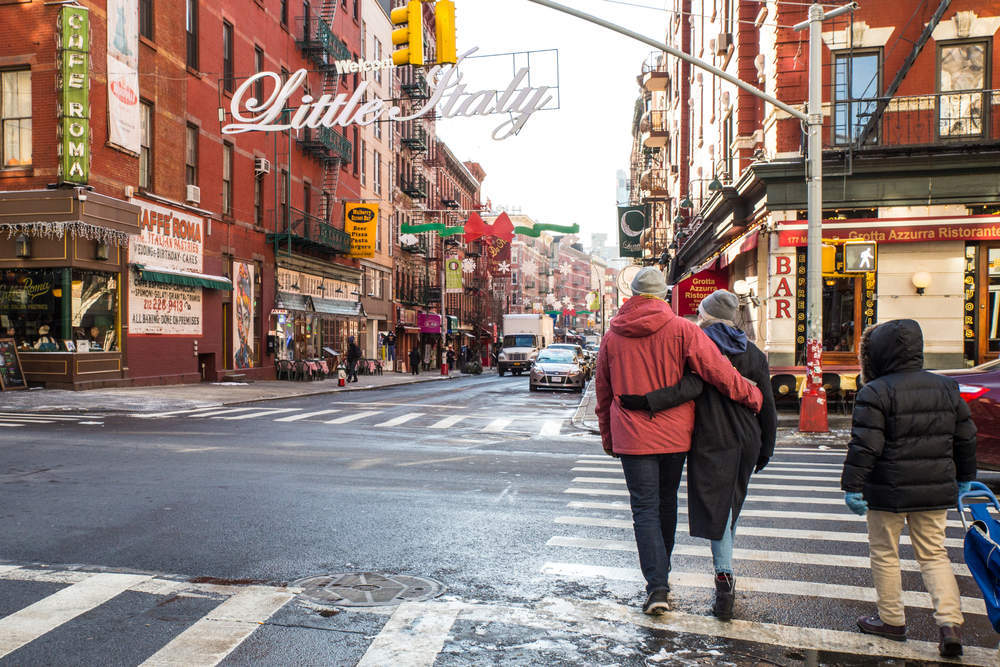 From 28th August to the 10th September, New York City will be even busier than usual. That's because the US Open Tennis Championships is descending on the city.
Of course, with so many tennis fans, reporters, and players heading to NYC there's no doubt that the city will be absolutely heaving. More so than usual, that is. If you want to eat out during the period of the Open, you'll need to be prepared. With that in mind, we've put together this list of some of the finest dining establishments in the Big Apple.
We've tried to include something for every budget so whether you've won the grand slam or you're just a ball boy, you'll find something good to eat!
Ellen's Stardust Diner:
You can't go to New York and not see a Broadway show! On the other hand, if you're there for tennis, you might not have time. What a conundrum. Well, Ellen's Stardust Diner is the perfect crossover. At New York's most famous eatery, the waiters and waitresses sing and even dance on the tables. The diner was originally created to provide incoming to jobbing actors and actresses while they sought stardom on Broadway. To this day, it's still the same. The food is very basic and the place could use a lick of paint, but it's a fun bit of razzmatazz every time!
https://www.instagram.com/p/BXv95T7DNgu/?hl=en&taken-by=ellensstardust
Black Tap NYC:
If you want to Instagram pictures of your food, Black Tap is the place to go. Burgers ooze with molten cheese, fries crackle with all-American zeal, and the milkshakes are bigger than your head! The place is a serious hipster hang-out and you should definitely take a trip, if only to take photos of the food.
https://www.instagram.com/p/BXjC21XAMMH/?hl=en&taken-by=blacktapnyc
burger joint:
New York's worst kept secret hides inside Le Parker Meridien, an upmarket hotel in the middle of Manhatten. Behind a long scarlet curtain you'll find a dark, dank corridor illuminated at one end with a glowing neon sign depicting a burger. Wander down there and you'll find yourself at the heart of burger joint (all lower case, of course). The walls are covered in graffiti, there's only about three tables, and it's boiling hot. However, no matter how far you go, you won't find a better burger in all of New York City. It's grimy, it's grungey, and it's totally delightful.
https://www.instagram.com/p/crK8lVlhrK/?hl=en&taken-by=burger_joint
The Odeon:
Just off the One World Trade centre lies the Odeon. It's famous for it's original owner Keith McNally. It was McNally who first brought French bistros to the Big Apple. It's red banquette seating, fancily-clad waiters, and traditional neon sign are all windows to its past. McNally no longer owns this restaurant (his ex-wife is in charge now) but it's still a cool glimpse into New York's past. Plus, the Odeon is a well-known celebrity haunt so you might be able to spot a star or two there!
https://www.instagram.com/p/BXbXW2ShyVn/?hl=en&taken-by=theodeonnyc
Le Coucou:
In contrast to the above, Le Coucou is firmly a French restaurant in America, rather than a fusion of the two cultures. It's excessively luxurious and incredibly sumptuous, but if you've got money to burn you could do far worse! It's considered one of the most exciting restaurants in New York, so we'd definitely recommend taking a trip.
https://www.instagram.com/p/BVaXz6EFc5b/?hl=en&taken-by=lecoucou_nyc
The Modern:
Located in the Museum of Modern Art, the Modern is actually owned by the same restauranteur who made millions with the Shake Shack chain of fast food restaurants. What you'll find here is decidedly more upmarket. With two Michelin stars, you can expect a reasonably pricey menu. Still, the food is apparently excellent, so it's definitely worth a look!
https://www.instagram.com/p/BXyTizHhkrx/?hl=en&taken-by=themodernnyc
Per Se:
While we mentioned the Modern didn't have the most incredible value on offer, Per Se is even more expensive. Still, if you want opulence and delicious food, you won't find anything better in all of New York City. The table service is almost of obsessive in its attention to detail. If you're lucky enough to dine their often, they keep a database of all the foods you like and dislike. Well, it's the least you can expect from a three-Michelin starred restaurant, isn't it?
https://www.instagram.com/p/BSSAgvCjQtd/?hl=en&taken-by=perseny
Daniel:
The flagship of a chain of restaurants, Daniel is the original and the best. It's also reasonably fancy (though the previous two make it looks cheap as chips.) As an example of how good it is, the bread that you eat before the main meal arrives is baked on-site in their in-house bakery. The standard of cooking is said to be extremely high and the restaurant's service is also particularly efficient, despite the huge dining hall. Daniel Boulud, the man who gave Daniel it's name, was described by Andy Hayler as 'the most talented chef [he had] encountered in America'. The standards are still living up to the original chef too, apparently!
https://www.instagram.com/p/BYL6vQWlI2-/?hl=en&taken-at=218348733
Gramercy Tavern:
If you're getting sick of all the seriously expensive, fancy restaurant we've been listing then come this way. The Gramercy Tavern is famous for eschewing pretension to focus on tasty food at affordable prices. 'Here you get honest to goodness American cooking, using excellent ingredients and sensible flavour combinations. The char-grill features heavily, and you can even get an excellent hamburger', according to Andy Hayler.
https://www.instagram.com/p/BYHYhYLAdLQ/?hl=en&taken-at=1023088
Nobu New York:
The flagship restaurant of Robert Di Niro and his partner in restaurant ownership, Nobuyuki "Nobu" Matsuhisa. Of course, Nobu are available around the world now, offering Japanese-Peruvian fusion cuisine. They're reasonably pricey, but you know you're going to get something delicious. Plus, if you ever fancied running into Robert Di Niro himself, you probably stand your best chance here!
https://www.instagram.com/p/BYMJMonHBwF/?hl=en&taken-at=317433405
The thing with New York though, is that there's so much on offer and so much competition, that you can't go too far wrong wherever you go!