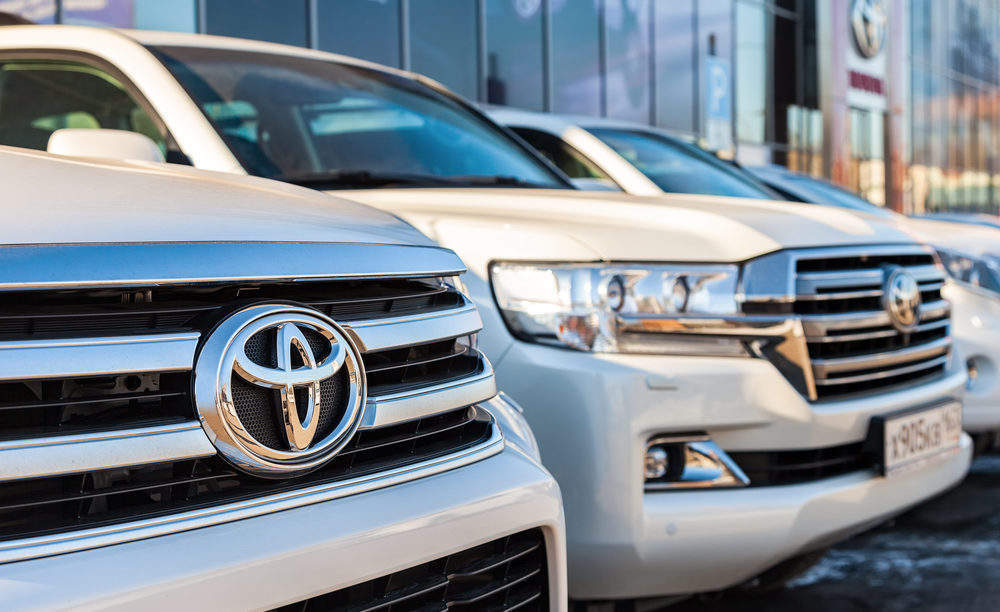 Ferrari, Aston Martin, and Tesla might be the car brands that people want, but they aren't often the ones that people get. According to the International Organization of Motor Vehicle Manufacturers (OICA), a group consisting of 39 of the world's leading automobile manufacturing countries, Toyota is the biggest car company in the world.
OICA's 2016 World Motor Vehicle Production survey, the most complete list that we were able to find, shows that the Japanese manufacturer produced 10.2 million vehicles throughout the year in question.
Volkswagen kept up the pace with Toyota, producing 10.1 million vehicles in the same period. This is despite the car company being embroiled in the 'diesel dupe' emissions scandal.
Volkswagen was accused of fitting devices to new vehicles that could sense when it was undergoing testing. When detected, the device would put the vehicle into a low-emissions mode that limited power and performance. This allowed Volkswagen to allegedly report lower emissions despite its vehicles producing larger than allowed amounts of pollutants when on the road.
In spite of governments issuing hefty fines against the company, the Volkswagen scandal hasn't put consumers off.
Toyota and Volkswagen swap places often. In fact, the latter currently leads in both revenue and cars sold according to their latest annual reports. Volkswagen sold 10.7 million cars in 2017, which generated total revenues of $284.6 billion. Toyota sold nine million vehicles, bringing in $256.5 billion.
Hyundai (7.9 million), General Motors (7.8 million) and Ford (6.4 million) made up the top five for vehicles produced. However, Daimler AG – the company behind the Mercedes-Benz brand – was third for revenue, having made $202.3 billion in 2017.
Biggest car manufacturers by region
Toyota and Volkswagen come out top for global car sales and production, but which car manufacturers dominate in individual regions?
In order to find out, Verdict scanned the annual report of each manufacturer that produced more than one million cars in 2016 to see how each company performs in the three big regions of North America, Europe, Asia and rest of world.
This data has been taken from the last annual report (either 2016 or 2017) published by each company. We have tried our best to ensure that these figures are accurate. However, as each company tends to report figures slightly differently, these numbers should still be taken with a pinch of salt.
North America
Toyota tops Volkswagen in North America, with total vehicle sales of 2.9 million, compared to Volkswagen's one million in 2017.
However, the Japanese manufacturer isn't the continent's biggest car manufacturer. This title was claimed by Ford in 2017, likely because of the United States' love of pickup trucks. According to reports, 6,500 pickup trucks are sold in the US every day and the Ford F-Series has been a bestseller for more than a decade.
The American carmaker sold 6.6 million vehicles last year, with three million of these purchased by consumers in North America. This is compared with Toyota's sales of 2.9 million. Fiat makes up the top three, selling 2.4 million cars in the region.
Despite being part of the United States' 'Big Three' alongside Ford and Fiat, General Motors only sold one million cars last year, making it the seventh biggest supplier in North America.
Europe
While Volkswagen falls short in North America, it makes up for it in Europe. The German carmaker sold 3.8 million cars across the continent in 2017, which was 1.4 million more than the second best performing manufacturer.
With a catalogue of brands containing luxury names of the likes of Audi, Bugatti, and Lamborghini, as well as economy brands such as Skoda and Volkswagen, the group is well-positioned in all areas of the car market.
Groupe PSA, otherwise known as Peugeot Citroen, trails Volkswagen. Despite having few customers outside of Europe (1.2 million), Peugeot recorded 2.4 million European car sales last year.
However, rather than going for Volkswagen's crown, the company is targeting growth in China, Latin America, and Russia in 2018.
French company Renault is Europe's third bigger car provider, having sold 1.9 million cars in 2017.
Asia
Asia actually provides Volkswagen with more customers than Europe, with the German company having sent 4.5 million cars to Asia in 2017. Customers in China, eager to get their hands on Volkswagen's range of economical passenger cars, were responsible for 4.2 million of recorded sales.
Toyota also posted strong sales in Asia, selling 3.9 million vehicles. The company made 25% of these sales in Japan.
The third biggest car supplier in Asia is a company that many people outside of the continent won't have heard of. SAIC Motor, a Chinese state-owned manufacturer, sold 3.2 million cars in Asia last year. In China, where it sells the majority of its MG and Roewe cars, it holds a domestic market share of 23.2%. However, SAIC makes less than 2% of its sales outside of Asia.
Rest of world
Despite failing to lead in any of the big three markets, Toyota posts strong sales figures around the world.
It leads the rest of world market, with the company recording 1.4 million of sales, in this area on top of the 7.7 million cars sold in North America, Europe, and Asia last year.
Renault isn't far behind, having sold 1.3 million cars in 2017. Fiat makes up the top three, with sales of one million vehicles.
Biggest movers
Asia holds 60% of the world's population, with Europe and North America accounting for less than 15% when combined. China is already the world's biggest car market and is also the fastest growing. Another 24.2 million cars took to Chinese roads in 2017.
Unsurprisingly, it is Chinese manufacturers that are seeing the most growth according to the OICA.
While the company only accounted for a small amount of those sales, Guangzhou Auto Industry (GAI) was the fastest growing car manufacturer in 2016. GAI saw growth of 89.9% year over year, with sales climbing from 199,000 to 385,000. The state-owned company works with Toyota and Honda to provide branded vehicles to the Chinese market.
Another Chinese manufacturer, South East, better known as Soueast, saw the second highest percentage of sales growth. The company is a joint venture between China Motor Corporation, Fujian Motor Industry Group, and Japanese brand Mitsubishi, selling just 70,000 cars in 2016. However, this climbed by 57.1% the following year to 115,000.
The third fastest growing company is also based in China. Hunan Jiangnan saw sales climb by 54.5% from 222,000 to 336,000.
However, Asian companies are also among those to have suffered the biggest decline in sales during the same period.
Chinese manufacturer Brilliance Auto saw sales drop by 17.9%, as did Xiamen King Long, which fell by 11.1%.
The biggest name on the list is Mitsubishi, which saw a sales dip of 9.8% in 2016. The company is the sixth biggest Japanese carmaker and its sales fell from 1.22 million to 1.1 million during this period.
List of car manufacturers