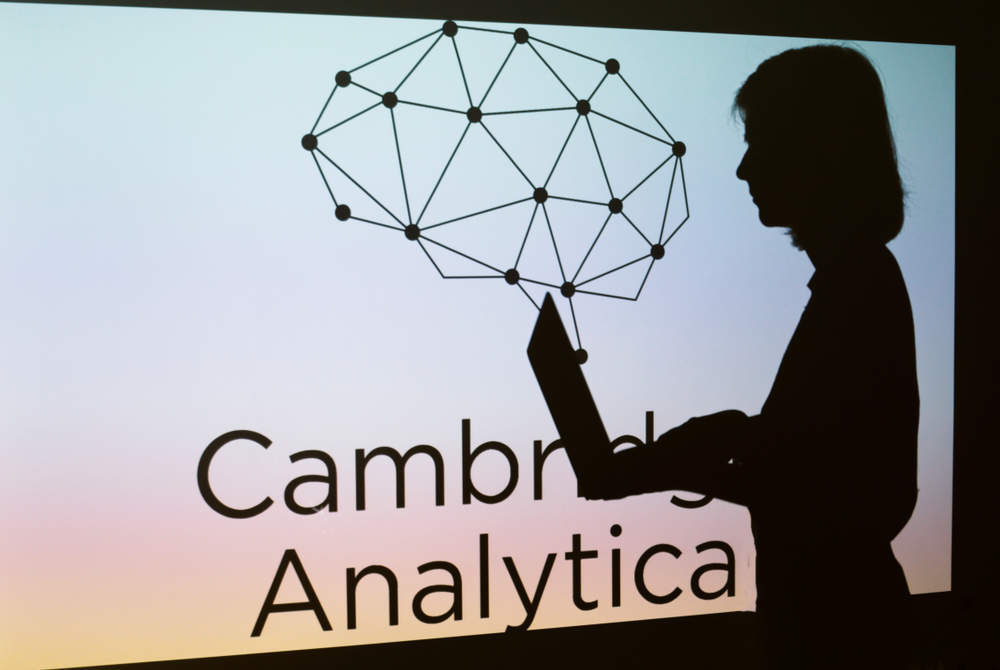 Cambridge Analytica is closing, following weeks of turmoil following its implication in the Facebook data-sharing scandal.
The firm, which bills itself as a political consultancy, announced yesterday that it was shutting down and starting insolvency proceedings.
It blamed the "media siege" for its decision, saying that negative coverage has left it with insurmountable legal fees and no clients.
It has been suggested Cambridge Analytica improperly used the data of up to 87 million Facebook users to influence voters in the 2016 US Presidential Election and the UK's Brexit referendum, as well as other campaigns.
The firm denies that anything it did was illegal, saying in a statement:
"Over the past several months, Cambridge Analytica has been the subject of numerous unfounded accusations and, despite the Company's efforts to correct the record, has been vilified for activities that are not only legal, but also widely accepted as a standard component of online advertising in both the political and commercial arenas."
Despite this, both Cambridge Analytica and its parent company, SCL Elections, will be "immediately ceasing all operations".
What is the reason Cambridge Analytica is closing now?
There is some controversy surrounding why Cambridge Analytica has chosen to close now, rather than at any other point since the data scandal first broke on 17 March.
Some commentators are pointing to evidence given by Chris Vickery, a data security and cyber risk specialist, before UK Parliament yesterday.
Vickery told the select committee for Digital, Culture, Media and Sport (DCMS) that he strongly believed that Cambridge Analytica used psychological insights derived from Facebook data in the Trump campaign.
Vickery's testimony also implicated AggregateIQ (AIQ) in the Brexit vote. AIQ is a Canadian data firm believed to have very close ties with Cambridge Analytica, and there is evidence that it shared an intellectual property licence with SCL Elections.
Vickery found AIQ source code on the internet, which he said was used in the Brexit referendum.
He then said that he found details of these technical tools being used for collaboration between the Brexit campaign groups VoteLeave, Veterans for Britain, Change Britain and the Northern Irish political party the DUP, which has a Confidence and Supply Agreement with the Conservative Party.
Vickery said:
I would conclude beyond a shadow of a doubt that there was some sort of collaboration going on.

With all the evidence that I've seen, I don't think there's any ability for a reasonable rational person to deny that there was some level of collaboration or co-ordination going on between the pro-Brexit campaigns.
Coordination between political campaigns is illegal in the UK.
Damien Collins, chair of the DCMS committee, expressed concern yesterday that the shuttering of Cambridge Analytica and SCL Elections might prevent this situation, as well as their work in general, being properly investigated.
Cambridge Analytica and SCL group cannot be allowed to delete their data history by closing. The investigations into their work are vital

— Damian Collins (@DamianCollins) May 2, 2018
Collins later told the BBC:
We've got to make sure this isn't an attempt to run and hide, that these companies are not closing down to try to avoid them being rigorously investigated over the allegations that are being made against them.
What does Cambridge Analytica leave behind?
Whether or not Cambridge Analytica's closure is an attempt to prevent investigations into the latest round of allegations, it leaves behind a complex series of unanswered questions.
After the data-breach was first aired, the firm announced that it had launched an independent investigation into it's own work. Queen's Counsel Julian Malins, who once represented Lord Archer in his famous libel case against the Daily Star, carried out the investigation.
Yesterday, Cambridge Analytica published this report which claims, in line with the company's own assertions, that none of the allegations are "borne out by the facts".
The firm said that, despite its closure, it will remain committed to helping the UK investigation into Facebook and how it uses its information.
Cambridge Analytica also established a website last week – called cambridgefacts.com – which it says tells the truth "behind the Facebook Story". This site remains active.
What does the future hold?
Despite the public announcement that Cambridge Analytica and SCL Elections were shutting down, it seems that the overarching SCL Group will not be closing.
This has raised speculation that Cambridge Analytica will just spin off its operations to another firm. Sources including, the Financial Times, have pointed to Emerdata, a new company within the group that was set up last year and which lists Robert Mercer's daughters Jennifer and Rebekah on its board.
Robert mercer is an American computer scientist and billionaire who backed the Trump campaign and donated his services to Nigel Farage during the Brexit referendum.
The Information Commissioner's Office (ICO), which has been investigating Cambridge Analytica and raided its offices last month, has stated that it will continue to investigate the firm and its associated companies.
A ICO spokeswoman said:
The ICO has been investigating the SCL Group and Cambridge Analytica as part of a wider investigation into the use of personal data and analytics by political campaigns, social media companies and others.

The ICO will continue its civil and criminal investigations and will seek to pursue individuals and directors as appropriate and necessary even where companies may no longer be operating.
What about Facebook?
Cambridge Analytica's closure is unlikely to get Facebook off the hook in the UK.
While the political consultancy is the one accused of misusing Facebook data for political ends, Facebook has faced a storm of criticism for letting data of its users out of its hands.
Mark Zuckerberg, Facebook's CEO, has given testimony before American lawmakers, but has refused repeated invitations to appear before UK Parliament to discuss the scandal.
Mike Schroepfer, Facebook's CTO, did appear before the DCMS last week, but they were not happy with the evidence he gave. Following Schroepfer's testimony, the DCMS noted that he failed to answer their questions properly.
On Monday, UK Parliament then issued an ultimatum to Facebook saying that either Zuckerberg appears before them voluntarily, or he will face a summons the next time he enters British territory.
Verdict deals analysis methodology
This analysis considers only announced and completed artificial intelligence deals from the GlobalData financial deals database and excludes all terminated and rumoured deals. Country and industry are defined according to the headquarters and dominant industry of the target firm. The term 'acquisition' refers to both completed deals and those in the bidding stage.
GlobalData tracks real-time data concerning all merger and acquisition, private equity/venture capital and asset transaction activity around the world from thousands of company websites and other reliable sources.
More in-depth reports and analysis on all reported deals are available for subscribers to GlobalData's deals database.