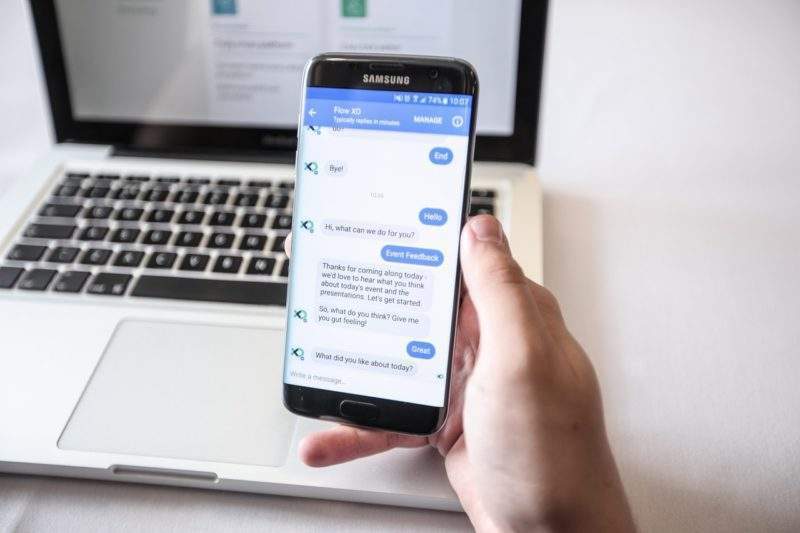 Chatbots in retail are enjoying a surge due to the omnipresence of messaging apps. Retail brands are using these platforms to bridge the gap between online and offline experiences.
By leveraging the ability to build a chatbot on these platforms, brands are engaging with their customers in a more conversational setting. In doing so, they are not only able to deliver more accurate suggestions, but also offer them further opportunities, like exclusive access and previews that feel highly personalised. Which retail brands are using chatbots, and how?
H&M
In early 2016, fashion brand H&M launched a chatbot on Canadian messaging app Kik, which, while less well known internationally than some competitors, is used by 40% of US teenagers. The chatbot allows customers to see, share and purchase products from H&M's catalogue. It offers a taste of a personal stylist service, using photo options and asking questions about shopper's style to create a comprehensive profile of what they look like. Once it creates a style profile, shoppers can use the bot to create their own outfits, vote and browse outfits created by other users, and shop. While the chatbot does a good job at learning about a customer's preferences, they are limitations to the bot, as it currently does not handle misspellings and slang. It is also not advertised on the company's website, making it hard for shoppers to find.
Very.co.uk
Also in 2016, Shop Direct introduced a chatbot within the iOS app for its online retail brand Very.co.uk to add customer service offering. Customers can track orders, receive a reminder of their account number and track payments to their account. The Very Assistant currently uses questions and multiple-choice answers to deal with queries, but Shop Direct is also working on an artificial intelligence (AI) bot that can understand anything a customer writes. Its development shows that chatbots in retail can enhance brands own app offering without using external messaging apps.
Tommy Hilfiger
American apparel and accessories brand Tommy Hilfiger, has released a chatbot on Facebook Messenger. On opening the conversation, the chatbot greets the user, then instantly introduces the consumer to the collection and gives them three options for the conversation: style advice, browsing, or a behind-the-scenes look at the latest fashion show. The chatbot deals with customer queries by not only proposing a list of options to choose from but also demonstrating great language processing abilities. The bot reacts to keywords typed by customers and offers solutions. Customers are presented with an opportunity to browse by either looks or categories, such as accessories or bags.
Sephora
France-headquartered international personal care and beauty stores chain Sephora introduced its chatbot on messenger service Kik. The first time a shopper starts a conversation with the chatbot they are invited to take part in a short quiz that helps the bot learn more about them. Users can then ask for tips or reviews on specific types of product or application. Each of these comes with product recommendations that the customer can shop for without leaving Kik. The experience aims to mimic the way the shopper might chat with their friends about products and advice. Sephora's chatbot is not designed to deal with customer's queries, but instead provides customers with other opportunities like the ability to book a makeover by simply clicking on 'Book a Makeover'.
Burberry
Like many other chatbots in retail, luxury clothing brand Burberry's bot was introduced on Facebook Messenger. By sharing their location, users can be informed where their nearest Burberry store is. The chatbot also introduces customers to the brand's latest collection of bags; by clicking the 'Discover More' option, the chatbot lets users browse the collection, get to know more about the craftsmanship, or find out how to style a bag with Burberry's apparel and accessories. Burberry's chatbot offers pre-made suggestions that guide users through their shopping experience. The chatbot has been evolving since the 2016 launch; in November 2017 Burberry introduced options to explore gifts and pre-order pieces, while in February 2018 it started to invite its Facebook fans to follow Burberry's runway show live.
eBay
In October 2016, e-commerce retailer eBay released its Facebook Messenger chatbot ShopBot. eBay first started using chatbot technology by piloting a simple Facebook Messenger tool that reminds bidders 15 minutes before an auction listing is about to end. After this initial success, eBay expanded the ShopBot, which now understands what users are looking for by processing their text messages and images to find the best match. Since then, the chatbot has been praised for its excellent contextual understanding and machine learning abilities as well as its use of friendly language. Reportedly, ShopBot users are nearly three times more likely to ask questions about specific products than those browsing eBay's inventory.
Whole Foods
US-based healthy food supermarket chain Whole Foods introduced a chatbot to make finding a supermarket easy. Customers can enter a zip code or an address, or simply share their location to get results immediately. The grocer is using the Facebook Messenger chatbot to make finding the ingredients people want easier. Shoppers can use the chatbot to ask for recipes and to find where products are positioned in the store. For those with special dietary restrictions, the chatbot can also consider those and help them find foods and meals that leave a particular ingredient out. Unlike other chatbots in retail, Whole Foods bot aims to improve customers experience in store, not just online.
Lidl
The discount supermarket chain Lidl introduced conversational chatbot Margot on Facebook Messenger that understands natural language and helps shoppers get the best out of its wine range. Margot is more conversational than other chatbots in retail and helps users in various ways; for example, it helps to find wines by country, region, grape, colour and/or price. It also gives users tips on food pairings and tests their knowledge with a quiz. After the chatbot was released, users took to social media to praise how good and accurate the bot is.
Co-operative Group
The Co-operative Group Co-op) launched its pricing estimate chatbot for the UK car insurance industry on Facebook Messenger. The chatbot uses four multiple-choice questions that help it estimate the insurance price within 30 seconds. It then links the user to the Co-operative Insurance website where customers can enter more details and find out the final price estimate, which may differ from the original estimate. Co-op uses the bot to drive customers towards the company's websites and social media sites to increase interaction and traffic.
Verdict deals analysis methodology
This analysis considers only announced and completed cross border deals from the GlobalData financial deals database and excludes all terminated and rumoured deals. Country and industry are defined according to the headquarters and dominant industry of the target firm. The term 'acquisition' refers to both completed deals and those in the bidding stage.
GlobalData tracks real-time data concerning all merger and acquisition, private equity/venture capital and asset transaction activity around the world from thousands of company websites and other reliable sources.
More in-depth reports and analysis on all reported deals are available for subscribers to GlobalData's deals database.