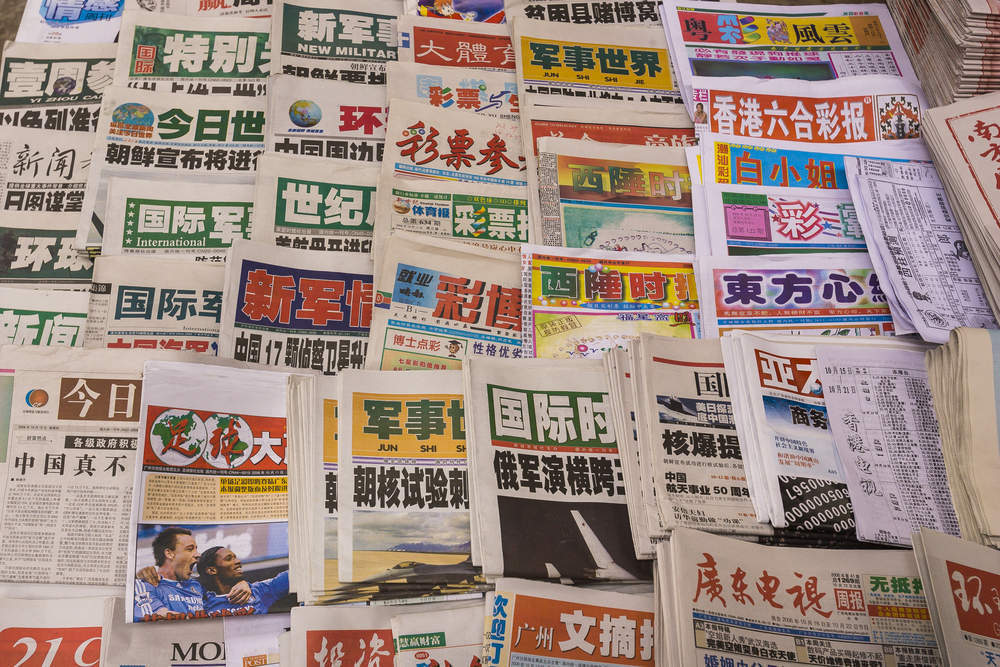 Chinese media outlets have voiced their support of the country's decision to scrap presidential term limits — giving President Xi Jinping an indefinite hold on power — and have suggested China's future depends on Xi's Communist Party.
On Sunday, in an almost unanimous vote —  with only two against and three abstentions out of almost 3,000 voting — China's National People's Congress chose to amend its constitution, abolishing a two-term limit and adding clauses that further strengthened the Communist Party's powers.
In the days leading up to the vote, which was called by the Communist Party last month, social media users and Western media criticised the move, fearing it would give Xi excessive powers could result in a Mao Zedong-type cult or turn China into a dictatorship.
However, state-run English language broadsheet China Daily this morning defended the decision and hit out at the "shameless" and "malicious" Western "naysayers" who challenged it, adding that ending presidential limits would not consequently "imply lifetime tenure for any leader".
The newspaper wrote in an editorial:
It has already become a habit for some in the west to speak ill of China's political system … whenever it comes to China they choose to look at it through tainted glasses.

Yet some people in the west insist otherwise … they revel in their ignorance of China's reality, and hold fast to their mean, even malicious predisposition towards China's political system out of their irrational, subjective and unprofessional ideological bias.

They have no compunction about making false claims and consider it excusable to speak so shamelessly.
In a similar piece, Beijing tabloid Global Times argued that Western theories do not apply in China and only other countries are acting as "backseat drivers", bothering the country with unsolicited advice.
It wrote:
We are increasingly confident that the key to China's path lies in upholding strong party leadership and firmly following … the party central committee with comrade Xi Jinping at the core.

In these years we have seen the rise and decline of countries and particularly the harsh reality that the Western political system doesn't apply to developing countries and produces dreadful results.
Meanwhile, Beijing Youth Daily labelled the vote as an "adjustment" that will help to strengthen the party's leadership and role.
Some state-run media eliminated the comment section from the social media accounts, while others opted to filter them and allow only those in favour of the vote to express their opinion.
Yet some users managed to have their say, as a critic wrote on micro-blogging site Weibo:
"How is it that socialism which is praised has become a monarchy making law?"
Chinese students living in Western countries have also expressed disappointment, with some hanging posters on the walls of their universities with messages such as Xi Jinping is "not my president".
Since Sunday, Twitter account @StopXiJinping has posted pictures of such posters at the London School of Economics, Columbia University and many others in an attempt to encourage users to join its own campaign against the President.
As far as 7000 miles away and in another hemisphere, people still care about what is happening in China. Thank you, this is heartwarming. Posters @ Victoria University of Wellington, New Zealand @VicUniWgtn. Let them know that we disagree! #NotMyPresident #IDISAGREE #我不同意 pic.twitter.com/Hy66OXqRxC

— Xi's Not My President (@StopXiJinping) March 12, 2018
The US-based group Human Rights in China also jumped in on the debate by saying that concentrating excessive power into one person comes with risks.
The group's executive director Sharon Hom in a statement:
Ending the two-term limit ignores the painful lesson of the Mao era and exposes the Chinese people again to the massive human suffering, abuses and national catastrophe that could result from unaccountable power concentrated in the hands of one person.