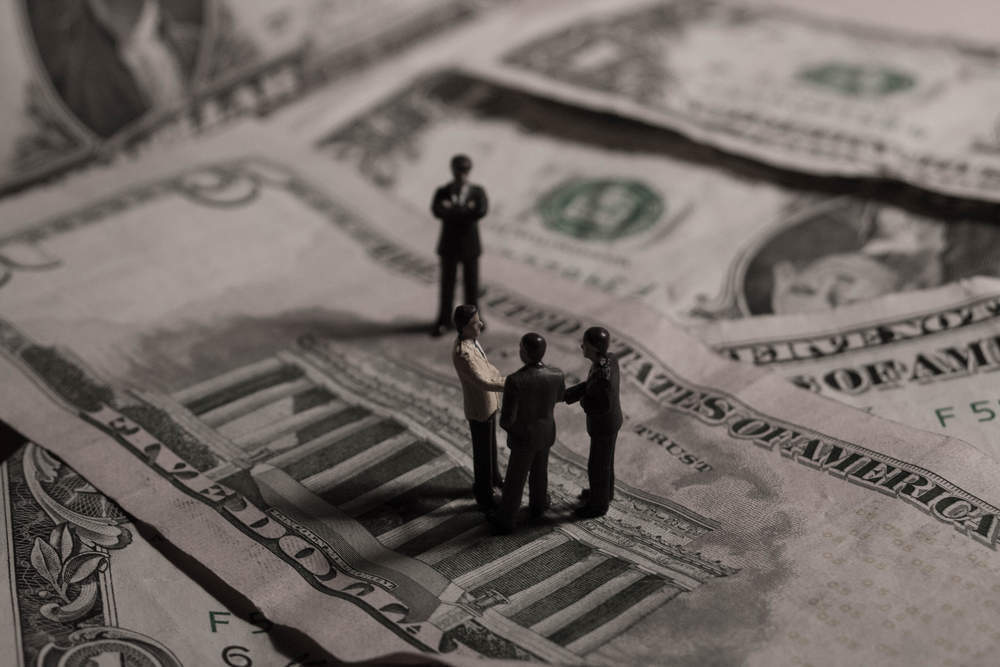 Transparency International has released its corruption perception index (CPI) for 2017 showing, as usual, a strong correlation between high levels of corruption and lack of protections for the press and non-governmental organisations (NGOs).
New Zealand and Nordic countries topped the list with the least corruption, while Afghanistan, Syria, South Sudan, and Somalia came bottom.
The data reveals that – despite attempts to combat corruption around the world — many countries have made little to no progress over the last six years.
It also showed countries with the lowest protections for press and NGOs also tend to have the worst rates of corruption.
Scroll down for full table
What was said:
Transparency International chair, Delia Ferreira Rubio, said:
How well do you
really

know your competitors?

Access the most comprehensive Company Profiles on the market, powered by GlobalData. Save hours of research. Gain competitive edge.
Company Profile – free sample
Thank you!
Your download email will arrive shortly
Not ready to buy yet? Download a free sample
We are confident about the unique quality of our Company Profiles. However, we want you to make the most beneficial decision for your business, so we offer a free sample that you can download by submitting the below form
By GlobalData
CPI results correlate not only with the attacks on press freedom and the reduction of space for civil society organisations. High levels of corruption also correlate with weak rule of law, lack of access to information, governmental control over social media and reduced citizens' participation.

In fact, what is at stake is the very essence of democracy and freedom.
Managing director of Transparency International, Patricia Moreira, said:
No activist or reporter should have to fear for their lives when speaking out against corruption.

Given current crackdowns on both civil society and the media worldwide, we need to do more to protect those who speak up.
Smear campaigns, harassment, lawsuits and bureaucratic red tape are all tools used by certain governments in an effort to quiet those who drive anti-corruption efforts.

We're calling on those governments that hide behind restrictive laws to roll them back immediately and allow for greater civic participation.
What this means:
Transparency International expressed disappointment about the slow rate, and in some places complete lack, of progress in improving corruption worldwide.
The global corruption level remained consistent with previous years. More than two-thirds, 69 percent, of the 180 countries studied scored below 50 — zero represents highly corrupt and 100 very clean. The global average was 43. Not one country in the world is corruption-free.
This means that more than six billion people live in countries that are corrupt.
The European Union and Western Europe had the best average score of 66. Sub-Saharan Africa and Eastern Europe and Central Asia ranked the lowest with 32 and 34 respectively.
These general figures were exactly the same as in 2016.
By and large, most countries' retained the same or a similar CPI score to 2016.
The UK increased by one point to 82. The US and France did the same to 75 and 70 respectively.
New Zealand and Denmark switched places so the former is the number ranked country in terms of corruption in 2017. Their scores both declined by two points.
However, some notable countries did significantly reduce their CPI score in 2017.
In 2015, North Korea had the lowest score of eight alongside Somalia. However, its score has been increasing since – 22 in 2016 and 17 in 2017. It is no longer the lowest ranked state in the Asia Pacific Region.
Barbados' score increased by seven points – it moved up ten places in the rankings.
The data showed nine out of ten journalists were killed in countries that scored 45 or less. One in five of these murdered journalists were covering a story about corruption.
It also estimated that on average, at least one journalist is killed every week in a country that is highly corrupt.
Background:
Transparency International is a global organisation that has been involved in the fight against corruption since 1993. Its vision is to create a world which is free of corruption.
It has produced annual CPI reports since 1995 alongside other publications that focus on individual themes, countries and regions.
The CPI reports use expert opinion to measure "the perceived levels of public sector corruption worldwide".
Transparency International then looks at trends to analyse the relationship between corruption and other global political and social issues.
Previous noteworthy connections revealed by the CPI were between corruption and inequality in 2016 and corruption and conflict in 2015.
| | | |
| --- | --- | --- |
| Rank  | Country | CPI Score 2017 |
| 1 | New Zealand | 89 |
| 2 | Denmark | 88 |
| 3 | Finland | 85 |
| 3 | Norway | 85 |
| 3 | Switzerland | 85 |
| 6 | Singapore | 84 |
| 6 | Sweden | 84 |
| 8 | Canada | 82 |
| 8 | Luxembourg | 82 |
| 8 | Netherlands | 82 |
| 8 | UK | 82 |
| 12 | Germany | 81 |
| 13 | Australia | 77 |
| 13 | Hong Kong | 77 |
| 13 | Iceland | 77 |
| 16 | Austria | 75 |
| 16 | Belgium | 75 |
| 16 | US | 75 |
| 19 | Ireland | 74 |
| 20 | Japan | 73 |
| 21 | Estonia | 71 |
| 21 | United Arab Emirates | 71 |
| 23 | France | 70 |
| 23 | Uruguay | 70 |
| 25 | Barbados | 68 |
| 26 | Bhutan | 67 |
| 26 | Chile | 67 |
| 28 | Bahamas | 65 |
| 29 | Portugal | 63 |
| 29 | Qatar | 63 |
| 29 | Taiwan | 63 |
| 32 | Brunei Darussalam | 62 |
| 32 | Israel | 62 |
| 34 | Botswana | 61 |
| 34 | Slovenia | 61 |
| 36 | Poland | 60 |
| 36 | Seychelles | 60 |
| 38 | Costa Rica | 59 |
| 38 | Lithuania | 59 |
| 40 | Latvia | 58 |
| 40 | Saint Vincent and the Grenadines | 58 |
| 42 | Cyprus | 57 |
| 42 | Czech Republic | 57 |
| 42 | Dominica | 57 |
| 42 | Spain | 57 |
| 46 | Georgia | 56 |
| 46 | Malta | 56 |
| 48 | Cabo Verde | 55 |
| 48 | Rwanda | 55 |
| 48 | Saint Lucia | 55 |
| 51 | Korea, South | 54 |
| 52 | Grenada | 52 |
| 53 | Namibia | 51 |
| 54 | Italy | 50 |
| 54 | Mauritius | 50 |
| 54 | Slovakia | 50 |
| 57 | Croatia | 49 |
| 57 | Saudi Arabia | 49 |
| 59 | Greece | 48 |
| 59 | Jordan | 48 |
| 59 | Romania | 48 |
| 62 | Cuba | 47 |
| 62 | Malaysia | 47 |
| 64 | Montenegro | 46 |
| 64 | Sao Tome and Principe | 46 |
| 66 | Hungary | 45 |
| 66 | Senegal | 45 |
| 68 | Belarus | 44 |
| 68 | Jamaica | 44 |
| 68 | Oman | 44 |
| 71 | Bulgaria | 43 |
| 71 | South Africa | 43 |
| 71 | Vanuatu | 43 |
| 74 | Burkina Faso | 42 |
| 74 | Lesotho | 42 |
| 74 | Tunisia | 42 |
| 77 | China | 41 |
| 77 | Serbia | 41 |
| 77 | Suriname | 41 |
| 77 | Trinidad and Tobago | 41 |
| 81 | Ghana | 40 |
| 81 | India | 40 |
| 81 | Morocco | 40 |
| 81 | Turkey | 40 |
| 85 | Argentina | 39 |
| 85 | Benin | 39 |
| 85 | Kosovo | 39 |
| 85 | Kuwait | 39 |
| 85 | Solomon Islands | 39 |
| 85 | Swaziland | 39 |
| 91 | Albania | 38 |
| 91 | Bosnia and Herzegovina | 38 |
| 91 | Guyana | 38 |
| 91 | Sri Lanka | 38 |
| 91 | Timor-Leste | 38 |
| 96 | Brazil | 37 |
| 96 | Colombia | 37 |
| 96 | Indonesia | 37 |
| 96 | Panama | 37 |
| 96 | Peru | 37 |
| 96 | Thailand | 37 |
| 96 | Zambia | 37 |
| 103 | Bahrain | 36 |
| 103 | Côte D'Ivoire | 36 |
| 103 | Mongolia | 36 |
| 103 | Tanzania | 36 |
| 107 | Armenia | 35 |
| 107 | Ethiopia | 35 |
| 107 | Macedonia | 35 |
| 107 | Vietnam | 35 |
| 111 | Philippines | 34 |
| 112 | Algeria | 33 |
| 112 | Bolivia | 33 |
| 112 | El Salvador | 33 |
| 112 | Maldives | 33 |
| 112 | Niger | 33 |
| 117 | Ecuador | 32 |
| 117 | Egypt | 32 |
| 117 | Gabon | 32 |
| 117 | Pakistan | 32 |
| 117 | Togo | 32 |
| 122 | Azerbaijan | 31 |
| 122 | Djibouti | 31 |
| 122 | Kazakhstan | 31 |
| 122 | Liberia | 31 |
| 122 | Malawi | 31 |
| 122 | Mali | 31 |
| 122 | Nepal | 31 |
| 122 | Moldova | 31 |
| 130 | Gambia | 30 |
| 130 | Iran | 30 |
| 130 | Myanmar | 30 |
| 130 | Sierra Leone | 30 |
| 130 | Ukraine | 30 |
| 135 | Dominican Republic | 29 |
| 135 | Honduras | 29 |
| 135 | Kyrgyzstan | 29 |
| 135 | Laos | 29 |
| 135 | Mexico | 29 |
| 135 | Papua New Guinea | 29 |
| 135 | Paraguay | 29 |
| 135 | Russia | 29 |
| 143 | Bangladesh | 28 |
| 143 | Guatemala | 28 |
| 143 | Kenya | 28 |
| 143 | Lebanon | 28 |
| 143 | Mauritania | 28 |
| 148 | Comoros | 27 |
| 148 | Guinea | 27 |
| 148 | Nigeria | 27 |
| 151 | Nicaragua | 26 |
| 151 | Uganda | 26 |
| 153 | Cameroon | 25 |
| 153 | Mozambique | 25 |
| 155 | Madagascar | 24 |
| 156 | Central African Republic | 23 |
| 157 | Burundi | 22 |
| 157 | Haiti | 22 |
| 157 | Uzbekistan | 22 |
| 157 | Zimbabwe | 22 |
| 161 | Cambodia | 21 |
| 161 | Congo | 21 |
| 161 | Democratic Republic of the Congo | 21 |
| 161 | Tajikistan | 21 |
| 165 | Chad | 20 |
| 165 | Eritrea | 20 |
| 167 | Angola | 19 |
| 167 | Turkmenistan | 19 |
| 169 | Iraq | 18 |
| 169 | Venezuela | 18 |
| 171 | Korea, North | 17 |
| 171 | Equatorial Guinea | 17 |
| 171 | Guinea Bissau | 17 |
| 171 | Libya | 17 |
| 175 | Sudan | 16 |
| 175 | Yemen | 16 |
| 177 | Afghanistan | 15 |
| 178 | Syria | 14 |
| 179 | South Sudan | 12 |
| 180 | Somalia | 9 |