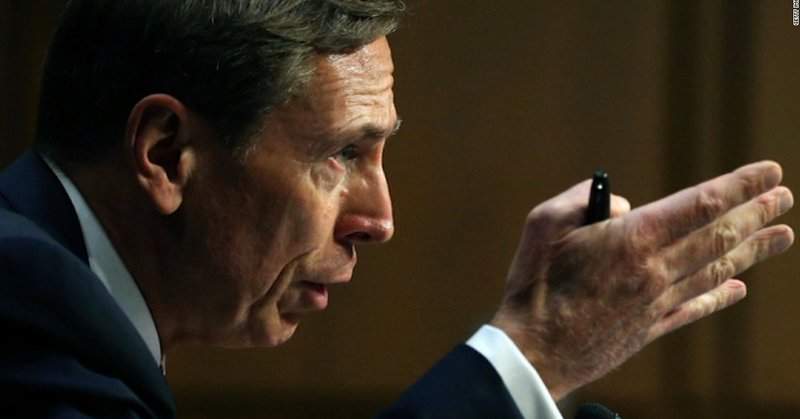 Former CIA director David Petraeus could replace Michael Flynn as US president Donald Trump's national security adviser.
Flynn resigned yesterday amid allegations he lied to officials about his ties with Russia.
In his letter of resignation, Flynn said he had "inadvertently briefed the vice-president-elect and others with incomplete information" in relation to "phone calls with the Russian ambassador" late last year.
The revelations have propelled the Trump administration's cosy relationship with Russia and its premier Vladimir Putin back into the lime light.
Who is Petraeus?
Petraeus is a 64-year-old retired four-star army general who led US forces in Iraq and Afghanistan.
In a well-documented fall from grace, he was forced to step down as CIA director in 2012 after admitting to an extramarital affair with his biographer, Paula Broadwell.
A justice department investigation found that he had shared classified information with her.
Petraeus was put on probation and forced to pay a $100,000 fine. His probation does not end until April.
Gen. Petraeus, now reportedly on short list to replace Flynn, has about 2 months left on his probation for mishandling classified documents. pic.twitter.com/Lm4pDptIr7

— Brad Heath (@bradheath) 14 February 2017
If it's not Petraeus, then who?
Keith Kellogg, who is currently serving as Trump's acting national security adviser and Robert Harward are also contenders to replace Flynn.
Kellogg, 72, was born in Ohio and has 36 years of military experience.
POTUS Trump Names Lt. General Joseph Keith Kellogg, Jr. as Acting National Security Advisor-Accepts Resignation of Lt. General Michael Flynn pic.twitter.com/hrHNuefNe3

— The White House (@WhiteHouse) 14 February 2017
He served in the army in Vietnam, as a special forces officer in Cambodia, and during the first Iraq war as chief of staff for the 82nd Airborne Division.
Harward is a retired Navy Seal and he served as deputy commander of the US Central Command.
NEW: Vice Adm Robert Harward is top choice to replace Flynn, per WH sources. pic.twitter.com/7E1XPwa60X

— Peter Alexander (@PeterAlexander) 14 February 2017
He worked on the National Security Council for president George W Bush and commissioned the National Counter Terrorism Centre.