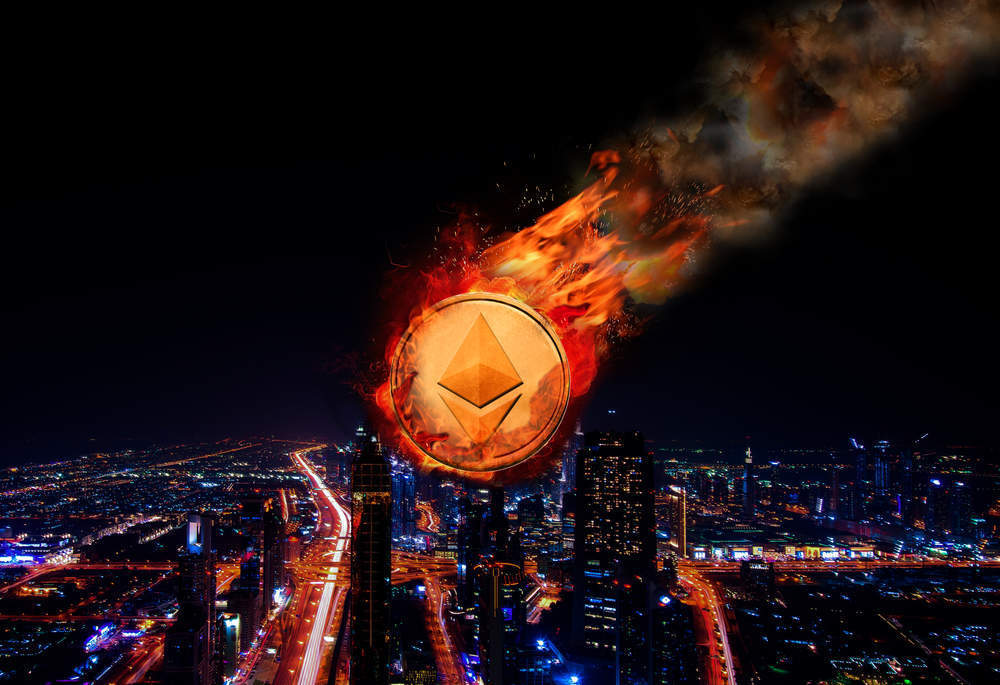 Ether, the cryptocurrency tokens used on the Ethereum blockchain, flash crashed yesterday afternoon, tumbling as low as 10 cents from over $300 in a matter of seconds due to what's been described as a "multimillion dollar market sell" order.
Ether snapped back to its pre-flash-crash level of around $300 almost immediately and is still up over 4,000 percent in the first six months of this year alone.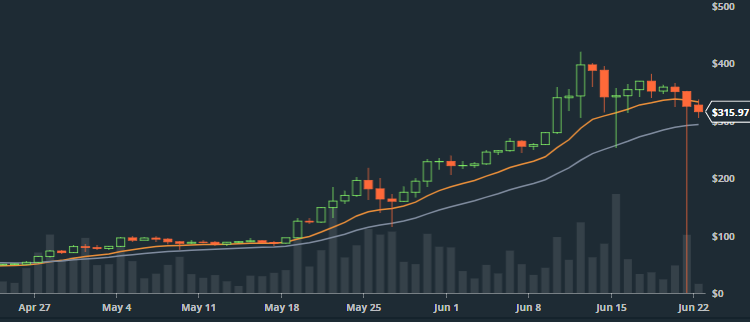 Adam White, the vice president of Coinbase-owned GDax, posted an explanation of what happened on the now defunct exchange's blog:
On 21 June 2017 at 12:30pm PT, a multimillion dollar market sell was placed on the GDax ETH-USD order book. This resulted in orders being filled from $317.81 to $224.48, translating into a book slippage of 29.4 percent. This slippage started a cascade of approximately 800 stop loss orders and margin funding liquidations, causing ETH to temporarily trade as low as $0.10.

Our initial investigations show no indication of wrongdoing or account takeovers.
GDax denied there was any sort of illegal activity taking place, and noted these trades are final and will not be reversed.
The 800-odd stop loss orders — trades that are executed automatically by an automated program once a certain price is reached — means some lost money on automatic deals which cascaded to rapidly bring down the price.
Other made money though. Quite a lot of money.
An unverified user of StockTwits trading platform — John DeMasie — posted a screenshot of trade history showing automatic buy order for 3,800 ether tokens if the price fell to 10 cents on GDax.
Once the price recovered to over $300 per token it meant the buyer would be holding tokens worth over $1m.
What does this mean for Ethereum?
The red-hot cryptocurrency, on course to be the best performing asset this year, is relatively untested when it comes to crises.
Unlike bitcoin, the original blockchain-based cryptocurrency, Ethereum has been designed to be much more stable and has had the backing of some of the world's biggest tech giants, giving it more of a feeling of security than the free wheeling bitcoin.
Ether's soaring price over the last few months means it is beginning to generate interest not only from people interested in crypto and the blockchain possibilities but from people who want to make money in the short term.
Bitcoin went through a similar phase in 2014 when it's runaway price meant there was a new scandal every week. With similar attention now on Ether, you can expect Ethereum to face similar pressures as people vie for control.
How does Ether differ from Ethereum?
Ether is a tradeable unique piece of code — or token — that can be used to pay for the computational resources needed to run an application or program on Ethereum.
More recently, as the value of these tokens has increased, people have begun to trade ether as they trade bitcoin or other currencies or commodities.
How is Ethereum different to bitcoin?
While Ethereum is often called a rival to bitcoin, it is described by its creators as "complementary within the digital ecosystem" — its goal is to build decentralised applications — not a decentralised financial system.
Ether is more comparable to bitcoin, however Ether is to be treated as so-called crypto-fuel, a token whose purpose is to pay for computation used and was not designed to be considered a currency, an asset, or a share.
Ethereum.org puts it:
Ether is the incentive ensuring that developers write quality applications (wasteful code costs more), and that the network remains healthy (people are compensated for their contributed resources).
When you consider the established interest that the two are trying to distput the difference becomes more clear.
Bitcoin is aiming to disrupt online banking, international currency transfers, PayPal, and the centralised banking and currency system.
Ethereum has the much wider, and arguably even more ambitious, goal of using a blockchain to replace internet third parties — those that store data, transfer mortgages and keep track of complex financial instruments.
Ethereum wants to be used as a decentralised internet and a decentralised app store.
That means Etherereum wants to tear down some of the foundations of the internet, along with the likes of Google, Amazon, and Facebook, as well as the banks, and replace them with opensource, peer-to-peer systems.