As it stands, Tinder is the highest-grossing app in the Google Play store. The app makes even more money than the perennially popular Candy Crush Saga, Clash of Clans, and Pokémon Go.
There's a huge amount of money in dating apps, so it should come as no surprise that US social media giant Facebook is dipping its toes into the potentially lucrative waters of the dating world.
The as-yet-unnamed Facebook dating feature will work from within the app itself. Users will be able to create an entirely optional dating profile.
They will then be able to browse other people's dating profiles (though Facebook will ensure friends don't see each other by mistake, hopefully avoiding some awkward conversations).
After seeing a profile that they like, users will be able to talk via a text-only chat. Singles will also have the ability to message other singles attending the same events or locations as them.
At the announcement, CEO Mark Zuckerberg also differentiated Facebook's take on dating from competitors by saying:
How well do you
really

know your competitors?

Access the most comprehensive Company Profiles on the market, powered by GlobalData. Save hours of research. Gain competitive edge.
Company Profile – free sample
Thank you!
Your download email will arrive shortly
Not ready to buy yet? Download a free sample
We are confident about the unique quality of our Company Profiles. However, we want you to make the most beneficial decision for your business, so we offer a free sample that you can download by submitting the below form
By GlobalData
This is going to be for building real long-term relationships, not hookups.
Clearly, stockholders believe the Facebook dating feature could rival current offerings. Share prices for Match Group, which owns Match.com, Tinder, OkCupid, and PlentyOfFish, plummeted some 20% following the news.
Is Facebook Dating for older people?
Facebook's take on dating appears, at first glance, to be decidedly old-fashioned.
Chris Cox, Facebook's chief product officer practically admitted as much while showcasing the concept:
We like this by the way because it mirrors the way people actually date, which is usually at events and institutions they're connected to.

We hope this will help more folks meet and hopefully find partners.
This was certainly true several years ago, but most millennials will tell you that online dating has completely changed the way people meet and interact nowadays.
According to a study published by American Sociological Review shows that, as of 2010, around 24% of couples met online.
This was second only to couples who met through being introduced by friends at around 28%. However, since online dating was started to gain popularity in the late 1990s, meeting through friends has become much less popular.
So it's noteworthy that Facebook seems to be targeting an older audience with its service.
In the demonstration of the concept, the example profile was 36 years old. According to Statista, 54% of Facebook's users are over the age of 35. Therefore, it should come as no surprise Facebook's vision of dating is a little more old-fashioned.
What do the experts think of the Facebook dating feature?
Verdict recently spoke to Matthew Valentines from Personal Dating Assistants, a professional dating consultant firm from New York who helps people with online dating.
In Valentines' opinion, Facebook does have a chance of standing out from the crowd:
"Common interest based matching could be a real trump card for Facebook. Other platforms claim to have this, but it doesn't work in practice. It will be interesting to see how & if Facebook uses behavioral data for suggesting matches, while respecting users privacy at the same time."
Still, Valentines is skeptical of Facebook's suggestion that its dating feature will be able to deliver "meaningful relationships rather than hookups":
"Human behavior is not influenced by dating platforms. Finding a mutual attraction is the hard part, and the only part we can reasonably expect a dating platform to deliver on. From there, if users want to hook up, get married, or anything in between, that's something individual people decide on a case-by-case basis."
He's also unconvinced that the Facebook dating feature will appeal to younger people. He jokes:
"20s and 30s singles care too much about the 'hip factor'. I can't think of a cooler, sexier brand to sell a dating service than Facebook."
Valentines also notes:
"This could be a good fit for attracting the over 40 demographic. There's a big market for singles who are too old to feel comfortable Tindering, and too jaded or thrifty to sign up for another Match.com subscription.

"Dating platforms are like discos. The early years are their prime. Eventually the crowd changes, and while the established institutions will always draw new and returning hopefuls, people don't really want to be seen there."
Where will Facebook fit into the hierarchy of dating apps:
There are innumerable dating apps available nowadays. There's something to cater to every sexual preference and inclination out there.
Of course, a few stand out as the most popular dating apps available.
But there's a very clear hierarchy in terms of how they're used. Some are more focused on quick and easier sexual encounters. On the other hand, some apps pay more attention to match-making and finding suitable long-term romantic partners.
Here are a few of the most popular dating apps out there and what makes each one stand out.
All age data comes from a study into data apps conducted by Survey Monkey Intelligence and shared on Medium.
Tinder
Unique selling point
Tinder is infamous for making swiping massive and, in doing so, making dating as superficial as possible.
When they open up the app, Tinder users see a stream of potential dates. They swipe right if they're interested, and swipe left to dismiss other users. If two users swipe right on each other they receive a notification and are invited to chat.
Average age of users
Around 52% of users are 18-29, 38% are 30-49, and 10% are over 50.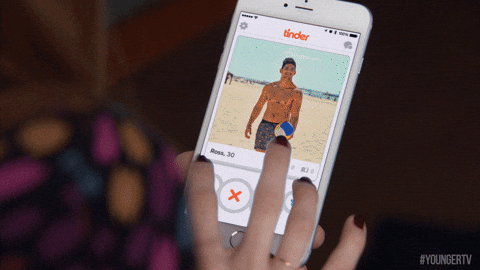 Grindr
Unique selling points
The biggest dating app by far in the gay community is Grindr. The app is aimed at gay and bisexual men and functions in a very basic manner. Users create a profile with a single photo and include various statistics such as height, weight, and interests.
The app then uses GPS tracking to help users find fellow users nearby. The app lists profiles order of their proximity to the reader.
Average age of users
Around 30% are 18-29, around 42% are 35-49, and 28% are over 50.
Bumble
Unique selling points
The main reason Bumble exists is to correct the gender imbalance on dating apps which sees women inundated with creepy or offensive messages.
Therefore, the USP or Bumble is that men can't message women without the latter messaging them first. (Either party can start chatting immediately for same-sex matches.)
The other interesting feature of Bumble is that matches expire after 24 hours. That's to ensure that those who actually want to start a conversation have to do so quickly.
Aside from that, Bumble works pretty similarly to Tinder in that they both see users swiping left or right on others' profiles.
Average age of users
Around 63% of users are 18-29, 31% are 30-49, and 6% are over 50.
Zoosk
Unique selling points
The number one dating app on the Google Play Store, Zoosk plays it pretty safe. It started life as an online-only app. It gives users suggestions for matches based on common interests and preferences which users list on their profiles.
The one twist that Zoosk offers is video-verification. This means that users must upload a video of themselves to create a profile. The thinking is that this will ensure people don't doctor their photos or pretend to be other people. What you see is what you get on Zoosk.
Average age of users
Around 8% are 18-29, 47% are 30-49, and 45% are over 50, says Survey Monkey.
OkCupid
Unique selling points
OkCupid was probably considered unique when it first launched in January 2004. Sadly, most of the features that once made it appealing are pretty old-hat nowadays. OkCupid is essentially run by an algorithm that matches people based on their personalities. As such, when signing up for an account on OkCupid, users must complete a personality test. This test incorporates elements from various other personality tests such as Myers-Briggs to form its profiles.
Average age of users
24% are 18-29, around 53% are 30-49, and 23% are over 50.
Match.com
Unique selling points
Again, Match.com is pretty old, and as a result, many other services have parroted and copied its unique features along the way. Still, the service apparently has two million users; not bad for something that started in 1995.
The most unique element of Match.com with regards to this list is that it's a subscription-only service. Again, it matches people using an algorithm and personality quizzes.
Average age of users
Around 12% are 18-29, 46% are 30-49, and 42% are over 50.
PlentyOfFish
Unique selling points
Algorithm and personality test, same old, same old. However, there are a few quirks in the messaging system.
Noteworthily: men are not allowed to send picture messages and people contacting others with a 14-year-or-more age gap will receive automated responses urging them not to.
There are also forums on PlentyOfFish so lonely singles can discuss major issues affecting them collaboratively.
Average age of users
Around 20% are 18-29, 54% are 30-49, and 26% are over 50.
eHarmony
Unique selling points
Another of the oldies was founded back in 2000, and yes, like all the other older dating services, eHarmony is based on personality quizzes and algorithms.
However, one interesting point about eHarmony is that there's no guarantee the algorithm actually works. In 2018, eHarmony had to take down adverts on the London tube which read "Step aside, fate. It's time science had a go at love."
The UK's Advertising Standards Authority found that eHarmony could provide no evidence their algorithm had any scientific basis whatsoever.
Average age of users
Around 36% are 18-29, 39% are 30-49, and 25% are over 50.
Happn
Unique selling points
Happn is the youngest of these apps, only launching in 2014. The app is noteworthy because it tracks its users at all times. If two users pass by each other they will come up as possible matches.
The idea is that people will prefer to match with those who live or work nearby to them, people who'll they'll encounter frequently.
Average age of users
Around 49% are 18-29, 45% are 30-49, and 6% are over 50.
Why do people use these apps?
The rise of casual sex is a phenomenon that has sparked several major studies since the 1960s. More recently, many blame dating apps for creating a hook-up culture.
Facebook seems to be railing against this trend with their push for meaningful relationships.
But how are people using these different apps? There have been a few different studies and surveys, which have looked into the different ways people use dating apps.
Tinder
According to Elisabeth Timmermans, a postdoctoral researcher at Erasmus University Rotterdam, who looks into dating apps, there are 13 major motivations for why people join Tinder.
The most popular motivation is amusement, followed by curiosity. Looking for love comes further down the list at number four. Casual sex is 11th on the list of motivations for joining Tinder.
However, Timmermans concedes in one interview that different communities have different uses for the app. In the gay community, people might be more inclined to use Tinder to find a relationship as there are other hook-up apps available:
Some homosexual men in my sample reported that they prefer Tinder when they're looking for a relationship, because Grindr is sometimes focused too strongly on sexual interactions.
Grindr
Grindr is definitely for hook-ups.
According to a survey, 4,000 users by a website called GrabHim 24% of Grindr users visit the app just for hook-ups.
A further 45% said they'd prefer a date, but would hook-up with other guys if it felt right. In addition, 18% said they just used the app for entertainment. Only 10% said they used Grindr exclusively for dates.
Bumble
Young people looking for love go to Bumble. According to research from LendEDU, Bumble fills a very different niche to Tinder. In a survey of over 1,300 users, they found that 40.1% of respondents agreed that "Tinder is for hookups, and Bumble is for dating".
Only 5.7% said the opposite was true. However, 54% said there was no real difference in why they used the two apps. Still, given the aforementioned study about Tinder, that might suggest people on Bumble are looking for love more than casual sex.
The older websites
Unlike the newer apps, older dating websites have put a lot more marketing focus on creating meaningful relationships. That's evident in the basic design of these services and the way they work.
They all have algorithms that pair people up by their personalities.
In contrast, most of the newer apps allow people to choose potential dates by their physical appearance or general proximity. These seem to encourage quicker, less intimate interaction.
Clearly, these older websites are striving to form a more serious bond between their users.