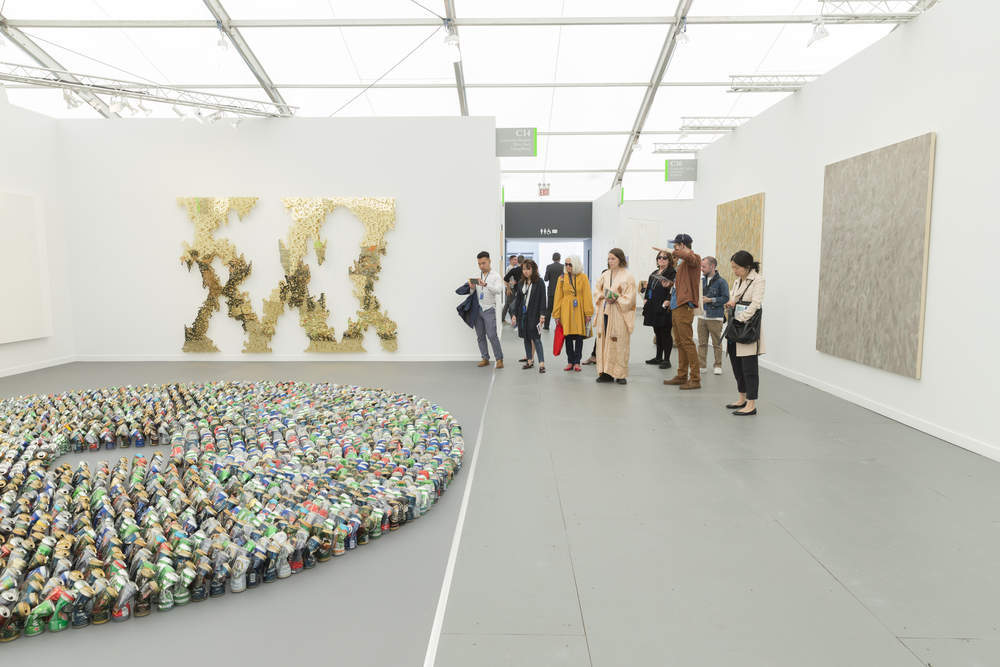 If you're a fan of modern art then you cannot miss the Frieze Masters in London.
For the uninitiated, Frieze is a media and events company founded in 1991 which celebrates art and culture.
Frieze is well-known around the world for their three magazines: frieze, Frieze Masters, and Frieze Week. However, even more well-known than the magazines produced by Frieze are the fairs.
What is the Frieze Masters 2017?
Frieze operates three fairs around the year.
The original fair was based in London in 2003, and Frieze return to the city every year since. That's in addition to new fairs in New York and at the Frieze Academy at the organisation's offices in London.
The fair is almost unique in that it's one of the only art fairs in the world to focus entirely on contemporary art by living artists.
They claim to represent artists from every part of the spectrum from "emerging to the iconic".
The festival allows collectors, curators, and critics to see what's hot in the art world. In addition, member of the public are welcome to go along and treat the fair like an exhibition of modern art.
This year the fair will be formed of three sections: the main section, Focus, and Sex Work: Feminist Art And Radical Politics.
The main section plays host to any commercial galleries representing international artists. The Focus section highlights young galleries and emerging artists with all art specifically made for the fair. Finally the 'Sex Work' section will be a collection curated by independent scholar Alison Gingeras.
Sex Work will highlight "female artists working at the extreme edges of feminist practice since the 1960s".
The Frieze Masters will be taking place in October, between the 5th and the 8th. In addition, a special invite-only preview you will be held on the 4th October. In conjunction to the main fair, the Frieze Masters fair is also taking place.
The latter is a festival which shows off work created pre-2000 and focuses on how that historical work impacts on modern artists.
What's going to be on show?
Aside from one of the finest collections of modern art in the world, the Frieze Masters will be a hive of activity for all things creative and design.
Frieze Talks is a series of lectures, debates, and discussions from critical theorists, philosophers, and other major figures in the world of art.
Unlike everything else at the fair, Frieze Sculpture is actually already open in the English Gardens on Regent's Park, and it's free to the public.
If you want a taste of the fair before attending, you should go and have a look. It's a three minute walk around the fair site showcasing the work of 25 world-renowned modern sculptors.
Frieze Projects is a non-profit programme of artists works created specifically for the fair.
There's plenty of cool things to see including the work of Donna Kukama who'll be showing a botanical exhibition of medicinal plants by the fair's entrance, and Georgina Starr, an artist who will be giving performative readings from her new novel inside a sculptural installation.
Finally, Frieze Film will be a collection of new artistic films premiering at the fair. Particularly exciting is the work of Raphaela Vogel.
Her feature is a drone filming her body from the perspective of a hornet in order to question the fe/male gaze and how technology interferes with physicality.
Is there a way to see a preview?
Of course! Like any modern media organisation, Frieze is on social media!
Their Instagram shows off some of the most amazing work from this year's fair and the fairs of previous years. You should be able to get a decent idea of what to expect from these pictures:
https://www.instagram.com/p/BYGBf3PDdrQ/?taken-by=friezeartfair
https://www.instagram.com/p/BYJCB6njM1U/?taken-by=friezeartfair
https://www.instagram.com/p/BX0nkqjDLJB/?taken-by=friezeartfair
https://www.instagram.com/p/BYIlnovjpoo/?taken-by=friezeartfair
https://www.instagram.com/p/BX5uQNTjykH/?taken-by=friezeartfair
https://www.instagram.com/p/BXnnn8CDNkK/?taken-by=friezeartfair
https://www.instagram.com/p/BXkmhaJD_Zs/?taken-by=friezeartfair
https://www.instagram.com/p/BXqd3FHDDpA/?taken-by=friezeartfair
https://www.instagram.com/p/BXf9764joek/?taken-by=friezeartfair
https://www.instagram.com/p/BXX75uFDyoG/?taken-by=friezeartfair
The need-to-know stuff
When is it?
 12pm until 5pm between the 5th and 8th October, 2017.
You can also buy special tickets allowing you to see the fair after hours until 7pm.
Where do I buy tickets?
The easiest way to buy tickets is through the Frieze website which can be found here.
How much do tickets cost?
There are various options available.
A one day ticket costs £45.15. A combined ticket for Frieze Fair and Frieze Masters costs £64.50. An after hours ticket allowing you to visit the fair between 5pm and 7pm costs £34.40.
Children under 12 can attend for free. Discounts are available for children between 13 and 18 and students. In addition, guests must pay extra for guided tours around the fair.
What tours are available?
There are five different guided tours available for all budgets.
The Highlights Tour is a general overview of the works at the fair that are most highly-thought-of. The Emerging Artists tour focuses on the up-and-coming talent from the fair.
The Contemporary Icons tour shows visitors the most well-regarded modern artists at the fair.
Private Group tours and Frieze Bespoke are private tours tailored specifically for visitors, the latter is designed for collectors; you'll be shown around art of your unique interests and budget — only four people may attend a Frieze Bespoke tour at once.
Where is the Frieze Masters this year?
Regent's Park. The fair is on the south side of the park with the entrance just off Park Square West.
Can I buy the art?
Yes. Collectors purchasing new works is the main point of the Frieze Art Fair.
They only take card so there's no reason to carry a suitcase full of money around with you either. In fact, they don't let suitcases into the building, so you wouldn't have much luck there anyway.
Overall, this year's Frieze Masters looks absolutely marvellous! If you're a fan of modern art, you've got no excuse not to attend!