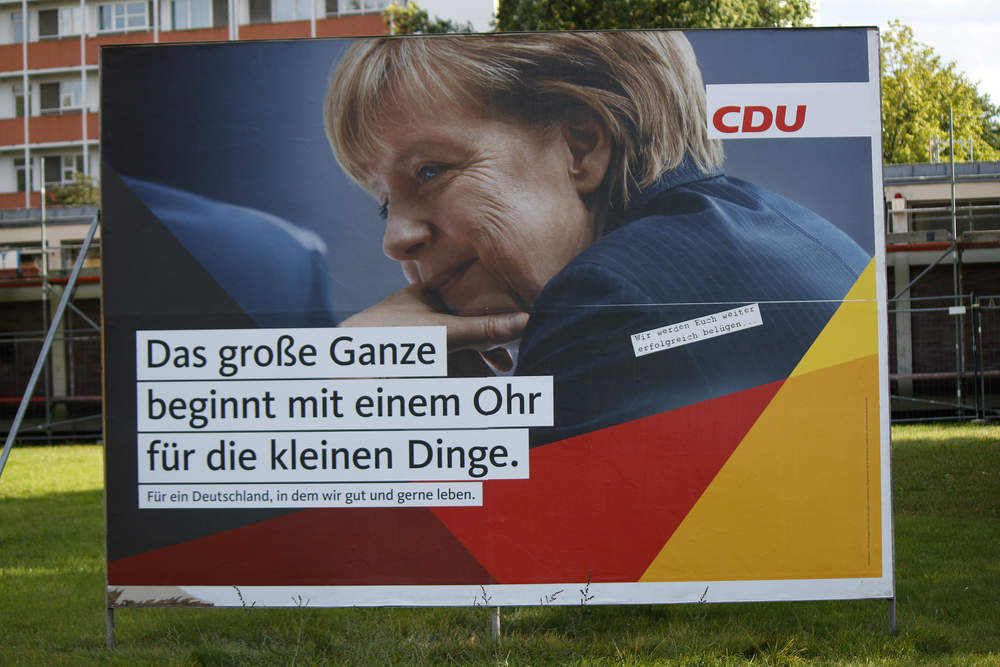 German chancellor Angela Merkel has secured victory in the German federal elections, according to exit polls just out.
Merkel appears to have won a fourth term in office, in line with polls taken before the election. It's thought Merkel will now be able to keep her conservative CDU/CSU alliance in place, making it the largest presence in Germany's Bundestag.
Merkel is seen as a source of stability — both domestically and internationally — and was widely tipped to win victory in the election, although her popularity has dipped in recent years due to her decision to open Germany to some 1m asylum seekers during the peak of Europe's migrant crisis.
Many now look to Merkel — nicknamed Mother (or Mutti) in Germany — to rally a bruised liberal Western order, tasking her with leading a post-Brexit Europe as the head of the EU's largest economy.
What does Merkel's victory mean for Brexit?
Brexit talks are due to restart Monday morning, with the UK's chief negotiator David Davis and his team travelling to Brussels.
Merkel's re-election means the EU's chief negotiator Michel Barnier will feel empowered coming back to the table.
Importantly, unlike the in the UK, Brexit is not an important election issue in Germany — it rarely makes the front pages of newspaper's in the country.
Read more: German election 2017: Is Angela Merkel's popularity reliant on a strong economy?
No matter who won the German election, it's likely Barnier would have continued with the same agenda in the negotiations.
However, with Merkel so widely expected to win a fourth term heading into the election an upset would have been a huge distraction for the EU.
What it means for the Brexit divorce bill
Merkel has previously said the UK is going to have to pay a so-called Brexit divorce bill to settle its obligations to the EU when it leaves the trading bloc.
Merkel warned at the end of last month that it would have to pay a settlement to leave the EU, but she's denied that the bill amounted to a fine.
The divorce bill is one of the most contentious issues in the Brexit talks.
Merkel said in her weekly podcast at the end of August:
This is about obligations that Great Britain has entered into and that naturally must remain on the books. It's not about the cost of divorce — that makes it sound like fines. We're still at the very start of these negotiations.
Many in the UK — including the likes of Eurosceptic MP Jacob Rees-Mogg and foreign secretary Boris Johnson — have said the UK has no legal obligation to pay further into the EU purse and shouldn't pay anything.
Johnson has said:
[The UK] should pay not a penny more, not a penny less, of what we think our legal obligations amount to.
Most in British prime minister Theresa May's government accept the UK will pay some amount to the EU before the country leaves — the contention is over exactly how much. The EU has suggested it could be as high as €100bn while the UK has low-balled with €20bn.
With Merkel's re-election it's likely Barnier will continue to push for a higher Brexit bill.
What it means for trade talks
On Friday May made a landmark speech on Brexit in the Italian city of Florence — taking what has been described by commentators as a conciliatory tone.
May reiterated her desire for the EU's negotiators to move beyond the bloc's three Brexit sticking points — the divorce bill, EU and UK citizen's rights, and the Irish boarder issue — and talk trade at the same time.
Unfortunately for May, Merkel's foreign minister said on Saturday that he had been disappointed by her speech, adding to a downbeat reception from France.
French president Emmanuel Macron said there was still not enough clarity on the three issues.
Sigmar Gabriel told reporters in the northern German city of Wolfenbuettel:
We heard nothing concrete. It is time for the government of Great Britain to clearly state under what conditions it wants to leave the European Union.
A leading member of Merkel's conservatives also criticised May's address.
Theresa May's speech underscores the will of London to move ahead with Brexit negotiations, but unfortunately it will not provide a new dynamism in the talks that is so urgently needed.
With Merkel's re-election, it would appear the bloc will remain united in the opinion the UK needs to do more before talks can progress to trade.
Stay up-to-date: follow Verdict on Twitter and Instagram and like us on Facebook!