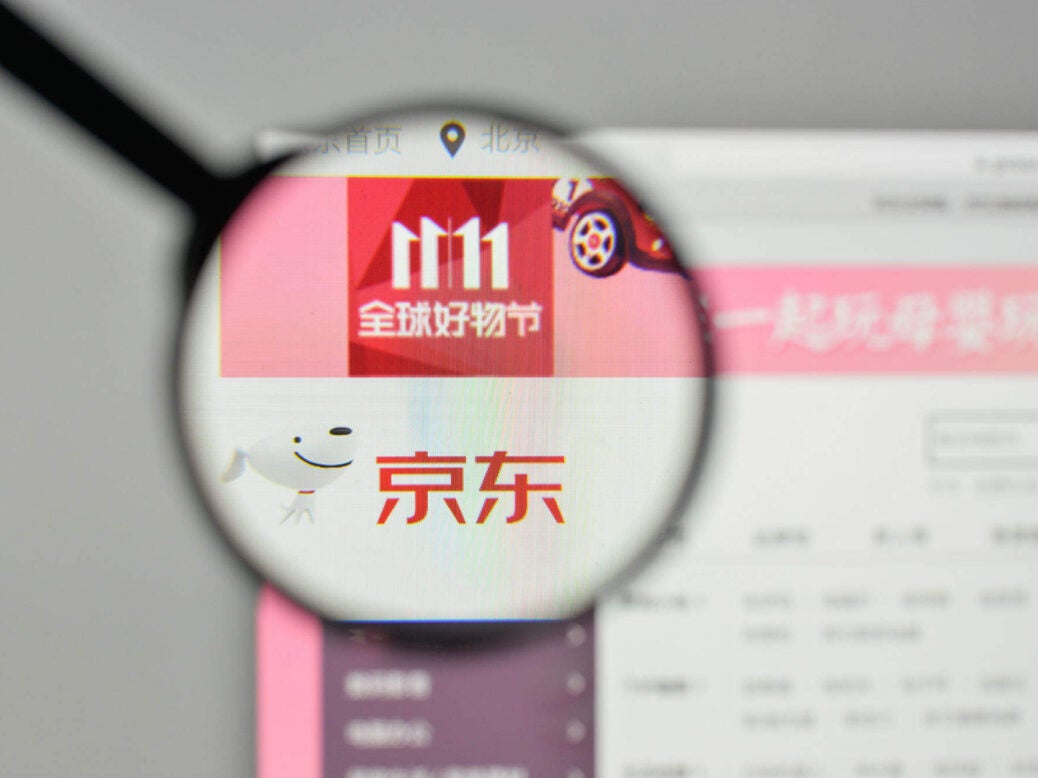 US tech giant Google has said it plans to invest $550m into China's second largest e-commerce retailer JD.com.
The investment of more than half a billion dollars is part of a strategic partnership, allowing the two companies to collaborate to develop better retail infrastructure in multiple markets including South East Asia. Google is set to receive more than 27 million newly issued JD.com Class A ordinary shares in return.
However, with trade ties between the US and China being tenuous, to say the least, what is Google aiming to achieve with the investment, and can it be seen as an attempt by the tech giant to infiltrate the Chinese market through the back door?
Philipp Schindler, chief business officer at Google, said: "We are excited to partner with JD.com and explore new solutions for retail ecosystems around the world to enable helpful, personalised and frictionless shopping experiences that give consumers the power to shop wherever and however they want."
The shares are priced at $20.29 per share, which equates to $40.58 per American depositary share based on the volume-weighted average trading price over the prior ten trading days. JD.com placed American depositary shares in its group company on the Nasdaq in 2014.
A mutually beneficial partnership
The investment will see the two companies collaborating to develop retail infrastructure that can better personalise consumer shopping experiences and reduce friction between markets.
JD.com has said it plans to make a selection of products available for sale in the US and Europe through Google Shopping – a service allowing users to compare prices of goods on various e-commerce websites. This will enable its products to gain visibility online, and make it easier for international consumers to purchase them. Google Shopping is important for the US tech giant to win back product searches from rivals such as Amazon, and stay relevant in the e-commerce industry.
Jianwen Liao, chief strategy officer at JD.com, said: "This partnership with Google opens up a broad range of possibilities to offer a superior retail experience to consumers throughout the world. This marks an important step in the process of modernising global retail."
JD.com and Alibaba: battle of the retail giants
JD.com competes in the Chinese e-commerce market with Chinese retail giant Alibaba, with both companies trying to outdo the other by investing heavily in technology, retail and logistics to expand their respective consumer bases. JD.com, for example, has been testing out drone delivery services to reach China's rural consumers at a relatively low cost.
Chinese tech firm Tencent has recently backed JD.com, assisting the company in areas such as social media, digital payments and gaming. It also operates WeChat – the largest social messaging platform in China. The partnership allows JD.com to sell products to consumers directly through the WeChat app.
The company has also partnered with US retail giant Walmart to open a small high-tech supermarket in China where consumers can use smartphones to pay for items available on its online store JD Daojia.
International retail on the brink of a trade war
The partnership also allows both companies to widen their reach in the retail space at a time when political turmoil is making cross-boarder trade more uncertain.
On Friday, US President Donald Trump announced a 25% levy on $50bn of imports from China. The tariffs are intended to hurt China for alleged theft of intellectual property rights, and centre on 'industrially significant technology'. In just a few hours after the announcement, the Chinese Government released a detailed list of US imports worth $50bn that would be levied at a similar 25%.
JD.com founder and CEO Richard Liu noted that a trade war would be "horrible" for business and end up harming many US brands, and the current uncertainty is making JD.com hesitant over its own expansion plans into the US market.
Google's future in China is still uncertain
This latest attempt to enter the Chinese market could be seen as a stealth approach by Google to circumvent potential trade issues in this time of uncertainty.
The company pulled its world-renowned search engine out of China in 2010, in a decision to no longer censor its own search results as required by Beijing. However, it has since opened an AI-focused research centre in China and signed an agreement with Tencent to allow for greater collaboration without fear of patent lawsuits. It also released a Chinese version of its file management app. However, Google's app store, along with Google Mail, remains inaccessible behind the 'Great Firewall'.
Throughout its history, Google never left China completely and still has hundreds of employees working on research and product development in the country, fostering plenty of engineering and scientific talent. Google's online advertising business also helps Chinese retailers to reach an international consumer base.
On the other hand, a large-scale return for Google to the Chinese market will be no easy feat, if Beijing gives its consent. In the eight years of withdrawal, local rivals filled the gap, and now Google must compete in many of its core areas, including search, chat, video streaming and cloud computing.