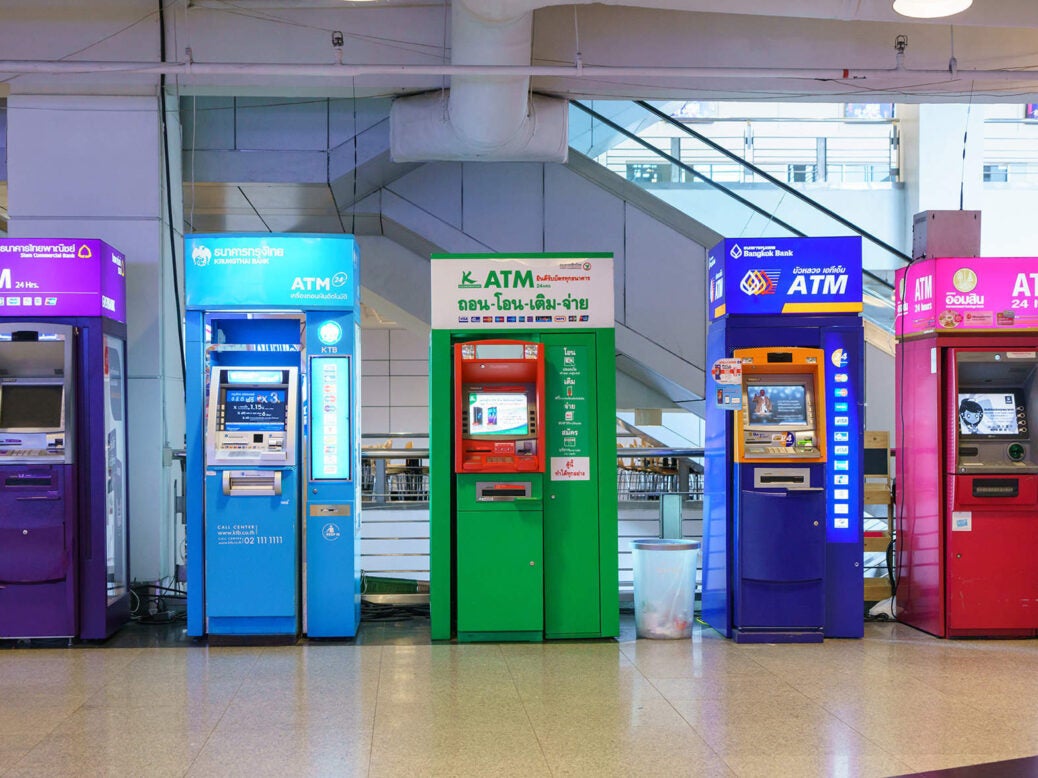 The humble ATM, or cash point, is celebrating its 50th birthday today.
The first machine was installed 50 years ago today in Enfield, London by Barclay's Bank. The ATM's inventor, John Shepherd-Barron, was on hand at the unveiling to feed the money through the slot because this didn't appear to work yet.
50 years on — what is next for this piece of technology that transformed the banking sector and society?
This was the question that brought together representatives from across the banking, finance and tech sectors at the ATMIA ATM & Cash innovation Conference in London this week.
Here are some of the ways the ATM is predicted to change.
1. Biometrics
Biometrics is the technology that proves or verifies a true claim of identity.
It is becoming increasingly popular in countries like Brazil, where a fingerprint can be used instead of a PIN – it takes less time and can be better when there are multiple transactions involved. As well, iris recognition in ATMs is being used in places like Jordan, in mobile ATMs in Syrian refugee camps.
Bill Spence, vice president of biometric sales at HID Global told Verdict:
Biometrics is being used to simplify identity and access management (IAM) across all banking channels, improve user experience as well as the level of trust, and reduce total cost of ownership.
However, a few words of caution were said about this technology at the event. Antonio Encinar, head of ATM Channel at Santander Bank, said:
Biometrics is a huge cost and a huge effort to involve the customers. And its high risk if a breach is made. It's very serious. It deserves to be carefully analysed before it is implemented as a solution.
Expect to see more ATMs offering fingerprint recognition and voice recognition over the next few months. 
Read more: Biometric banking: the revolution already shaping the future of finance
2. Data
One of the main takeaways from the event was the importance of data for banks and financial institutions.
Bill Nuti, president, chief executive and chairman of ATM developer NCR, proclaimed in his keynote speech that: "Data is the new currency."
He believes that data will ultimately change how ATM functions due to things such as robotics, and is moving society towards what he described as "knowledge transactions".
This is something NCR aims to do, by providing more platforms for businesses to use, away from just ATMs.
Eli Rosner, senior vice president and chief technology officer for software solutions at NCR, seconded this saying that the world will move towards a prescriptive model when it comes to banking.
Man and machine are working together to make decisions together, machine intelligence and human intelligence.
3. Internet of Things
 ATMs will change from what consumers regard them as now, thanks to connectivity. According to Mike Lee, the chief executive of Atima: "The ATM is in a very strong position to fit into the IoT."
Biometric elements such as voice activation are crucial to IoT devices – think of Amazon's Echo Speaker with its voice assistant AI. This is inspiring the next stage of smart ATMs, named iBeacons. These devices will be able to do things such as alert a smartphone when you're in the vicinity of an ATM, and prompt you to get cash out if you need.
Lee said:
I'm very impressed with the iBeacons. We have a tremendous opportunity as an industry to come together and design this for the future.
 4. Mobile
Tools such as ApplePay and Samsung Pay mean more and more people are choosing to leave their bankcards at home, encouraging banks and financial institutions to invest in mobile and how smartphones can interact with ATMs.
Santander in particular says 38 percent of its customers are actively digital and the banks sees over 150,000 monthly mobile transactions.
"The future is trying to connect mobile with ATMS," said Encinar.