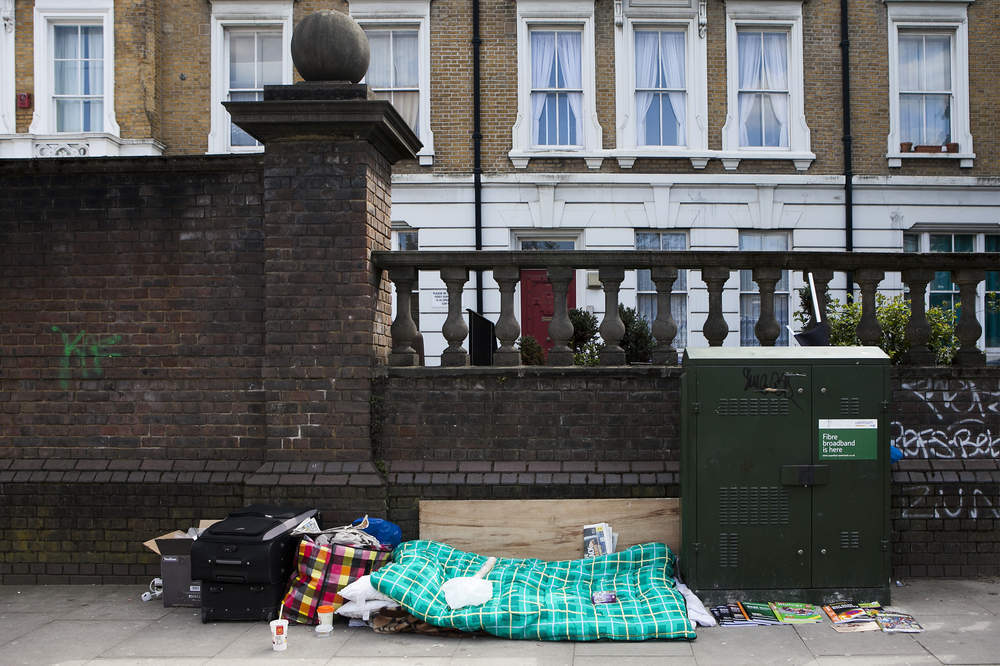 A Marks and Spencer caught some heat last week for installing a high-pitched alarm to deter people from sleeping around its premises.
According to the Guardian the homeless population of the area accused the retailer of "tormenting" them with the high-pitched klaxon.
They said the area behind M&S is one of the few warm, dry and safe places for them to sleep.
This incident seen in isolation is surely enough to get the blood boiling.
But it did not occur in isolation.
The homeless population of London are routinely shuffled along, abused and degraded.
How well do you
really

know your competitors?

Access the most comprehensive Company Profiles on the market, powered by GlobalData. Save hours of research. Gain competitive edge.
Company Profile – free sample
Thank you!
Your download email will arrive shortly
Not ready to buy yet? Download a free sample
We are confident about the unique quality of our Company Profiles. However, we want you to make the most beneficial decision for your business, so we offer a free sample that you can download by submitting the below form
By GlobalData
People who are sleeping rough just get the shit kicked out of them — Homeless service employee
If you want to get angry at Marks and Spencer you must also get angry at many private businesses, a fair few local authorities and a decent segment of the population.
The incident at M&S falls into a broad category of anti-homeless strategies known as "defensive architecture".
With the right kind of eyes you can see this architecture. Ever noticed those wavy style benches, or those with dividers for individual seating?
Those are to stop people sleeping there. The little half-bench at the bus stop, so hard to perch on, serves the same function.
This is not a concerted effort by the council, it's mostly a problem of private property.
Along with the obviously private properties there is another class of area hostile to those sleeping rough. Here too the right kind of eyes can see the extent of it.
The Guardian recently reported on the creep of pseudo-public spaces in London: areas that look like public spaces free for all to use, but that are in fact privately owned and controlled.
The area around the London Eye is an excellent example.
These areas function in many ways as private property.
Undesirables such as the homeless are routinely ejected from the property by private security guards, totally within the law.
To stop them coming back, spikes are installed on the ground, benches are made wavy and, yes, high-pitched alarms are installed for out of hours repulsion.
It's not just private companies moving the destitute along.
The national homelessness charity Crisis has observed amidst an increase in rough sleeping an increase in police and local authority response to public complaints.
This has come as anti-social behaviour and street drinking increase.
While these are by no means illegitimate complaints Crisis reports that of the two options available to authorities — formal measures such as arrests, fines or imprisonments and informal measures such as simply moving homeless people along — it is the latter that is overwhelmingly used.
According to Crisis:
Only 10 per cent of rough sleepers surveyed had encountered a formal measure in the last 12 months compared to 70 per cent who had experienced an informal measure. By far the most common informal action rough sleepers experienced was being moved on by the police and/or enforcement agent. Defensive architecture was the next most recently experienced informal measure.
Formal enforcement measures usually carry with them offers of support and advice to those affected such as emergency housing or sign-posting to other organisations and Crisis said this support is very often taken up.
Informal measures are not obliged to come with such support. The charity said this leads to a mixed bag of interactions between the homeless and authorities.
This could vary from positive engagement and sign-posting people to homelessness agencies to more hostile encounters which left rough sleepers feeling criminalised and intimidated.
And then there's the abuse. A casual observer will note homeless people are in an exceptionally vulnerable position, especially at night. Their sleeping arrangements in the tired hours tend to leave them exposed to the worst a drunken citizenry can offer.
Crisis reports:
People sleeping on the street were almost 17 times more likely to have been victims of violence and 15 times more likely to have suffered verbal abuse in the past year compared to the general public.
This abuse breaks down into some appalling specifics. More than one in three homeless people surveyed for Crisis' report had experienced such physical violence as punching, kicking and projectiles thrown at them.
One in ten had been urinated on, one in twenty a victim of sexual assault.

Around half of all homeless have been intimidated, threatened, verbally abused, or harassed.
An employee of a homeless service in London, who asked not be identified, summed it up for Verdict:
People who are sleeping rough just get the shit kicked out of them.
The worker said he can anecdotally corroborate Crisis' findings, with beatings and degrading treatment, such as being urinated on, a daily occurrence.
He said also the apathy of passers-by only leaves the homeless population more vulnerable.
He recounts speaking with a closed-off vagrant outside a tube station in North London.
He had noticed this man would refuse to engage with anyone trying to speak with him. Eventually the employee figured out why.
As he was trying to speak with the man in the late afternoon a passer-by kicked the man with such force "I thought it would have broken his hands".
As the homelessness worker confronted the attacker a crowd formed from the commuters streaming out of the station.
They took the side of the attacker, (though it should be said many didn't see the attack) expressing anger at the rough sleeper's constant intrusive presence.
According to the worker, this man did little other than sit there and weep.
James Beavis, a medical student, slept rough on London's streets for a month at the turn of last year to raise awareness about rising homelessness in the UK.
Of the many things he learned in that month one lesson stands out.

Don't do your sleeping bag up on a Friday or a Saturday night, or any night that you feel danger, because you can't get out of it.
You see, a sleeping bag can prove a hindrance if someone sets you on fire. The month before I spoke with Beavis two homeless people had been subjected to this.
One of them woke to find "his head and face being covered in flames (as) he saw a man running away with his rucksack".
Beavis said the homeless population regularly sleep without being zipped up, even in winter, to avoid being immolated: "Same goes if someone starts stamping your head in or kicking you. I couldn't get up when I was spat on."
This was also mentioned by the homeless service worker who said those that could manage it would sleep between two sleeping bags to avoid being entangled.

Beavis said the repeated exposure to harassment, threats, degradation and repulsion takes its toll on the mental health of those subjected to it.
Even he, with an escape option at any moment, was not immune.
While still sleeping rough he told me his own last (and indeed only) line of defence — self-preservation — was crumbling.
I've become really apathetic to pretty much everything. I've started doing my sleeping bag up – if I get my head kicked in does it really matter? You just don't really care, you're pretty depressed.
The homelessness service worker says he's heard of reports showing more than half of street-sleepers develop substance abuse problems after beginning to sleep rough.
Though Verdict could not independently verify that, the worker said his anecdotal experiences and observation have shown him a population desperate to escape their hostile surroundings.
Recreational drug use among the comfortably housed, he said, tends to enhance or exaggerate one's social characteristics and the situation.
You talk more, engage more with the world around you.
For the homeless sleeper the drugs of choice are of the dissociative class, those that remove you from your environment.
A drug like spice can knock you out completely for four hours, he said.
That's four hours without pain.
So as I said, hurl your rage at Marks and Spencer if you want but save some for the rest of us.