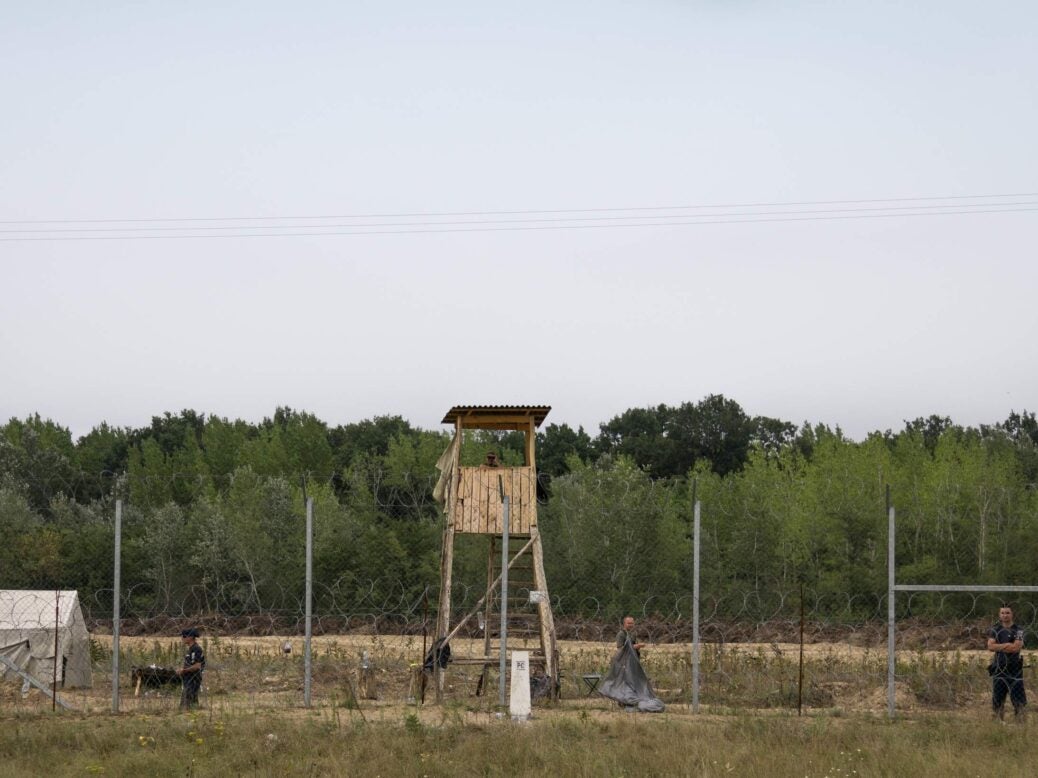 It appears walls are all the political rage at the moment.
After president Trump rose to power with his insistence on building a wall between the US and Mexico to keep the out the "bad guys", Hungary has followed suit.
When the migrant crisis first began in 2015, Hungary was the main route into Europe for those fleeing warzones in the Middle East and Africa.
The country's prime minister Viktor Orban, describing the mass immigration, has said this threatened the European way of life.
Speaking at a cultural festival in Baile Tusnad in 2015, Orban said:
"For us, today Europe is at stake. The survival, disappearance or, more precisely, the transformation beyond recognition of the European citizen's lifestyle, European values and the European nations."
In order to preserve Orban's vision, the country is building a new barrier on its border with Serbia. It is capable of delivering electric shocks to those that attempt to cross it, and is armed with heat sensors, cameras and loudspeakers that blare out warnings in different languages.
"Attention, attention. I'm warning you that you are at the Hungarian border," says the loudspeakers in English, Arabic and Farsi, reported Reuters.
"If you damage the fence, cross illegally, or attempt to cross, it's counted to be a crime in Hungary. I'm warning you to hold back from committing this crime. You can submit your asylum application at the transit zone."
Once completed, the new fence will run for 85 miles along the Serbian border though only six miles have been erected so far. Prison inmates have been tasked with constructing the barrier.
Though the government has set aside €123m to build the new fence, Orban's chief of staff Janos Lazar said that the total cost of the border effort, including patrols and transit zones for migrants to submit asylum applications, is nearing more like €1bn.
Why does Trump want to build a wall?
Our country needs strong borders and extreme vetting, NOW. Look what is happening all over Europe and, indeed, the world – a horrible mess!

— Donald J. Trump (@realDonaldTrump) January 29, 2017
Trump has often used the refugee crisis in Europe to justify his decisions to implement stronger border checks in the US, like his recent travel ban on citizens from Muslim-majority countries.
His proposed plans for the new wall between Mexico are going to be a lot more expensive than Hungary's.
The new wall will cover 1,000 miles of the 1,900 mile border dividing the two countries, with the remaining 900m taken care of by so-called natural obstacles.
The president has said the cost will be around $10bn-12bn. After insisting throughout the campaign that he would get Mexico to pay for its construction, Mexico's president Enrique Pena Nieto has retaliated by saying he will not.
An executive order has been signed by the president to set in motion the erection of the wall.
Will Trump's wall work?
There is currently a fence between the two borders and stringent border patrols to prevent migrants entering the US, yet people have been entering the country despite this for years.
There are around 5.8m unauthorised Mexican immigrants living in the US according to a study by the Pew Research Centre, with the country's citizens making up around 52 percent of all unauthorised immigrants in the US in 2014.
Christopher Wilson, deputy direction of the Mexico Institute at the Wilson Centre, told Wired: "In reality if you don't have someone behind the wall then people just climb over it or cut through it or do whatever the need to avoid it."
This is something a Mexican congressman tried to demonstrate this week. Braulio Guerra took to Twitter to post photos and a video of himself above a 30-foot tall fence that separates Mexico from the US.
Guerra said: "I was able to scale it, climb it, and sit myself right here.
It would be simple for me to jump into the United States, which shows it is unnecessary and totally absurd to build a wall."
Escalé el Muro con EEUU. Mira @realDonaldTrump lo absurdo e innecesario el gasto en este proyecto que agravia y daña nuestra buena vecindad. pic.twitter.com/K2S5RI8a0d

— Braulio Guerra (@BraulioPRI) March 2, 2017
It remains to be seen if Hungary and the new US border walls will serve their purpose, or just be really expensive.