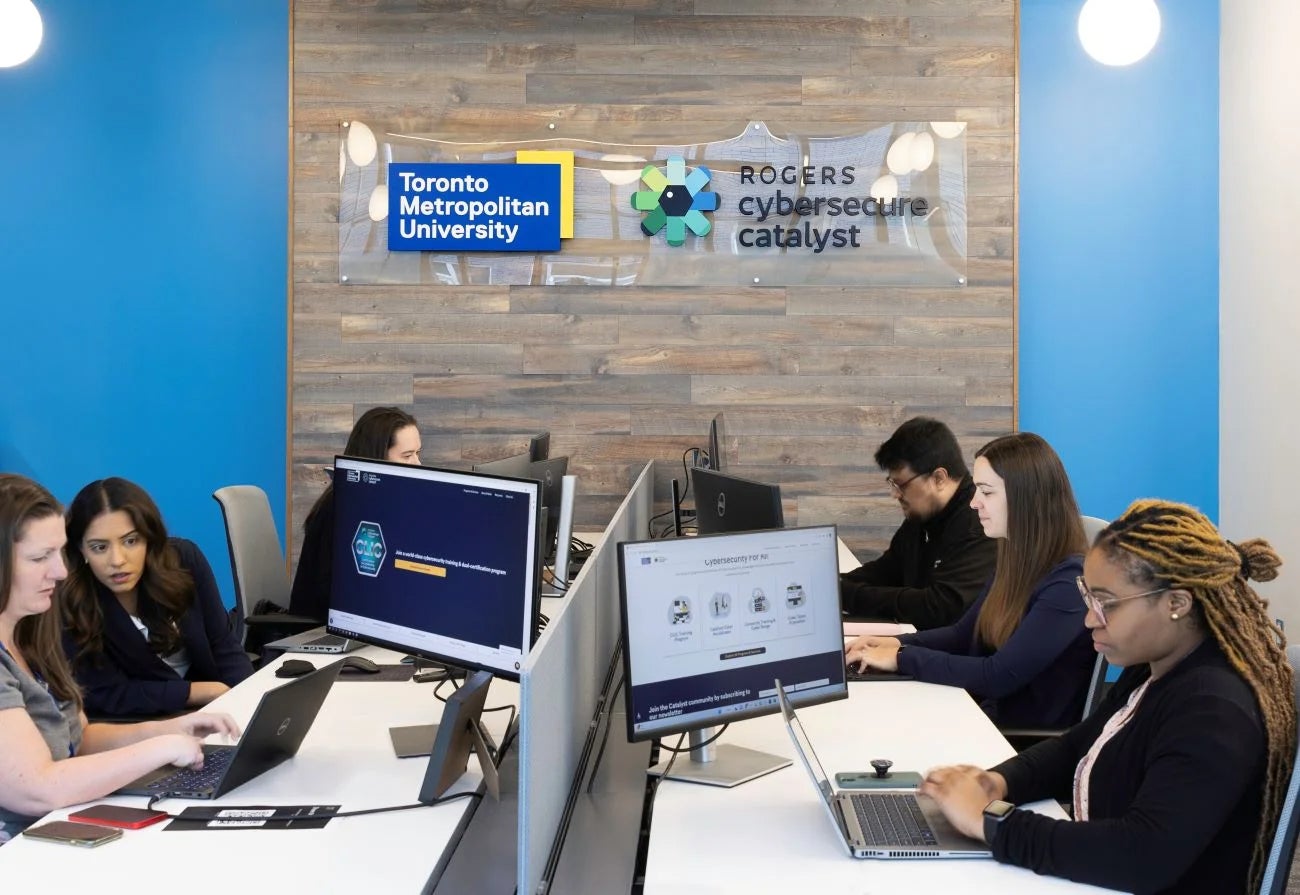 Cyber entrepreneurs Michael Bakaic and Erinn van Wynsberghe have a few things in common, although they may not realise it. Both studied engineering. Both wanted to create new technology that would have a big impact for good on the world – and both have participated in the Catalyst Cyber Accelerator programme run by Rogers Cybersecure Catalyst over the past 12 months. Both now have companies offering services that didn't exist before 2023.
Before Bakaic founded Iceberg Cyber, a cyber threat monitoring SaaS (software as a service) platform for small-to-medium businesses (SMEs), he launched a high-tech photonics business after completing a postgraduate degree in engineering at York University. "My friend and I took the plunge to bring to market a new way to measure extreme environments. We invented photonic sensors that could reach deep inside a jet engine and listen to its heartbeat. It was good tech, but we struggled to turn our innovation into a business. We learned a lot over six years. They were expensive and painful lessons. "
Scaling cyber in Brampton
However, like many entrepreneurs, Bakaic bounced back fast. During the pandemic – with time to spare trawling through the news – he was struck by the volume of cyberattacks and data breaches hurting businesses, especially SMEs. SMEs are prime targets for cybercriminals because they generally lack the resources to allocate to complex security measures, hold data valuable to hackers and may neglect to back up their files making IT vulnerable to ransomware.
According to Cybersecurity Ventures 2022 research, more than half of all cyberattacks are committed against SMEs, and 60% of those attacked can go out of business within six months of falling victim to a data breach or hack.
Bakaic felt he could offer a game-changing, affordable solution to help SMEs better protect themselves and their online data. He just didn't know exactly what that would look like.
"That is where the mentors at the Catalyst were incredible," he enthuses. "I turned up at the accelerator programme with a half-baked idea, and after three months I had the beginning of a viable value proposition: the cyber version of a credit score that SMEs use to grasp what cybersecurity means to their business."
Commercialising ideas into businesses
Erinn van Wynsberghe, a former TV producer turned space engineer, meanwhile, was propelled by the ambition to advance the renewable energy transition by developing a new way to capture energy in space and then beam it back down to Earth. During his research, he realised that the technology he was developing could have a few different use cases. He joined the January-to-March 2023 cohort of the Catalyst Cyber Accelerator, located in downtown Brampton, to move his concept into a business model. Like Bakaic, he also didn't quite know what product he would end up with at the end of the programme.
Van Wynsberghe says: "This was the brilliance of the Catalyst programme. The mentors there helped me to realise the transformative impact of the technology I had created for wireless communications. We live in a world dominated by encrypted digital communication, but in the future powerful AI and quantum-based software developments will make encryption through today's cryptographic algorithm redundant. To put it bluntly, our global wireless economy is currently in very real trouble.
"One way round this is to develop a new system that allows for communications to be sent directly between points in a thin pencil beam, which will be almost impossible to intercept. The mentors at the Catalyst helped me to realise the breakthrough potential of my concept. They helped me to refine my go-to-market messaging and communications material and my approach to accessing funding, and so much more. My experience with that dynamic community of the brightest minds in Canada's cybersecurity industry made me realise how lucky I am to be living so close to what is fast becoming a national, if not global, epicentre for the creation of a robust global cyber industry."
According to market intelligence company GlobalData, unfilled cybersecurity job vacancies have soared since the summer of 2019, when the GlobalData Job Analytics database showed unfilled openings at around 11,000. Tracking daily job postings for 32,000 companies in more than 200 countries, the database, which uses advanced spidering techniques to crawl jobs directly from company career pages, shows that unfilled roles connected with cybersecurity peaked at around 150,000 last spring.
The security training and certifications specialist ISC2 estimates the size of the global cybersecurity workforce to be 5.5 million — a 9% increase from 2022 and the highest it has ever recorded. However, based on a survey of 14,865 international cybersecurity practitioners, it also says that the skills gap is growing and that the profession needs to almost double to be at full capacity.
Brampton is playing an outsized role in addressing this challenge through its backing of the Catalyst as well as through its post-secondary institutions and the new flexible education options they are offering.
International attention
When the Catalyst launched in 2018, its opening programme was one of the first in the word for cyber workforce training, designed specifically for those without any post-secondary school qualifications. A public-private initiative backed by Rogers, Royal Bank of Canada (RBC), the Government of Canada as well as the City of Brampton, the Catalyst started an accelerator for cyber founders and start-ups a year later as the Covid-19 pandemic escalated.
Over the course of a 14-week programme, Catalyst community entrepreneurs, executives and corporates-in-residence offer organisational road-mapping, branding advice and workshops on fundraising and finding the product market. The Catalyst Cyber Range, a unique and highly sophisticated cybersecurity training and testing platform, allows participants to test their products in a real-world simulated environment – a rare privilege not available to most cybersecurity practitioners and professional hopefuls.
Between 2020 and 2023, the Catalyst will have graduated around 60 companies and helped them raise more than C$100m ($73m). The alumni companies have cumulatively created more than 350 jobs and hold, at latest count, 36 patents between them in technology categories including quantum computing, secure message exchanges, behavioural biometrics, AI and machine-learning algorithms.
Catalyst Cyber Accelerator Alumni companies are receiving global attention. One37 ID founder Fadwa Mohanna, who participated in the eighth cohort of the accelerator this year, received a 2023 RBC Canadian Women Entrepreneur Award in the 'Ones to Watch' category for her achievements in delivering decentralised identity authentication solutions using blockchain and AI technology.
Additionally, Cydef has recently announced it will expand its endpoint security services in India and the Philippines, while Flare, a digital footprint platform that leads the way in dark web monitoring for large enterprises, is gaining traction in the US. Van Wynsberghe's company VanWyn also made significant advances since his time with the Catalyst, thanks to its guidance and mentorship, earning a C$1.7m ($1.2m) fund-matching grant from Mitacs (Canadian Federal Government) to advance its technology. VanWyn was also awarded a contract from the defence industry and has been supported by the Canadian Government to develop a secure communications innovation to assist Ukraine.
Van Wynsberghe reiterates that the City of Brampton has been a phenomenal support. The City of Brampton sponsored his attendance at the Collision Conference, a tech event where tens of thousands of tech entrepreneurs, investors and other stakeholders come together to make deals happen, and he is still following up with the many leads generated there.
Nathan Battersby, a senior manager at the Catalyst, has been working with the organisation's business accelerator team since it launched. He credits Brampton as being vital for the Catalyst's current and ongoing success because of the city's fortunate location in the Canadian Innovation Corridor between Waterloo and Toronto as well as the local government's strong commitment to developing skills and talent through non-traditional education pathways.
"We are creating tomorrow's global cyber leaders right here in Brampton," Battersby says.
Read more in a new white paper about how Brampton, Canada's youngest and fastest-growing city, is facilitating the growth of cyber skills, pioneering inclusive workforce training and creating opportunities for cyber entrepreneurs to scale their start-ups. Download below.