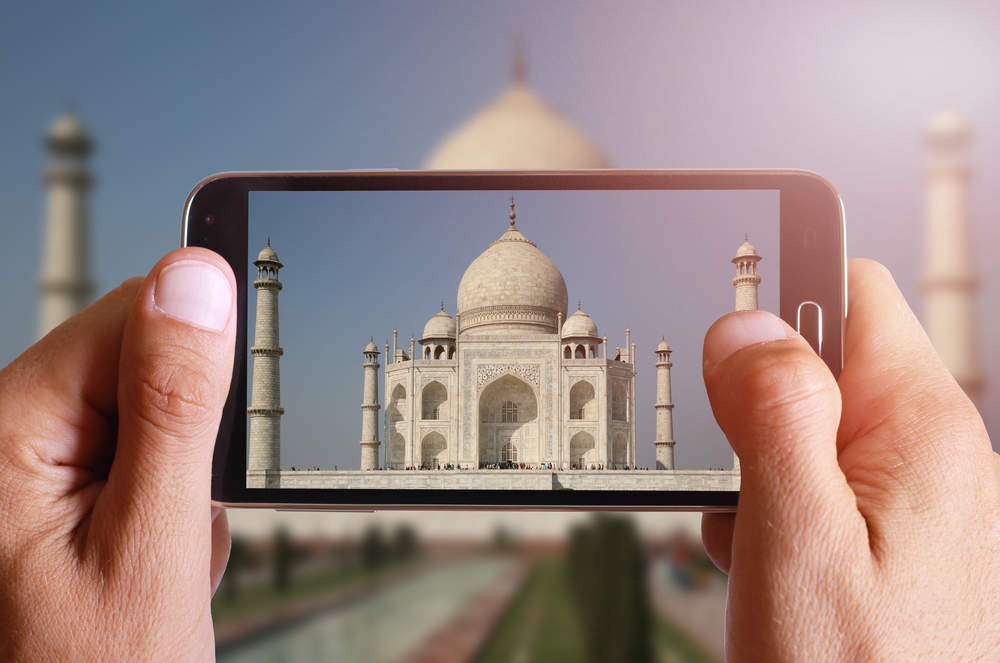 India is home to one of the world's largest and fastest growing smartphone markets, which is expected to increase further due to population rises and competitive prices.
The combination of a rapidly growing population and a ferociously competitive mobile market has driven down the price of devices, and allowed many Indians to buy a smartphone for the first time.
Over the past few years, a growing trend in 'feature phones' that offer a cheaper, simpler alternative to regular smartphones, has also opened the market to the average Indian consumer.
In 2017, 70 million Indians started using a smartphone for the first time, with the number of users having leaped to 370 million, according to Counterpoint Research.
This compares with 670 million users in China in 2017, according to online statistics research portal, Statista.
Despite being the world's largest markets, they are still not the fastest growing, as they are being overtaken by smaller emerging markets, where more people are buying a smartphone for the first time.
Tech Strategies research director Peter Richardson told Verdict:
"With a 20% growth rate expected over the coming years, India has emerged as the fastest growing giant among the world's top ten largest smartphone markets.
"China is the world's largest smartphone market. It sells around 470 million units per year of smartphones, so over three times the size of India's smartphone market. But China's market is rather flat, while India's is growing at a decent clip."
As two of Asia's largest smartphone markets, China and India were expected to seize a 50% slice of the global smartphone market by 2017, an increase from the 20% held in 2011.
The latest growth spurt in India's smartphone market came after their largest mobile operator Reliance Jio lured mobile users online for the first time by offering some of the world's cheapest data rates, Richardson explains.
"India is moving ahead but there is a slightly odd thing happening at the moment," he says.

"The India market has seen several periods of strong growth, but is undergoing one now thanks to the actions of the mobile operator Reliance Jio.

"Reliance Jio has shaken-up the market by offering very low rates for data access – and data access over 4G."
Data rates were far cheaper than in the UK, or any other market, at around $0.28 per GB, according to Richardson.
"People are just jumping onto it," he adds. "It's high-quality as well because its on a 4G network."
Around 18 months ago, Reliance Jio triggered a price war by offering 4G that the average Indian consumer could afford.
As well as bringing many first time buyers into the market, the move catapulted the company into the position of India's largest telecom network.
3G never really took off in India, so 4G is connecting many Indians to the internet for the first time, Richardson explains.
"4G is giving many Indian consumers their first real taste of the internet," he says.

"Reliance Jio's competitors have had to adapt fast and this competitive friction has caused a broad-based reduction in both cost of access and an increase in the quality. The Indian consumers are reacting positively."
According to Richardson, Indians are using their new lightning-speed bandwidth for everything, from watching Bollywood films to voice calls over a 4G's 'LTE' network, known as VoLTE, that see data speeds up to ten times faster than the current 3G network.
The majority of people in India still don't have a smartphone, which is also helping their market to grow.
The percentage of Indians with a smartphone is forecast to hit around 28% by 2018, a rate achieved by the US in 2011, according to Statista.
As ownership grows, so does India's share in the global smartphone market, with one in ten of the world's smartphones now sold in the country.
India accounted for 10% of global smartphone market in 2017, growing 14% that year to hit a record 124 million mobile shipments:
Xiaomi is the most popular smartphone brand in the country, followed by Samsung and Lenovo. Xiaomi broke Samsung's six-year dominance last year, despite only entering the market in 2014.
Chinese brands have also proved the most popular in the country, capturing 54% of the market in 2017, up from 34% in 2016.
And their domination is expected to expand, as Xiaomi announced plans this month to open three new manufacturing plants to build their hugely popular phones.
Top Five Smart Phone and feature phone companies in India. Market Share (Units) 2017

Smartphone 2017
Feature Phone 2017
Company
Market Share
Company
Market Share
Samsung
24.7%
Samsung
20.5%
Xiaomi
20.9%
Transsion
13.7%
vivo
9.4%
Micromax
8.7%
Lenovo
7.8%
Reliance Industries
8.3%
OPPO
7.5%
Lava
7.2%
The only thing slowing down India's smartphone market is the country's growing penchant for feature phones.
Reliance Industries' rolled-out its JioPhone last August, that has the interface and price-tag of a feature phone, but is also able to offer 4G.
The device was so popular that it gained a 26% share of feature phones sales in India last year. It also caused a boom in the feature phone market, as the industry grew 55% in 2017, compared with a modest 12% growth in the Indian smartphone market.
Over the same period, overall mobile imports jumped 37%, according to Counterpoint Research.
Smartphone and feature phone shipments into the India market in 2017

India Handset Market
Current Year 2017
Shipments
Change Y/Y (%)
Feature Phone
168 million
12%
Smartphone
134 million
14%
Total Handset
302 million
13%
Despite its promise, India's smartphone market is not expected to overtake China's anytime soon.
By 2019, around 374 million Indians are expected to own a smartphone, compared with 675 million in China, according to Statista.
Richardson says: "China has been more advanced for a longer period of time, and there's a bigger market overall. [Also] gross domestic product per head is larger, so the overall smartphone population is that much bigger."