The technology industry continues to be a hotbed of patent innovation. Activity is driven by the rapid emergence and widespread adoption of game-changing technologies such as artificial intelligence (AI), and growing importance of technologies such as numerical methods and simulation, fractal analysis, computer simulations and data analysis, and time series analysis. The chaos model is a concept used in various fields, including mathematics, physics, and computer science, to describe complex and unpredictable systems. In the last three years alone, there have been over 4.1 million patents filed and granted in the technology industry, according to GlobalData's report on Artificial intelligence in technology: chaos models. Buy the report here.
However, not all innovations are equal and nor do they follow a constant upward trend. Instead, their evolution takes the form of an S-shaped curve that reflects their typical lifecycle from early emergence to accelerating adoption, before finally stabilizing and reaching maturity.
Identifying where a particular innovation is on this journey, especially those that are in the emerging and accelerating stages, is essential for understanding their current level of adoption and the likely future trajectory and impact they will have.
190+ innovations will shape the technology industry
According to GlobalData's Technology Foresights, which plots the S-curve for the technology industry using innovation intensity models built on over 1.5 million patents, there are 190+ innovation areas that will shape the future of the industry.
Within the emerging innovation stage, GenAI for design, finite element simulation and deep reinforcement learning are disruptive technologies that are in the early stages of application and should be tracked closely. 3D model simulation, drone controls AI, and circuit designing AI are some of the accelerating innovation areas, where adoption has been steadily increasing.
Innovation S-curve for artificial intelligence in the technology industry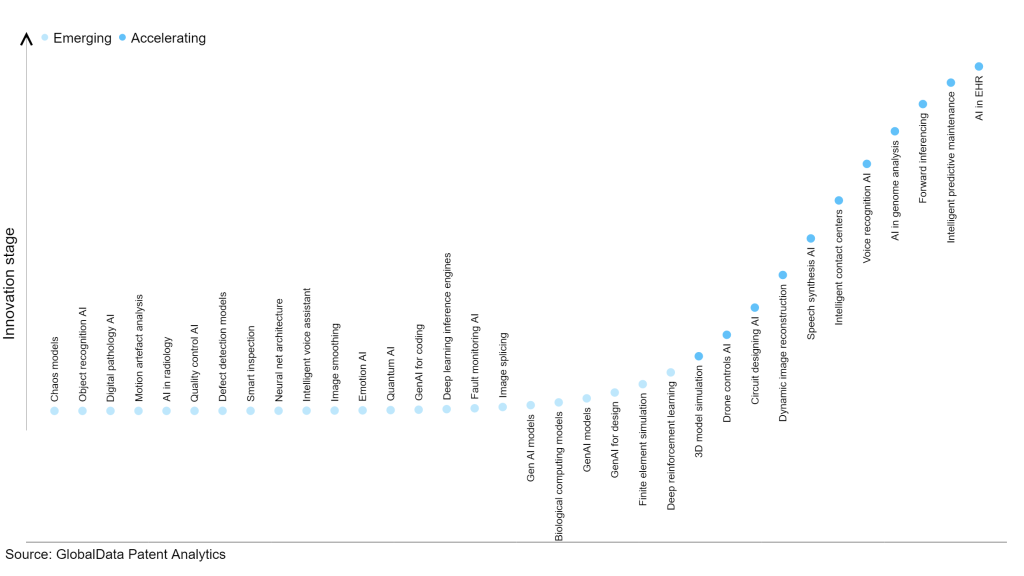 Chaos models is a key innovation area in artificial intelligence
Chaos models refer to mathematical representations of dynamic systems that demonstrate chaotic behavior. This behavior may seem random or unpredictable, but it is actually governed by deterministic principles. Such systems are often extremely sensitive to initial conditions and exhibit a diverse array of complex behaviors as time progresses. These behaviors include bifurcations, fractals, self-replication, and strange attractors. Chaos models find applications in various scientific and engineering disciplines, including physics, biology, economics, and computer science.
GlobalData's analysis also uncovers the companies at the forefront of each innovation area and assesses the potential reach and impact of their patenting activity across different applications and geographies. According to GlobalData, there are 30+ companies, spanning technology vendors, established technology companies, and up-and-coming start-ups engaged in the development and application of chaos models.
Key players in chaos models – a disruptive innovation in the technology industry
'Application diversity' measures the number of applications identified for each patent. It broadly splits companies into either 'niche' or 'diversified' innovators.
'Geographic reach' refers to the number of countries each patent is registered in. It reflects the breadth of geographic application intended, ranging from 'global' to 'local'.
Patent volumes related to chaos models
Source: GlobalData Patent Analytics
IBM is one of the leading patent filers in chaos model. The company's patents are aimed at invention describing adaptive learning rate schedule in distributed stochastic gradient descent. A method for performing machine learning includes assigning processing jobs to a plurality of model learners, using a central parameter server. The processing jobs include solving gradients based on a current set of parameters. As the results from the processing job are returned, the set of parameters is iterated.
A degree of staleness of the solving of the second gradient is determined based on a difference between the set of parameters when the jobs are assigned and the set of parameters when the jobs are returned. The learning rates used to iterate the parameters based on the solved gradients are proportional to the determined degrees of staleness.
Other prominent patent filers in the space include NVIDIA, Stradvision, Intel, and Cambricon Technologies.
In terms of geographic reach, Cambricon Technologies leads the pack, followed by Stradvision and ConocoPhillips. In terms of application diversity, Metropolitan Airports Commission holds the top position, followed by Strong Force Intellectual Capital and Mitsubishi Electric.
Chaos models provide insights into the underlying dynamics of complex systems, revealing patterns and behaviors that are not apparent through traditional linear models. They help in understanding and predicting the behavior of systems that exhibit sensitivity to initial conditions, allowing for better decision-making and control strategies. Chaos models are applied in various fields, including weather forecasting, population dynamics, financial markets, and cryptography.
To further understand how artificial intelligence is disrupting the technology industry, access GlobalData's latest thematic research report on Artificial Intelligence (AI).
Premium Insights
From
The gold standard of business intelligence.
Blending expert knowledge with cutting-edge technology, GlobalData's unrivalled proprietary data will enable you to decode what's happening in your market. You can make better informed decisions and gain a future-proof advantage over your competitors.