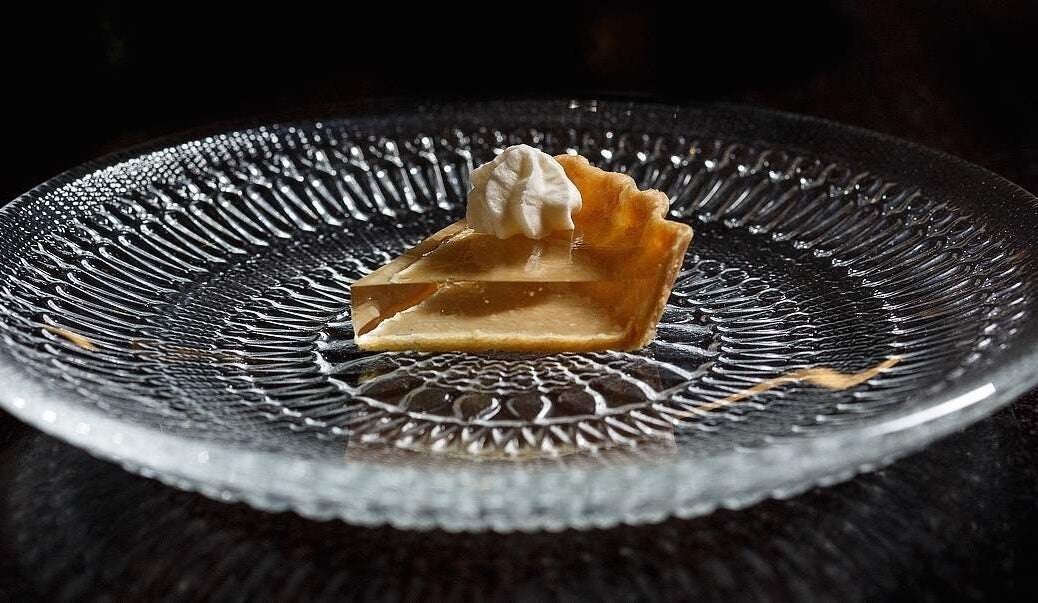 There's no denying that Instagram has fundamentally changed the food industry. Where once taste was king, now aesthetic is just as, if not more important. Some restaurateurs might moan about the shift in culture, but their own menus are bound to be full of glossy pictures too.
One of the most interesting ways that Instagram has changed food though, is that new foods are being created specifically for viewing audiences.
The most obvious example of this is the clear pumpkin pie which went viral on Instagram. The dish, which apparently tastes exactly like normal pumpkin pie, is a reinvention for the sake of aesthetics, not taste.
https://www.instagram.com/p/Bah6xcNhsTE/
The dish was made by chef Simon Davies for Alinea, a restaurant in Chicago. The entire restaurant is designed to challenge ideas of what food should be and what it should look like. It's basically Instagram, the restaurant.
Still, the pumpkin pie does look pretty good. Executive chef of Alinea, Mike Bagale, shared the recipe with Vogue for the pumpkin pies. The crust and cream are exactly as you'd normally make them. For the clear stuff though, this is what you'll need:
Pumpkin Pie Distillation
1600g cooked pumpkin
10g ginger powder
6g ground cinnamon
4g ground clove
400g sweetened condensed milk
224g sugar
12g salt
10 gelatin sheets
Distill a base of cooked pumpkin, ginger, cinnamon, clove and condensed milk in a rotary evaporator. Then, reserve 1000 grams of the distillate and add the sugar and salt. Season to taste. Bloom the gelatin into the base while it's cold. Transfer mixture to metal mixing bowl and gently heat over a pot of hot water to melt the gelatin. The mixture should not become hot.
Pour gelatin mixture into tart shells and refrigerate until set.
To serve, remove mini pies from fridge and let them sit at room temperature to temper for 10 minutes to soften the gelatin. Cut each pie into six pieces and top each with segment with whipped cream.
A few other Thanksgiving recipes to make your meal extra special:
The interesting part about these 'made for Instagram' recipes is that the more research one does, the more one can find. Here's a few other wacky, wild, and just plain barmy ideas for an unforgettable Thanksgiving dinner.
Flaming Hot Cheetos Turkey:
Ever find yourself wishing that your Thanksgiving turkey was a little more… spicy? First created by Reynolds' Kitchen, this viral recipe has taken on a life of its own.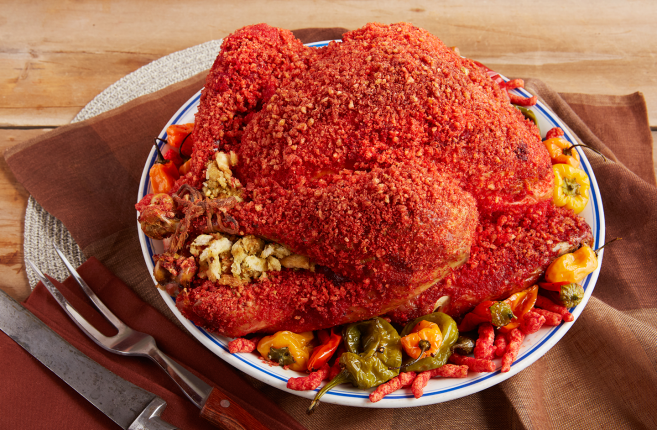 You will need:
A turkey
Many packets of Flaming Hot Cheetos
Oven bags
Preheat oven to 200 degrees celsius.
Place hot puffed cheese sticks in a food processor and process until fully crushed. You can also add to a zip top bag and roll with a rolling pin until sticks are completely crushed.
Brush oil or butter on turkey and coat with the crushed chips.
Add 1 tsp of flour to the Reynolds® Oven Bag and place in a large roasting pan that is at least 2 inches deep
Carefully slide turkey into the oven bag, making sure the opening of the bag is facing the end of the roasting pan, and not facing up. The bag should be inside the pan, not hanging over the edges of the pan.
Close oven bag with the included nylon tie, and cut six 1/2 inch slits in the top of the bag
Cook turkey till it reaches 165°F in several places. Remove from oven and let stand in oven bag for 15 minutes or until cool enough to handle.
Cut open the top of the bag. Carefully lift turkey from bag and place in a large baking dish or pan with at least 2" sides. Return turkey to oven for 15 to 20 minutes to crisp the coating.
Butternut Squash Mac 'n' Cheese:
Butternut Squash is great. It has, by far, the best name or any fruit or vegetable. Mac 'n' Cheese is… less great. A staple of student halls and the days where pay checks were few and far between. So why not (or indeed, why?) combine the two?!
https://www.instagram.com/p/Bbu6K89Bsl2/?tagged=butternutsquashmacandcheese
A blog called Sally's Baking Addiction popularised these bizarre bedfellows into a recipe which actually sounds and looks delicious! You can find the full recipe here.
Cornbread Stuffing Muffins:
Everyone loves a good stuffing, there's just no arguing with that. But savoury cupcakes? It isn't something that would ever have existed in a pre-Instagram world, but here we are. Created by Sommer of A Spicy Perspective this is a pretty strange one, but it actually looks fairly tasty.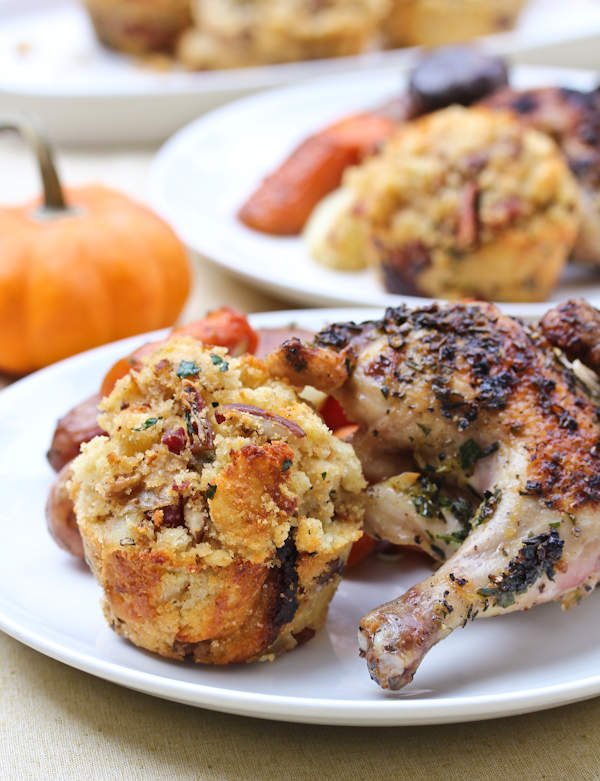 You can find the recipe at the aforementioned link. It's weird, but just a bit wonderful.
All-natural green mashed-potatoes:
It's a little-known fact that the all the frozen yoghurt seen on NBC's hit comedy The Good Place is actually coloured mashed potato. They had to have something that wouldn't melt between takes. But here's the thing, you don't even need food colouring to make colourful mashed potatoes this Thanksgiving.
Here's a simple recipe for green mashed potatoes. However, if green isn't too your taste, you can make pink potatoes by mixing in beets rather than peas.
https://www.instagram.com/p/BDEljW_zK8g/?tagged=greenmashedpotatoes
Ingredients
7 potatoes, medium size (about 1 cup each), peeled and diced
1 cup skim milk, divided
2 garlic cloves, peeled
1 cup frozen peas
2 tbsp soft (tub) margarine
1 tsp white pepper (optional)
1/4 tsp salt
Instructions
Simmer peeled, diced potatoes for about 10 minutes until soft when pierced with a fork.
Cook 1 cup peas in microwave for about 3 minutes; drain and reserve.
Heat milk until hot. Add garlic cloves to milk and let stand for 5 minutes.
Puree peas, 1/4 cup milk, and garlic cloves using a blender.
Drain potatoes and begin to mash.
Slowly add 3/4 cup milk while mashing.
Blend in the pureed peas and garlic, margarine, and white pepper (optional) to the mashed potatoes.
Place mashed potatoes in a serving dish and keep warm.
Just before serving, lightly sprinkle salt on top of potatoes.
If you perhaps want something even fancier, why not make your mash from Purple Majesty potatoes? These are all natural with no artificial colouring, but also they just happen to grow purple! Look it up!
https://www.instagram.com/p/BbKWrUEjlJH/?tagged=purplemashedpotatoes
A pretentious Thanksgiving dinner and Hobo Apple Pie:
Of course, the most important thing to note about all these dishes is that they're all marvelously pretentious. Not a single one of them ever actually needed to be made. What mattered was not whether the chefs should, but rather, whether they could. Few food blogs have embraced that philosophy more voraciously than the delightfully titled Shitty Food Made Pretentious.
The blog is the brainchild of a man named Kyle Martin who boasts of never having attended a cookery class in his life. However, don't be fooled, his recipes are delicious and incredibly Instagrammable.
Here are two Thanksgiving classic, served so pretentiously that they might just summarise the entire food-blogging industry at the moment. You can find the recipes at the aforementioned link to Kyle's blog.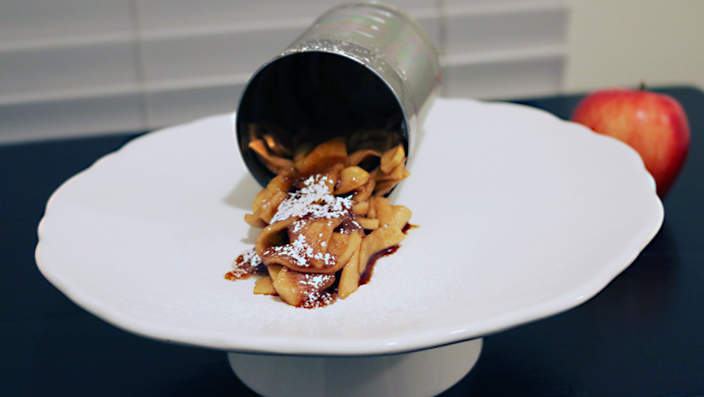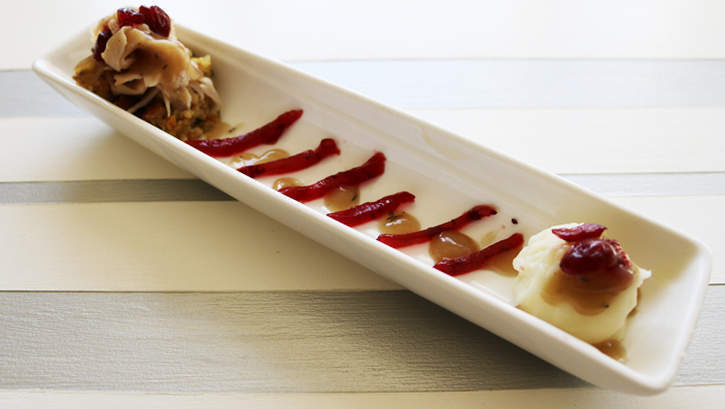 In case there's any doubt. The first of those pictures is a classic Thanksgiving apple pie. Meanwhile, the latter is a delicious turkey roast!
Remember, if your guests don't spend half their Thanksgiving dinner photographing their food, then you've failed this holiday!