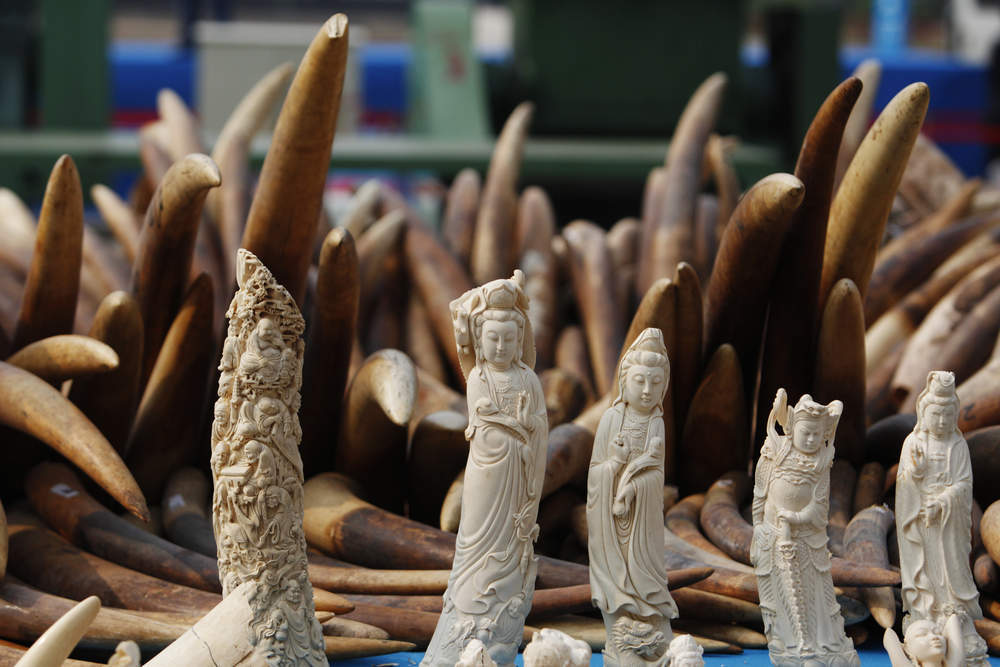 China's latest move in attempting to curb prolific elephant poaching will take effect this Sunday.
As the largest importer and user of elephant tusks — with 70 percent of global demand for ivory coming from China — the decision has been heralded by activists as a crucial step in protecting the endangered animals.
Conservationist Zhou Fei said the ban could be a catalyst for the closure of ivory markets across Asia.
Peter Knights, chief executive of conservation group WildAid, said:
It is the greatest single step towards reducing elephant poaching.
Under the ban, China's 172 ivory-carving factories and retail outlets will close, following on from the closure of 67 government-approved ivory factories and shops in March of this year.
Despite the importance of this step, some have warned that Hong Kong remains a significant obstacle in combating elephant poaching.
The ban on ivory sales does not extend to the administrative region of China, which is a veritable hub for ivory consumption. It has the largest retail market for the material and has been trading it for over 150 years.
According to WildAid, Hong Kong has intercepted about 40 tonnes of illegal ivory since 2003, though this is only about 10 percent of what is believed to have been smuggled in.
A ban on ivory trading has been suggested in Hong Kong, with a proposed phase-out period of five years. A final vote on the proposal is expected early next year.
Ivory in China
The trading of elephant ivory has been internationally banned since 1989, however domestic sales in China and the US remained legal. Wildlife activists have long said that this continued trade has fed demand for ivory.
Until recently, the Chinese government has actively promoted its ivory trade as part of the country's heritage.
Each year a set amount of raw ivory was drip fed into its factories for sale in the domestic market, causing its value to skyrocket. However, according to the Nairobi-based nonprofit Save the Elephants over the past three years the price of ivory has dropped by nearly two-thirds.
Additionally, WildAid has reported that ivory prices in China are around 65 percent lower than level reported in 2014, with some retailers trying to sell stocks for significant discounts in an attempt to beat the ban's imposition.
China announced its intentions for a 'near complete' ban on its domestic ivory markets in 2015, alongside the US. The ban was said to be coming into effect within 12 months, though no specific details were provided.
The closure of government-approved ivory factories and shops in March of this year was seen as the first tangible step in China fulfilling its promise to tackle poaching.
This partial ban has already led to a reported 80 percent decline in seizures of illegal ivory entering China as well as a 65 percent decline in raw ivory prices, according to WildAid.
The Ivory Trade's history
Ivory has long been seen as an ostentatious symbol of wealth and success.
In China the material is primarily wanted for status symbols amongst the middle and upper classes.
Initial demand for ivory sprung from the West who called for jewellery, piano keys and billiard balls made from the material.
A resulting spate of poaching diminished the African elephant population from more than 20m in the year 1800 to just 2m by 1960.
Subsequent demand from Japan and China following their economic expansion has seen the species dwindle to less than 0.5m, with 30,000 being killed by poachers every year.