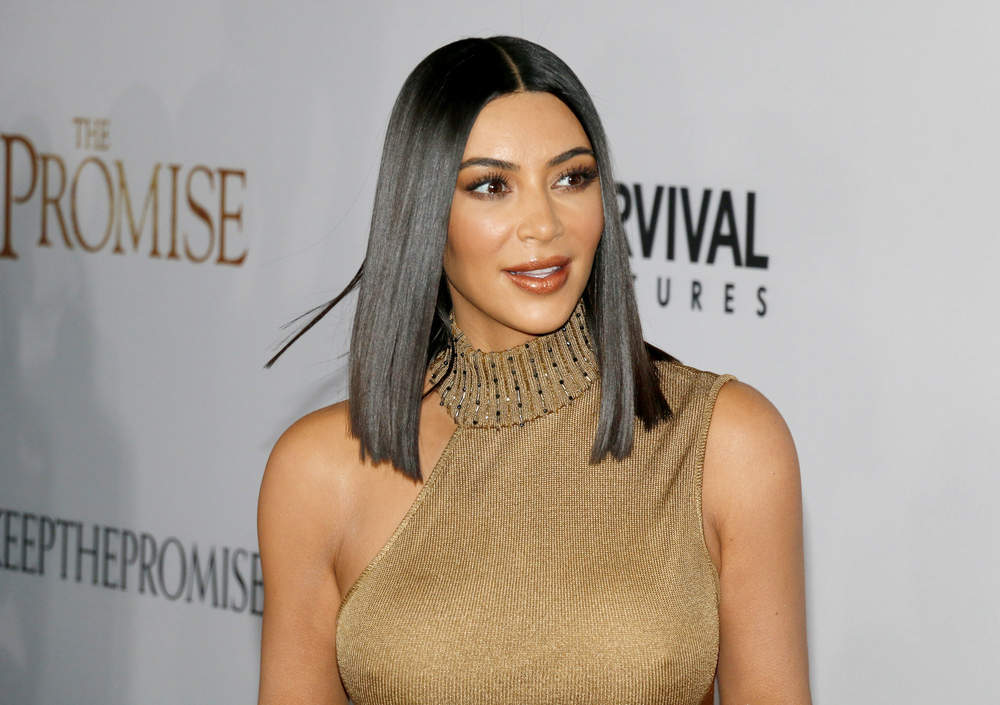 Kim Kardashian is a woman of many talents. She's a social media mogul, a businesswoman, a singer, and a reality TV star.
However, if you're not a huge fan of Kardashian, you may not be aware she's also queen of the apps. No, really.
Since she first rose to fame on the back of Keeping Up With The Kardashians, Kim has built a veritable app empire. Last week she announced a fourth app to add to her collection. ScreenShop will be her first non-Kardashian-brand app.
It will join Kim Kardashian: Hollywood, KIM KARDASHIAN WEST, and Kimoji as part of the Kim Kardashian app empire.
What is ScreenShop?
Whatever one might think of Kim Kardashian, there's no denying that ScreenShop is a good idea. The app will see users screenshotting pictures of outfits they like and uploading them to ScreenShop. The app will then use artificial intelligence and computer learning vision to scour the internet to find where users can buy those clothes or similar products.
For example, if Kim Kardashian uploaded a picture to her Instagram account, users could screenshot it then upload it to ScreenShop. They'd then get recommendations for where to buy Kim's clothes or similar, perhaps more affordable, options.
How well do you
really

know your competitors?

Access the most comprehensive Company Profiles on the market, powered by GlobalData. Save hours of research. Gain competitive edge.
Company Profile – free sample
Thank you!
Your download email will arrive shortly
Not ready to buy yet? Download a free sample
We are confident about the unique quality of our Company Profiles. However, we want you to make the most beneficial decision for your business, so we offer a free sample that you can download by submitting the below form
By GlobalData
This isn't a million miles away from the original concept of ASOS.com whose name is an acronym of 'As Seen On Screen'. In its early days, ASOS.com offered a similar service, recommending clothes that users might have seen celebrities and movie stars wearing.  The British shopping company was a start-up in 2000, and is currently worth £4.71 billion.
What do fans think of ScreenShop?
Judging by the early reaction to the app, it works pretty well:
I just downloaded #Screenshop and it is soo goood. A game changer!!! Thank you @KimKardashian pic.twitter.com/0nbGTSqV06

— Joshane Kardash (@joshanekardash) November 8, 2017
The app #screenshop is the best thing ever invented

— Kayla Guagnini (@KaylaKtweets) November 13, 2017
#ScreenShop picks up on Men's clothing too ?????? best app I've ever downloaded ?? @Screenshopit @KimKardashian

— Ray Kady (@rayk97) November 7, 2017
Kim k you outdid yourself girl. #screenshop is fucking amazing. @KimKardashian. I'm going to live on this app now ????

— Ashley Trotman (@ashleyaat) November 7, 2017
@KimKardashian screenshop is genius???I've been waiting years for this app? thank youuu #Screenshop #KimKardashian

— Keera (@keeraro) November 8, 2017
@KimKardashian well I tested #Screenshop and I was sceptical but hell yeahhhh this is the sickest thing ever. I am shooook it is amazing. Great Job girl pic.twitter.com/TT968IquuQ

— DeNatze (@NatzeKan) November 9, 2017
Ok hold up #Screenshop is amazing? well done kimmy k ❤??#KimKardashian #ScreenShop_Ambassador @KimKardashian

— Shauna Higgins (@shaunahiggs1) November 8, 2017
However, not all the reaction has been quite so positive.
This app is cool @Screenshopit @screenshop Great tool to quickly review what the competition is selling against your products. However I would question the size of the database #screenshop #shopping #screenshopit

— Jaskiran (@jaskiran28) November 10, 2017
So we're really gonna sit here and act like Kim Kardashian's app #Screenshop hasn't already been done ? It's called reverse Google image search … ?

— adrienne (@AdrienneElexis) November 8, 2017
Who is she #Screenshop pic.twitter.com/MEkj0lAlOM

— Joe Sutton ? (@joesutton) November 8, 2017
#Screenshop is really great, if you have money. Until then, it's just fun.

— Madeline Mabsoot (@MadelineMabsoot) November 9, 2017
Additionally, some bloggers have suggested the app could harm their businesses.
Fashion bloggers make a small amount of commission through affiliate links from the clothes they recommend to their readers. However, with the ScreenShop app, fashion fans could circumvent their favourite bloggers and get fashion ideas directly from celebrities.
On the other hand, fashion bloggers and other 'influencers', it could be argued, have been playing at being minor celebrities as a business model. A character such as Kim Kardashian shutting down that model is, in many senses, dramatic irony at its finest.
Who are the developers of the app?
The app is the inaugural product of Craze, an app development start-up. The same interview clarifies that, despite what her online fans may think, Kardashian's involvement is purely advisory.
According to Forbes, the founders of ScreenShop self-funded the company for $600,000 for its first six months. Eventually, they sought investment from friends and family, raising $4.5m by May 2017.
The app's website lists the people behind ScreenShop as Mark Fishman, Molly Hurwitz, Meir Hurwitz, and Jonathan Caras. All are entrepreneurs who've known for making millions founding various financial and technology companies over the years.
According to Craze's LinkedIn page, the New York City company employs between 11 and 50 people to work on and develop the app.
Kim Kardashian's other app developers
Of course, despite having four apps to her name, Kim Kardashian isn't what one might call a techy.
Although her fans on Twitter seem to think that Kardashian has personally built and coded each of her apps, that is, unfortunately, not the case.
So who are the developers behind the rest of her apps?
Whalerock Industries (behind the Kimoji and Kim Kardashian West apps)
Unlike ScreenShop, the rest of Kim Kardashian's apps are really nothing more than reskins of pre-existing apps. Whalerock Industries describes itself as follows:
"An independent media/technology company which creates, produces and distributes premium content and brands across the media landscape.

"Whalerock integrates the best practices and learnings of the technology and media worlds, building a scalable, innovative digital and production infrastructure to create captivating, next-generation media experiences."
In essence, they make apps for celebrities. These apps offer premium, exclusive content including special photographs, blog entries, and updates that the celebrities do not share on other social media accounts. Imagine logging into Facebook and the timeline being full of nothing but Kim Kardashian.
That's essentially what the app is like. Only Kim can post, no one else. Also, fans have to pay $2.99 for the privilege of seeing these updates.
The Kimoji app lets fans send Kim Kardashian themed emojis to their friends.
Whalerock Industries have dozens of similar apps. There are apps for each member of the Kardashian clan, plus versions for Tyler the Creator, the Los Angeles Lakers, Ellen DeGeneres, Howard Stern, and plenty more.
Lloyd Braun founded the company in 2014. He is a former chairman of the ABC Entertainment Group. According to LinkedIn, Whalerock Industries has over 200 employees who work on the apps.
Kim Kardashian's personal app costs $2.99 to download and Kimoji costs $1.99 to download. Both are available on the App Store and the Google Play Store.
Glu (behind the Kim Kardashian: Hollywood app)
The original Kim Kardashian app is the biggest money-spinner of the lot. The app was released in June 2014 on iOS and Android.
The company wanted to make a casual game with roleplaying elements using their pre-existing game engine. Ultimately though, what they needed was a star to generate popular appeal. Glu thought Ms Kardashian would be "the best brand fit in the world."
Kim Kardashian: Hollywood took around 18 months to produce. In an interview with the Wall Street Journal De Masi said Kardashian was involved at every step along the way:
"[Kardashian] approved every item of clothing [used in the game], we discuss features, we discuss events, updates, etcetera. She's reviewed all the [production] milestones, from alpha to beta, final gold master."
The game sees players attempting to increase their fame and reputation by booking modeling jobs, acting jobs, and club appearances, and going on dates. Kim Kardashian: Hollywood is technically free-to-play but is monetized via micro-transactions for in-game currency.
In the first five days after its release, Glu Mobile confirmed that the game had generated $1.6 million. By the end of its first quarter, it had 22.8m players, had made $43.4m, and had been played more than 5.7bn minutes.
How much does Kim Kardashian make from her apps?
Kardashian herself once humble-bragged about how much Kim Kardashian: Hollywood was worth to her:
sorry I'm late to the party guys I was busy cashing my 80 million video game check & transferring 53 million into our joint account ??????

— Kim Kardashian West (@KimKardashian) March 8, 2016
However, it seems unlikely that Kardashian's boast is entirely accurate. The game did receive over 42m downloads between 2014 and 2016.
It generated $71.8m in revenue in 2015. Despite those impressive numbers that's still significantly down from the $74.3m the game made in just six months in 2014.
Kim Kardashian: Hollywood is thought to the source of about 30 percent of Glu's revenue.
The company is worth around £535.6m at the time of writing, so that's about £178.5 from that particular game. According to insiders who spoke to Forbes, Kim Kardashian likely enjoys around 45 percent of profits from the game. From that, analysts suggest her take-home may be roughly equivalent to 30 percent of revenues.
Her approximate total earnings from the game at the time of posting that tweet was probably about half of what she claimed.
Unfortunately, Whalerock Industries have given no indication of how well their Kardashian apps are performing.
There are no figures for the App Store, however, the Google Play Store suggests the Kimoji app has 50,000-100,000 installations currently.
In addition, the Google Play Store says the Kim Kardashian West app is on 100,000-500,000 devices currently.
However, considering Kim Kardashian made the 2016 Forbes rich-list after earning $45.5m in that year alone, it's safe to say that the apps play their part.
Judging by the early reaction to ScreenShop, it looks like that app will be no different to those that have gone before, at least in terms of money-making potential!