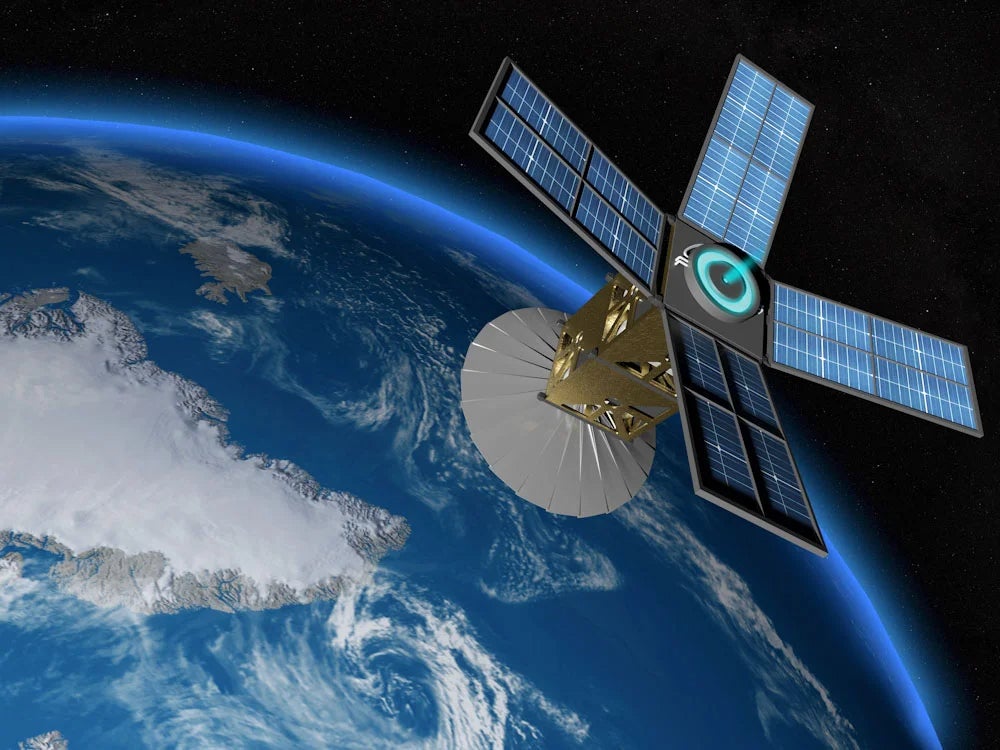 Space data is set to play an integral role in Scotland's plans to reach net zero by 2045, supported by the nation's satellite manufacturing capabilities and proficiency in data analysis.
Scotland has a thriving space ecosystem employing more than 8,500 people, with almost one fifth of all UK space sector jobs being based in the country.
With the global space economy estimated to be worth $1trn by 2040, the Scottish Government is working to secure a £4bn market share by 2030 – creating a projected 20,000 jobs. Data gathered by satellites orbiting the Earth is expected to help Scotland reach this goal, while also contributing to the decarbonisation drive and carving a niche service area for Scotland.
"Space data is much more scalable and it's easier to export – eventually the data services will be a major component of that $4bn," says Iain Woodhouse, professor of applied Earth observation at the University of Edinburgh.
To achieve its space ambitions, Scotland is building end-to-end capabilities for launches and beyond – with five spaceports in development around the country and a hub for manufacturing small satellites near Glasgow, as well as sites for rocket building in Inverness and Cumbernauld, North Lanarkshire. Gathering Earth observation data will be one of the main purposes for placing small satellites into orbit.
Crucially, one of the reasons behind Scotland's success in space is the country's geographical advantage.
"For the types of satellites that you put into low Earth orbit, you want to be as near to the north or south pole as possible, as that gives you an advantage in terms of launch. Also, Scotland's location means we can launch over open water. In case anything does go wrong, the rocket is not going to land on people in the vicinity," adds Woodhouse.
Industrial uses of satellite data
The benefits of space data are already being harnessed by a diverse range of industries throughout Scotland. For example, such information enables companies and governments to accurately measure greenhouse gas emissions at precise locations, alongside monitoring supply chains.
In addition, geographers from the Global Academy of Agriculture and Food Systems at the University of Edinburgh are applying data science to disaster response and international development, with satellite data enhancing the scope of research.
Furthermore, much activity in Scotland surrounds mapping forests, monitoring global deforestation and reforestation, and being able to quantify carbon volumes – notably for carbon credit schemes.
One of the most significant uses of space data is in weather forecasting, with several tech companies innovating in this area. US-based Orbital Micro Systems is one of these specialists. With a base in Edinburgh, the company is developing ways to improve the speed of weather forecasting. One of these methods is nowcasting, which predicts the weather in exact locations for very short periods as little as two hours ahead.
In the agricultural sector, satellite data can help inform decision-making, enabling scientists and farmers to monitor the development of agricultural land, and help protect against potential future climate events that might threaten crop yields.
"Space data can be used in your farm equipment. For example, if the equipment is spraying pesticides or nutrients onto the field, it modifies that in response to how well the crops are growing across the fields," says Woodhouse.
Software to understand space data
Software is vital for making full use of gathered data from satellites. A leader in this field is Edinburgh-based Ecometrica, which also has offices in London, Montreal, and Boston.
Founded in 2008, Ecometrica provides software that uses satellite data to measure, monitor and report greenhouse gas emissions. The company works with clients all around the world, from farmers to insurance providers, to assess potential future environmental risks from climate change at specific sites, as well as track habitat losses and gains.
Clients can use the data to aid compliance with the latest environmental regulations, and gain insights to verify their company's environmental, social and governance (ESG) credentials. Most processes start with gathering baseline data to then determine and plan the next steps.
"The real beauty of satellite-based data is the consistency of information over time. The frequency means you really can look at changes as they happen. It's not just a snapshot, it's looking at how things are evolving," says Sarah Middlemiss, chief operations officer for UK and Europe at Ecometrica.
For food companies, the combination of space data and Ecometrica's software can allow them to build resilience into their supply chains by understanding the full implications of climate risks that include prolonged heatwaves and sudden flooding. Projections can be used to take action and stay ahead of the curve when it comes to managing the potential impacts of climate change on land within the next ten to 20 years, or even longer.
Based on the latest satellite data, new crop-planting strategies can factor in projections on future land conditions. For example, if the average temperature increases by an average of 5°C, data can help determine whether crops like cocoa will still be viable on the same sites within two decades.
Middlemiss joined the company in 2014 and says there has been a noticeable uptick in business in recent years driven by factors such as heightened awareness about carbon footprints and dealing with the effects of climate change. She highlights how Scotland's development of the space sector has opened up substantial opportunities for her company in recent years amid the race to net zero.
"I don't think anyone ever thought of us as a space company before, because we were very focused on greenhouse gas accounting. We had mapping capabilities, but our focus was on providing environmental services to clients," she adds. "While our focus is still on providing climate reporting services to our clients, being part of the space ecosystem has opened a host of opportunities to leverage the innovation and skills within the sector for new products and services."
Attracting and producing space sector talent
A key strength in advancing space data research and capabilities in Scotland is its world-class universities and dedicated institutions, which offer opportunities for companies to partner on projects.
At the University of Edinburgh, the EPCC is the UK's national centre for supercomputing and data science, serving the research community. The centre is home to a supercomputer that can be used for space data and securely linked to datasets from other sources, including the Internet of Things, open finance, and health data.
"We get a huge number of our graduates coming from Scottish universities – and the University of Edinburgh in particular. We've also been able to do a lot of placements for PhD students who come in and do specific projects with us, and sometimes stay a bit longer," adds Middlemiss. "Having that wealth of talent is super helpful."
New tech companies are also forming across the country, with many spinning out of university departments. Along with established players such as Ecometrica, other data science companies working within the various applications of space data include Think Tank Maths, D-CAT, Eolas Insight, Earth Blox, GSI, Omanos Analytics, Trade in Space, and Space Intelligence.
AAC Clyde Space and Spire are two further internationally recognised companies involved with space data and have operations based in Scotland. AAC Clyde Space has a strong track record of winning multi-million-pound contracts from a global client base, while Spire announced this month that it has secured a $6.5m contract renewal for Nasa's commercial small-sat data acquisition program to aid activities such as monitoring climate change.
With the wider development of end-to-end capabilities for the space sector, many of these companies could soon be gaining data from satellites launched by rockets from spaceports – all provided within Scotland.
"Scotland's space sector will see a much closer link to the data collectors, the hardware people that are launching instruments, and the people that are downloading and analysing that data," says Woodhouse.
"Some companies have come to Edinburgh because of that connection to platform builders and launch capability, and then they're going to collect the data. Bringing together the different datasets is going to be significant."
And these sectoral strengths are being promoted to target markets across the world. Adopting a unique 'Team Scotland' approach, industry, academia, and public bodies such as Scottish Development International, Scotland's trade and investment agency, are working together to showcase how the country can be a global leader in the Space sector.
Space has been identified as an area of opportunity in Shaping Scotland's Economy, a blueprint to target inward investment that aligns with the country's values and strengths. Meanwhile, in a bid to open up export opportunities in international markets for Space sector companies in Scotland, Scottish expertise has been shared at global events such as Expo2020 in Dubai.
To learn more about how Scotland is developing its space industry, download the specially commissioned whitepaper below.