It's not often that you meet a person's handbag before you meet them. Yet that's what happened when I sat down with Canadian author Margaret Atwood. Her handbag arrived, and then she followed.
She told me on a Friday afternoon in London:
My handbag has had a meteoric rise to fame. In fact, it's first public appearance was at the Emmys. Not many can say that! It's now very swelled-headed.
The handbag in question now has it's own hashtag #TheHandbagTales, a viral internet career and it even speaks. Well, Atwood puppeteers it.
This playfulness sums up Atwood's character – she flits between seriousness and complete joviality. It's refreshing and unexpected.
Atwood is the best selling author of the The Handmaid's Tale, and to say that the book has been given a new lease of life off the back of the Hulu television series, fronted by Elisabeth Moss, would not be doing it justice.
How well do you
really

know your competitors?

Access the most comprehensive Company Profiles on the market, powered by GlobalData. Save hours of research. Gain competitive edge.
Company Profile – free sample
Thank you!
Your download email will arrive shortly
Not ready to buy yet? Download a free sample
We are confident about the unique quality of our Company Profiles. However, we want you to make the most beneficial decision for your business, so we offer a free sample that you can download by submitting the below form
By GlobalData
The book hasn't actually been out of print since it was first published in 1985.
Yet the show has refreshed it with a new modernity – and we're not just talking about the inclusion of mobile phones, which yes, didn't exist in the 80s.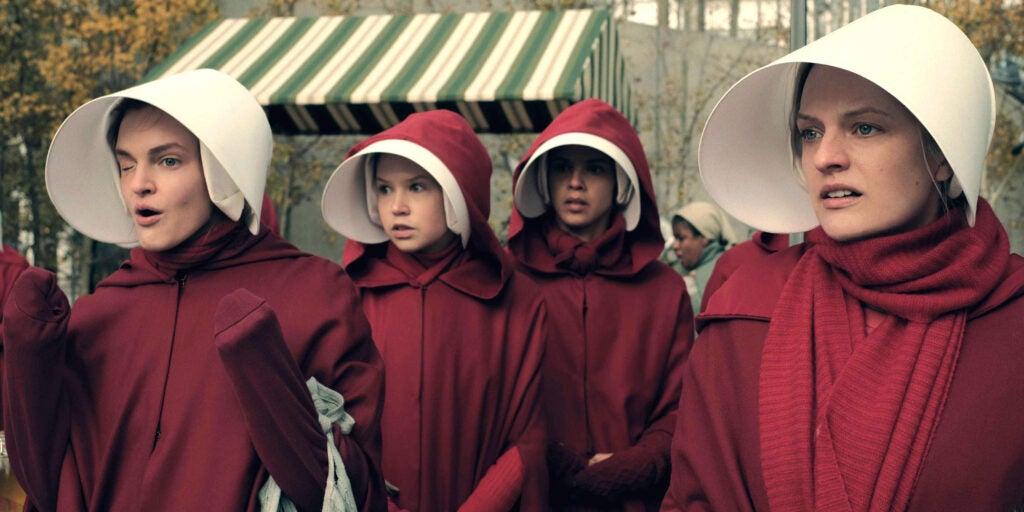 The plot is set in a dystopian future where wide-spread infertility has brought the American constitution and government down.
A totalitarian and theocratic nation, Gilead, rises up and fertile women, Handmaids, are forced to bear children for the ruling men.
The protagonist, Offred, is captured and assigned to ruling Commander, Fred Waterford, who bears striking character traits to Donald Trump.
Is The Handmaid's Tale really Trump's America?
Atwood jokes:
I did not fix the US election, it was the Russians. I'm sorry to have been so right. People ask me if we changed the story after Trump won, but we didn't. We were already deeply into the show at that point – about half way done. The cast and crew woke up on 9 November and all said they felt it was suddenly a very different show.
The scripts and the characters had all been established, but the framing changed the day Donald Trump was elected US president.
Yet Atwood believes that the political symbolism of The Handmaid's Tale has been there since the book was written.
Back in 1985 somebody spray-painted along the Venice Beach wall in huge letters 'the Handmaid's Tale is already here' and that was 30 years ago.
Despite being set in a dystopian world, the controversial and sometimes challenging ideas the book explores, particularly the practise of FGM, are very much based on reality.
Nothing went into the book that people had not done at some time in some place. A lot of these places are America. I wanted to include them because I was sick of people saying that "those things wouldn't happen here". People can do all kinds of evil things given the circumstances.
The symbolism of The Handmaid's Tale
The Handmaid's Tale outfits of oppression in the book are now being used around the globe in protest.
The red robe and the white bonnet is an immediately recognisable visionary symbol and Atwood says that she is very pleased that people are using them in this way.
The first protest outfits appeared in Texas, when women gathered outside the Capitol building to protest against female restricting legislation around abortion.
It really became almost something from the show," Atwood explains "male legislators were making decisions about women with no women involved. It's a good protesting garment, because you aren't saying anything so nobody can say that you are making a disturbance. You are just sitting there, but everyone knows what you mean.
When the protestors in Texas first decided to find red robes they ordered some Little Red Riding Hood outfits.
Yet when they arrived they were pink. Pretty quickly the group of women decided to make their own patterns and sew their own.
These patterns are now circulating around on the internet for others who want to do similar things, and the outfits have been worn in protest in many different countries.
The Handmaid's Tale costume has escaped from the book in a way and now has a life of its own. Yet if I could choose between being an unknown writer and democracy, or notoriety and the political situation we are in now, I would choose the former.
Atwood doesn't believe that America is the only country in trouble. The British political landscape is of huge interest to her as well.
Brexit is very interesting, it shows a huge dissatisfaction in the system. People think that fracture will be better for them. I think Jeremy Corbyn has a strong message but I can't vote here. It's your problem! How much longer will May last? Not long! Will you get Boris Johnson instead? You lucky people.
On the lighter side…
Atwood can see the humour in The Handmaid's Tale's huge success and it's political symbolism.
I did have a man once say to me that The Handmaid's Tale was autobiographical. I told him that it wasn't and that it was set in the future. He told me that that's no excuse.
She also gets rather unusual gifts sent to her which she likes to call "artefacts".
Someone dug up the Handsoap's Tale, which has a little bonnet on the top of the dispenser, and sent it to me. Then people have sent me Handcake's Tale cupcakes – the base is a triangle of red velvet cake with a cream cheese head and little bonnet made from a frilly muffin container. I even get sent pictures of cats and dogs in bonnets. This is my life now.
Alias Grace is the next show to blow up the internet
Life for Atwood is about to be hit with a whole new wave of fandom as her book Alias Grace hits Netflix next month.
The plot follows historical figure Grace Marks, a notorious murderess who was imprisoned in the 1840s for murdering her wealth employer.
Marks was imprisoned for 28 years and following her release she disappeared. Atwood has fictionalised the plot, but the story is based on factual evidence.
The director, Sarah Polley, at the age of 17 was so struck by the book that she wrote Atwood a letter asking to make the book into a film.
At 17 she didn't have the resources to do so, but now, twenty years later, she has done what she set out to do.
The depiction of the murderess – or innocent young woman caught up in terrible circumstances – is challenging and, in typical Atwood style, evokes "deep emotion in the audience."
What does Alias Grace have in common with The Handmaid's Tale?
Bonnets! Vera Wang launched her Fall line recently and it was both Alias Grace and Handmaid's Tale inspired. However the bonnets are black and don't actually look like either of the show's headwear, so I'm not sure what the message is meant to be there. It's a homage, so I can't say anything about it. I am looking forward to receiving more bonnet-related things when the show airs though!
Alias Grace previews have already received critical acclaim and the show airs on Netflix on 3 November.