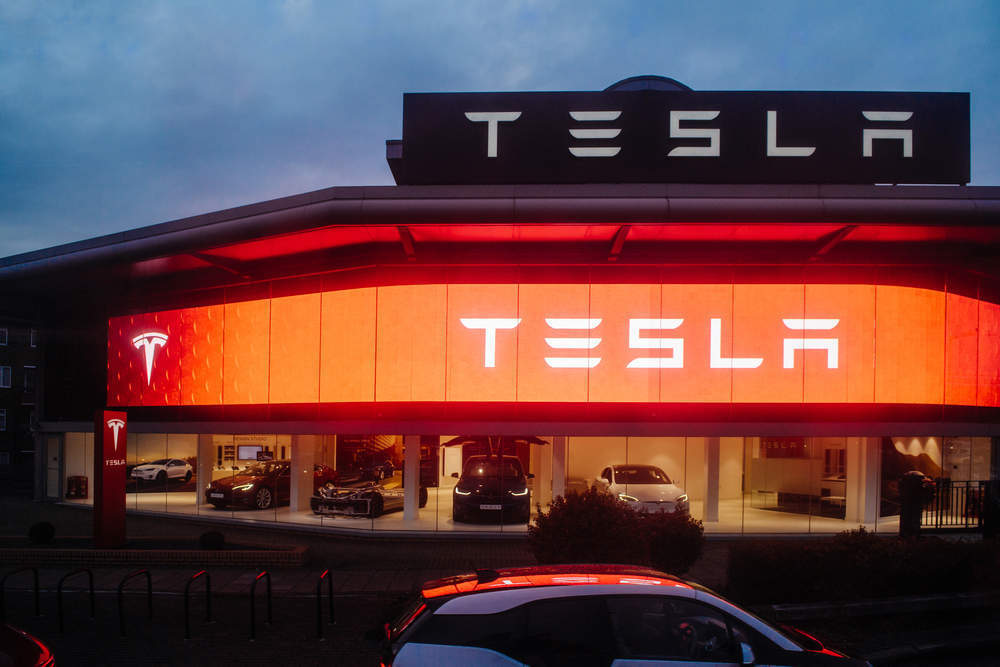 Rock star tech entrepreneur and CEO of space company SpaceX and electric car maker Tesla Elon Musk succeeded in dazzling investors this week when he sent a Tesla car into orbit.
Last night Tesla announced its biggest ever quarterly loss — Tesla reported a loss of $675.4m (£487m) in three months to 31 December, compared with $121.3m a year earlier.
Tesla also fell woefully short on Model 3 deliveries, which went into production in July.
The Model 3 went on sale in the US last year priced at $35,000. It is a medium-sized car which Tesla describes as its most affordable, and hopes it will have a mass market appeal.
However, just one day before Musk drew the eyes of the world when he sent his own Tesla Roadster into space on SpaceX's Falcon Heavy rocket. Despite the media circus surrounding the event the launch made Falcon Heavy the world's most powerful rocket currently in operation.
The Tesla share price was almost unmoved in after-hours trading last night following the release of the company's results.
Analysts had expected another quarter of losses and cash burn at the company; the median forecast was for an adjusted loss per share of $3.2 on revenues of $3.28bn, according to Bloomberg. The company earned $3.29bn in revenue.
The company expects to build about 2,500 Model 3s per week by the end of the first quarter of 2018 and that it plans to reach its goal of 5,000 vehicles per week by the end of the second quarter.
Tesla delivered 101,312 Model S sedans and Model X SUVs last year, up 33 percent over 2016 and ahead of its targets, according to preliminary figures released last month.
What was said:
While Tesla struggled to keep up with is production targets for the Model 3 it said it had "learnt lessons" from its production challenges.
The company said:
We also learned many lessons from the slower than planned production ramp of Model 3. All of this sets the stage for 2018 to be a transformative year for us. At some point in 2018, we expect to begin generating positive quarterly operating income on a sustained basis.

With the planned ramp of both Model 3 and our energy storage products, our rate of revenue growth this year is poised to significantly exceed last year's growth rate. The launch of Model 3 is what Tesla had been building towards from day one.

We incorporated all the learnings from the development and production of Roadster, Model S, and Model X to create the world's first mass market electric vehicle that is priced on par with its gasoline-powered equivalents – even without incentives. Now we are ramping up production significantly, and as we look ahead in 2018, we are on the cusp of a step change in the world's transition to sustainability.
Meanwhile, analysts were upbeat.
Efraim Levy from CFRA Research told the BBC:
No further delays in Model 3 production anticipated should be taken positively.
On a call with analysts after the announcement Musk said production was getting back on track:
If we can send a Roadster to the asteroid belt we can probably solve Model 3 production.
Why it matters:
Tesla's shares gained 46 percent last year and nearly 11 percent already in 2018 even after the broader stock market decline, giving the the company a market cap of $58bn.
The electric car maker's valuation has been an eyesore for some on Wall Street who compare it to profitable giants in the auto industry like General Motors.
Last year Tesla become the world's forth most valuable car company, overtaking the likes of GM, Ford, and BMW. It's now the most valuable car maker in North America.
Tesla is producing less than 1 percent of the cars that GM does, but is worth more in market value.