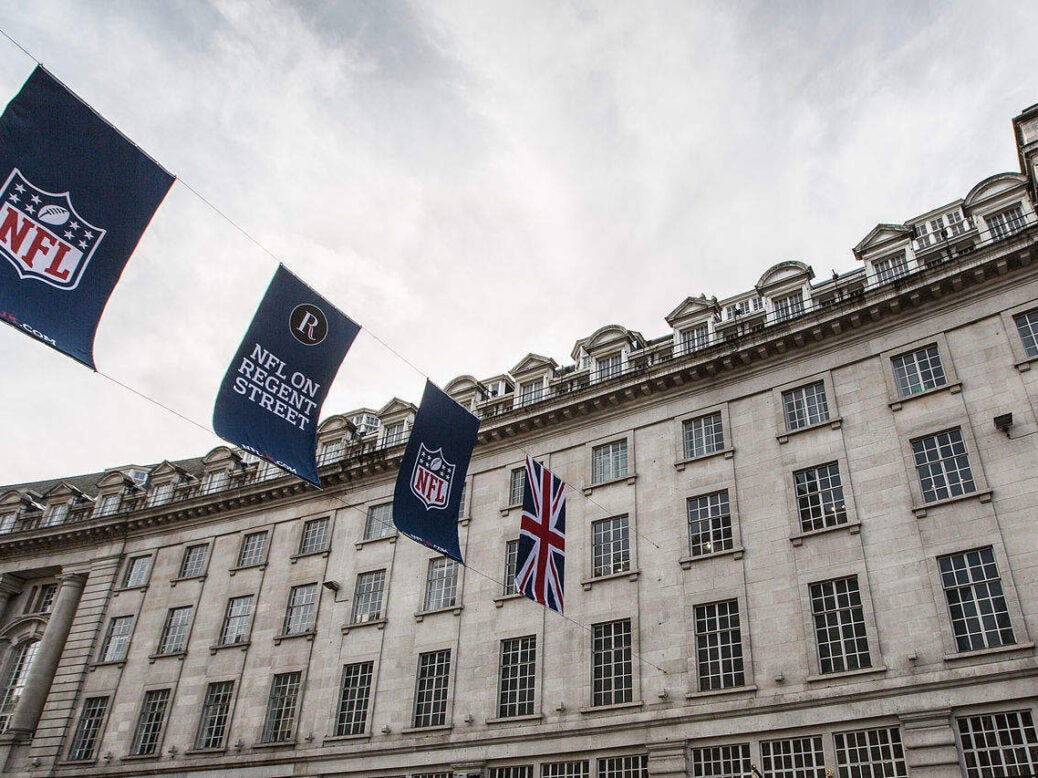 It has been 10 years since the National Football League first tried its luck on the international stage.
A decade on since the New York Giants took on the Miami Dolphins at Wembley Stadium, the novelty of American football in London hasn't waned.
It started as one rare game each season, but with popularity growing, so too has the number of games played in the English capital. A total of five games are planned to be held in venues outside of the United States during 2017.
The second of those games is taking place this weekend.
New Orleans Saints will travel to London to face the Miami Dolphins at Wembley. The game will take place on Sunday, 1 October. However, there will be plenty for NFL fans to enjoy in the build up to the event.
Most notably, the NFL on Regent Street fan event will be taking place on Saturday 30 September.
What is the NFL on Regent Street fan event?
NFL on Regent Street will see American football fans descend on the popular London shopping street to celebrate the sport.
Last year's event saw thousands of fans pack into London's West End to catch a glimpse of Jacksonville Jaguars' and Indianapolis Colts' NFL stars.
This year is likely to be just as popular. A host of New Orleans Saints and Miami Dolphins players set to make an appearance. Stars such as Saints quarterback Drew Brees and Dolphins' Jay Ajayi will be taking to the stage, which is bound to attract a crowd.
They will be joined by a number of past legends, including former Dolphins cornerback Sam Madison and wide receiver Mark Clayton, as well as Saints star Deuce McAllister.
As well as celebrity spotting, attendees will enjoy a day of music and dance performances. Music acts are unconfirmed, but there will be a live performance from the Miami Dolphins cheerleaders.
Likewise, there will also be interactive NFL games, such as throwing and kicking challenges for fans to take part in.
These events are always incredibly popular. More than 600,000 people turned out back in 2015. On the flip side, the atmosphere is likely to be electric on Saturday.
Do you need a ticket to attend?
The best part is that it's all free.
Tickets are not required for the NFL on Regent Street fan event. Just get down to central London between 12pm and 6pm. Of course, the area will be busier as the day goes on, so it's best to get there early if you want to be close to the stage.
Likewise, remember to bring some money with you, as there will be food and merchandise stalls set up along the street to buy yourself a memento.