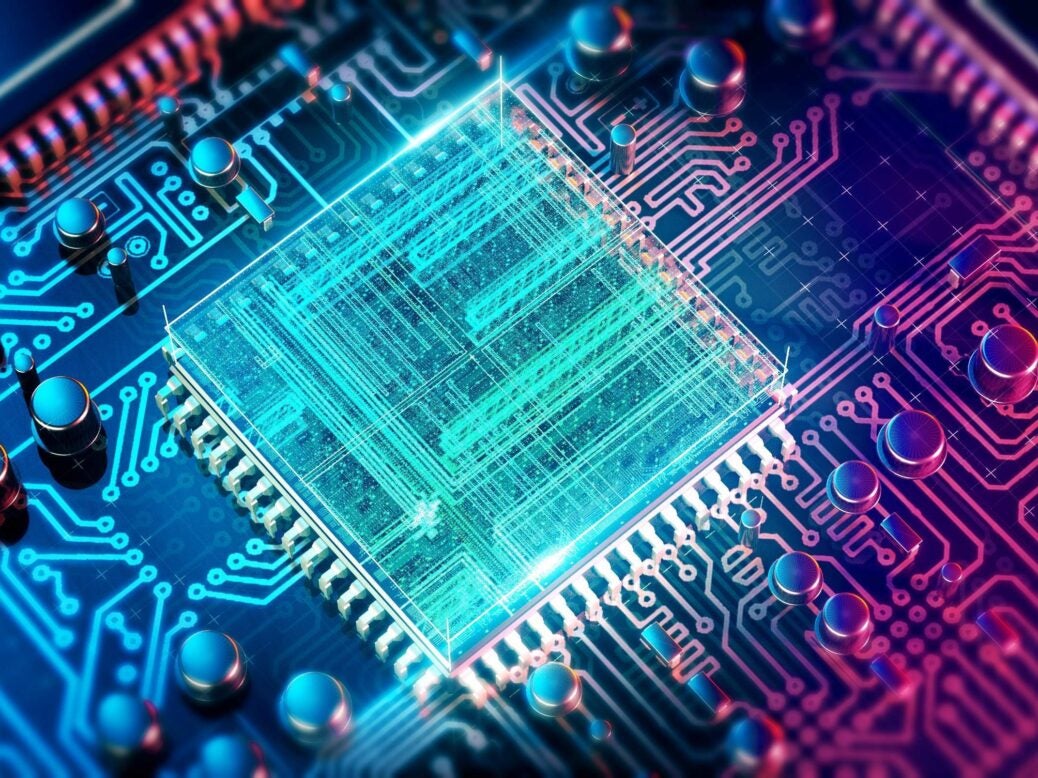 I would compare the threat of quantum computing to that of a nuclear weapon — Andersen Cheng, the chief executive and co-founder of London-based startup, Post Quantum.
Google, IBM and Microsoft are just some of the companies worldwide competing in the race for the next big computing revolution, the age of the quantum computer.
This new generation of computing power has the potential to change how drugs are developed, make artificial intelligence (AI) better and faster, and break all the encryption we have in place right now, including in banking and communication.
Exciting stuff, right? Or absolute terrifying?
Verdict finds out.
What is quantum computing?
To put it simply, quantum computing isn't the easiest topic to get your head around.
Like everything else in the world, it follows the law of quantum mechanics.
According to IBM, this is a "branch of physics that explores how the physical world works at the most fundamental levels".
Quantum particles can take on more than one state at the same time, something known as superposition, and interact with other particles that are far away.
In a quantum computer, you would have quantum bits, or qubits. These are similar to the bits inside a normal computer, a classical computer as it is known, which powers the computer.
But, because these qubits can be super positioned, they can be in a 0 and a 1 state at the same time, whereas a classical computer bit is only either in a 0 or a 1 state.
Microsoft explains:
If one qubit, as both a 1 and a 0, can do two calculations at once, then two qubits can do four, and things get exponential pretty quickly.
This means that the more qubits we have, the more calculations we can do, which can solve questions and problems faster than a classical computer.
50 is the golden number
At the moment, companies like Google and IBM are working towards the golden number: 50 qubits. This is when they will be able to achieve something called quantum supremacy, "which sounds evil", says Simon Benjamin, a Quantum theorist at Oxford University, working in the UK National Quantum Technology Hub (Nqit).
He explains:
Quantum supremacy should really be called is quantum inimitability, meaning it can't be copied. 50 qubits will get you a system so large in terms of its quantum complexity that no conventional supercomputer, no Google server or Amazon cloud facility, can actually predict what it could do.
So, when Google or IBM creates a 50 qubit processor, this will change quantum computing, right?
Actually, as far as we know, 50 qubits is not enough to do anything useful. It's only good for interesting research experiments. It's unclear how big quantum computers have to be before they're useful.
The thing is, it's still such a new technology.
Just 15 years ago, the questions about quantum computing were more philosophical, explains Benjamin.
It was: how could we practically build such a machine, would it be better or more powerful than ordinary computers? Over the years as it has become more and more concrete, we have found that the answer is yes – it would be more powerful and so then we have to work out how to actually build one.
What impact could a quantum computer have?
Andreas Fuhrer is working on IBM's quantum computing project over in Zurich, Switzerland.
He believes that when we have 1,000 qubits is when the technology will be something to be reckoned with.
"Then we could do something that would have a direct impact on industry, such as chemistry simulations or solving optimisation problems," he tells Verdict.
Whilst Fuhrer was studying, he was always working on quantum mechanics and how this could be used to describe what was happening.
But now, we're in this quantum revolution 2.0, where we're trying to use the intrinsic properties of quantum mechanics to build devices. It is [now] at this exciting point where we can start to think about really making something new, that we were unable to do before.
One aspect of IBM's work is to create superconducting circuits or superconducting chips, similar to Google's work, harnessing the power of qubits, to manufacture a promising quantum computer system.
In particular, for IBM, artificial intelligence is one area where quantum computing could have an impact.
"People think that if we had a quantum neural network, it would have a better associative memory than a classical neural network, in a supercomputer. As well, the second aspect is that in learning or training neural networks you are solving an optimisation problem. If a quantum computer does this, it would have a direct impact on machine learning," says Fuhrer.
However, one of the most important areas of research surrounding quantum computers and their technological potential relates to privacy and encryption.
What's the deal with privacy?
Much of today's encryption codes, whether that's end-to-end encryption in WhatsApp or the encryption banks use to protect card details in transactions, is based on factoring numbers.
However, Peter Shor, a professor of applied mathematics at the Massachusetts Institute of Technology (MIT) in the 1990s realised that the power of a quantum computer could factor numbers in a way that classical computers couldn't, creating Shor's algorithm.
Using the algorithm, quantum computers could potentially break encryption.
Benjamin explains:
The difficulty of factoring numbers has been studied very, very thoroughly by mathematicians. The community is pretty convinced that there is no fast way to factor numbers using classical computers. The fact a quantum computer could do this is pretty much proof that they are much more powerful.
This where Andersen Cheng comes in.
He helped set up the London-based startup Post-Quantum, alongside his former colleague Martin Tomlinson and an ex-student of Tomlinson's, CJ Tjhai, to create quantum-sae encryption to protect our data when quantum computers potentially become widespread.
Cheng says:
Martin and I were pondering what to do, and one day I thought, 'Oh how about saving the world?'. And then Martin said, 'Well you know when quantum computers come out that really will be the end of the world because the internet infrastructure is not quantum safe. Once people can intercept what we're talking about, once they can fake who I am and start talking to other people then that will be a problem because you can't trust each other anymore.
It wasn't an easy journey. At first, investors would laugh Post-Quantum out of the room, as they didn't believe that the technology would ever be a real possibility.
I even had one venture capitalist put the phone down on me saying, 'Look, stop scaremongering. It's people like you who are destroying the world, rather than protecting it. It's never going to happen.'
Yet, as more and more tech companies are working on their form of the technology, there is now more of an impetus for the world that Post-Quantum does.
How do we achieve post-quantum encryption?
Post-Quantum's technology is based on the McEliece algorithm, developed by Robert McEliece, a mathematics and engineering professor at California Institute of Technology.
This algorithm has been in the public domain since the late 1970s and is well known as one of the best quantum-safe algorithms.
The startup has worked with different customers, from Nato to financial institutions in order to develop the quantum-safe technology they need.
"We're working with Barclays on a particular project. They want us to build something Blockchain based, but Blockchain itself is not post-quantum secure. So we're building something with future-proofing in mind," says Cheng. "The problem is, quantum computing will arrive sooner than think and the Blockchain [could] become redundant immediately."
So, is it something to fear?
In the past few months, we've seen some of the biggest global hacks and malware attacks.
The Petya/Not Petya malware took down Ukrainian banks and its government.
The WannaCry hack took a large portion of England's NHS Trusts offline. Post Quantum is envisioning what a quantum hack would look like.
"The difference between a quantum computer and a nuclear weapon is that you need a lot of nuclear refinement and things you cannot just do in your bedroom. So when countries build a facility, there are spy-satellites pictures, for instance, says Cheng. "But with quantum computers, you can try building one in your basement and no one can tell.
Aside from this, there are concerns that data is being collected now which could be intercepted in the next five or 10 years if a universal quantum computer is achieved.
For a quantum computer, we are not talking about ownership of this by a few nation states. The bad guys can steal quantum technology from a lab too. And they are agile and can work faster than we can.
Building a quantum computer is not easy
For all the talk about comparing quantum computing to nuclear weapons, the key idea to take away is that building a quantum computer is not like building a classical computer – it is much more complicated.
Part of this is down to the qubits themselves, as they are difficult to control and can be very unstable.
They need to be kept suspended and isolated from one another, if they touch each other or the sides of the vacuum they're kept in, this could affect the calculation.
Benjamin says:
Every time we do an operation or a calculation, the qubits involved will not quite do what we wanted them to do on paper, so it will just be a little bit off.
The world record, held jointly by the team at Oxford and a Nobel-prize winning team in the US, is to control the qubits 99.9 percent of the time.
Sounds good, right?
But it isn't. This means there's a 0.1 percent chance that the qubits aren't doing the right thing, which will affect the outcome of the experiment.
And, it gets worse from here. According to Benjamin:
Those little errors will build up and eventually combust.
As well, a quantum computer like the one IBM has developed has to be kept at such low temperatures in order to be able to control them.
Fuhrer explains that the device he works on is kept in a refrigerator in the lab with temperatures of around 10 milikelvin, around -273.14 degrees celcius.
If everything around the qubits is cold, at this 10 milikelvin, the qubit stays what we call coherent for longer. Even if the surroundings were at one kelvin (-272.15 degrees celcius) that would excite the qubits and you could completely lose your calculation.
Yet, IBM's Quantum Experience means that you won't need to have an extreme refrigerator to house a quantum computer to be able to harness its technology.
Anyone can access and run calculations on the company's quantum computer, with a 5-qubit system via the web or 16-qubits using a software development kit.
"This is how we see a quantum computer will work in the future," says Fuhrer. "It will be in a data centre, the same way you access cloud services, and it will be an accelerator to existing higher performance computing that people can use to enhance their calculations."
This isn't going to replace our classical computers, like laptops and desktops just yet, but will work alongside this.
You will use the quantum accelerator for the problems where it makes sense. And other things will continue to be done for quite some time on classical computers.
Aside from qubit stability, the industry is faced with other issues
One of the major problems facing the quantum industry isn't just controlling the qubits, it's funding.
People either don't understand the technology, as Cheng faced when setting up Post-Quantum and laugh at the idea, or the technology could become over hyped and when companies don't deliver, the funding will fall way.
Benjamin compares this problem facing the industry as to what is often referred to as the so-called AI winter when interest in artificial intelligence in the 1980s and early 1990s didn't lead to the developments in the technology that were previously forecast.
Benjamin says:
Simply, people over promised, the investors got annoyed about it and there was a long time that people didn't want to invest. But then, it started to build up again with some exciting new results. I'm super keen that it this shouldn't happen to the quantum field. It is very exciting but it is also very, very hard. We're a long way from the very sensitive technologies like the ones we're trying to develop, a long way from the lab experiment that gets on the cover of Science or Nature, to something that even a very rich company can buy and install. In two years we will be at a more exciting stage than we are now, but it will take a long time to reach a more mature stage in this technology.
The message about quantum computing seems to be: watch this space.
It may appear slow-burning right now, but before you know it, this is the technology that will transform the computing industry.
And when it comes along, Cheng and his team will be at the front line protecting everyday civilians from the threats it could bring.