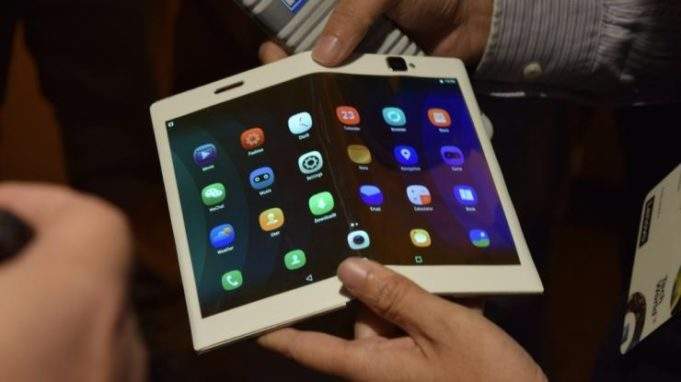 South Korean tech giant Samsung will release a Note smartphone next year with a screen that folds in half.
The company's announcement on Tuesday came just hours before Apple's highly anticipated iPhone 8 launch.
Koh Dong-jin, president of Samsung's mobile business, said the company's smartphone will use bendable OLED screen technology, but there are production issues which still need to be resolved before the 2018 release.
"As the head of the business, I can say our current goal is next year. When we can overcome some problems for sure, we will launch the product," Koh said.
Since 2013, there have been rumours surrounding Samsung's first folding smartphone. A concept video and prototype were shown off in 2014:
Competing to develop foldable devices
LG, one of Samsung's South Korean rivals gained patents for a foldable tablet earlier this year that could fold to create a phone-shaped device or unfold to create a much larger tablet.
Meanwhile, Chinese tech company headquartered in Beijing showcased a similar foldable tablet device called the Folio in July.
The Folio is a 7.8-inch Android tablet with a hinge allowing the whole thing to fold into a 5.5-inch, dual-screen smartphone-style device.
However, unlike Samsung, neither LG nor Lenovo has set a release date for their foldable product.
The tech company has already used bendable screen technology for their TVs, Galaxy S and Galaxy Note devices.
Samsung is also rumored to be launching its Galaxy S9 in January, and said  pre-orders of its latest flagship smartphone Galaxy Note 8 had already exceeded expectations.
"The 395,000 units sold on the first day of pre-orders is a higher than expected figure," Koh told a media event on Tuesday. "The figures for the first five days show that pre-orders [for the Note 8] are about 2.5 times those of the Note 7 last year."
The Note 8 will go on sale on Friday in several countries, including the US and South Korea.
Americans will be able to purchase the phone for $930.