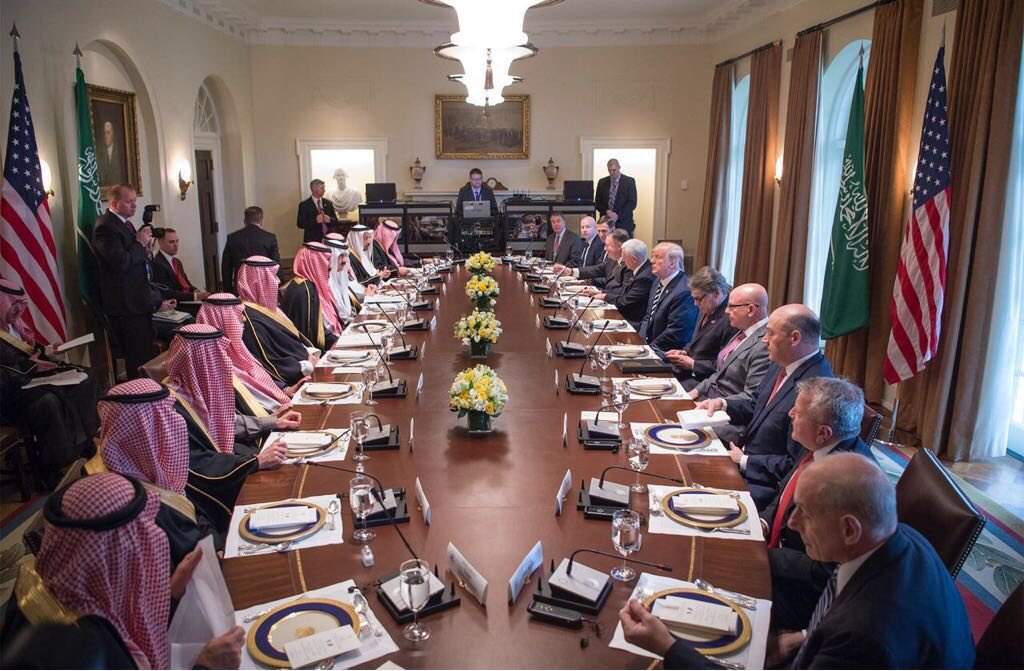 Saudi Arabia's crown Prince Mohammed bin Salman — often referred to as MbS — this week met with White House officials to discuss a much-hyped plan for peace between Israel and the Palestinians.
Trump's son-in-law and peace envoy, Jared Kushner, along with Jason Greenblatt, the US special envoy for international negotiations, and bin Salman, discussed "the peace deal's future", the Saudi Embassy said in a statement.
Both countries discussed their shared interest to find a sustainable resolution to the conflict and how best to achieve it.
The US was however MbS's last stop on his world tour — on which brokering a peace deal in the Middle East has been a running theme.
The first stop was Egypt, Israel's southern neighbour, whose President General Abdel Fatah Sisi would also be a big player in peace talks.
Former US diplomat and vice president of consulting firm B&K International Charles Kestenbaum told Verdict:
The visit to Washington of Saudi Crown Prince has renewed hope that some new initiatives on the Palestine-Israel dispute are being secretly prepared.

The extent of engagement between Crown Prince MbS and President Trump's son-in-law Jared Kushner has encouraged speculation that these new young leaders will find ways to break the current stalemate.
HRH Crown Prince Mohammed bin Salman met with Jared Kushner and Jason Greenblatt to discuss the Peace Plan's future. Both countries discussed their shared interest to find a sustainable resolution to the conflict and how best to achieve it. pic.twitter.com/LiBXDtXUv4

— Saudi Embassy (@SaudiEmbassyUSA) March 21, 2018
Behind the scenes there is work being done on the deal
A week ago the White House hosted a meeting of senior representatives of Israel, Egypt, Saudi Arabia, and UAE to discuss Gaza, with no Palestinians present.
Israeli President Netanyahu has said that Israel does not intend to allow a Palestinian State to be established with East Jerusalem as its capital, which is thought would be a deal-breaker for Palestinians and the Arab world.
UAE political professor AbdulKhaleq Abdulla told Verdict.
There has been a lot of talk about this 'deal of the century', we don't know the details of it and I'm not sure if the Saudis are going to bargain any kind of a deal that does not include Jerusalem.
Trump's decision to move the American embassy to Jerusalem in December last year "complicates" the negotiations on one of the thorniest issues in the 70 year-old dispute, "setting the peace process back 10 years", Abdulla said.
According to Abdulla, the main stumbling block to peace deal right now is Netanyahu, who has said Israel will not "partner for peace with the Arabs".
Abdulla added:
As long as Netanyahu is there with the right wing coalition, there is absolutely no appetite for negotiations, forget about peace.
The region has become a diplomatic battleground between Gulf states and Qatar — and Saudi Arabia and Israel could now find common ground.
Qatar — allied with Iran — is now facing both Israel and the Gulf states, while the Saudis are waging a proxy war against Iran in Yemen.
Moran Zaga, an expert on Israeli-Gulf relations and PhD student at Haifa university, told Verdict:
Mutual interests between Saudi Arabia and Israel, have never been so strong.

Iran's achieving nuclear weapon capabilities is no less of concern for the Saudis than the Israelis as it will be a game-changer in the Middle East.
According to Zaga, Israel approves of MbS acting as a mediator in brokering a peace deal. He is on the same page as Israel regarding Iran and Hamas, an offshoot of the Muslim Brotherhood that is banned in parts of the Gulf region.
Zaga said:
Both Netanyahu and Trump have expressed their desire to achieve a regional normalisation through the Saudis. Any progress in this track would gain points for the growing influence of Saudi Arabia in the Middle East.
The Saudis will also never establish diplomatic relations with Israel, until peace and Palestinian state is established, she added.
Kestenbaum added:
As back channel negotiations continue, leaders will meet at a planned mini-summit at Camp David in May or June, organised by Trump, which could be significant.