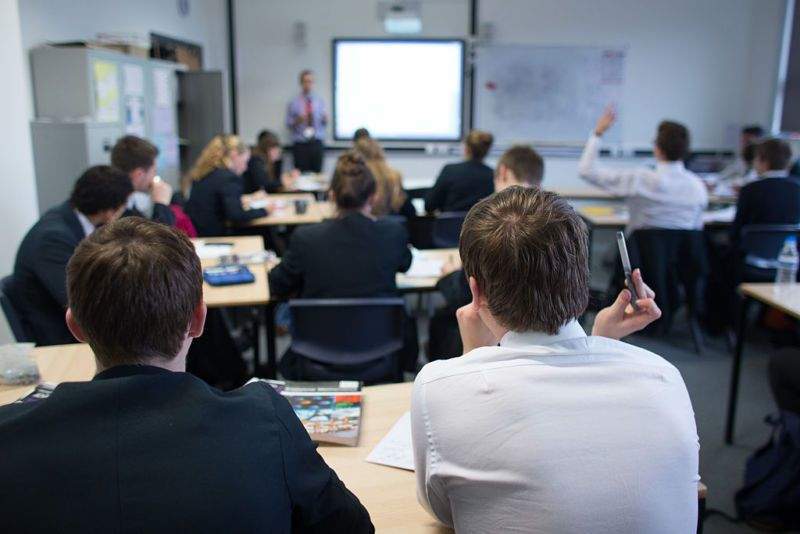 Teachers in two UK secondary schools are set to use police-style body cameras to film disruptive pupils.
The plans are in the trial phase at two comprehensive schools in England and the use of recording devices was approved by local education authorities in both cases, according to The Times.
Tom Ellis, principal lecturer at the Institute of Criminal Justice Studies at Portsmouth University, who was involved in the rollout of body-worn video cameras for Hampshire's police force is overseeing the pilot scheme.
He said teachers had to give verbal notice before starting to record. Pupils then watch the live footage on an outward-facing screen in real time.
Recordings could be used as evidence for disciplinary action against students and shared with parents to help them address their children's poor classroom conduct.
In 2014 Ofsted, the UK body responsible for inspecting schools, released a report entitled Below the Radar: Low-level Disruption in the Country's Classrooms.
The watchdog said some pupils were losing up to an hour of learning each day — the equivalent of 38 days a year — because of their classmates behaving badly. 
Classroom disruption can also lead to physical assaults on teachers. According to the ATL teaching union, four out of 10 teachers in the UK have experienced violence from pupils in recent years.
More than a third – 37.7 percent – of 600 teachers who took part in a survey conducted by the Times Education Supplement (TES) said that they would wear a body camera in school.
The survey's findings published today also revealed that two thirds – 66.4 percent – of teachers would feel safer in the classroom if they knew that there was a camera recording everything.
Offering teachers body cameras to monitor unruly pupils has already been rolled out at some schools in the US.
One of the first US school districts to use cameras in the classroom was Burlington Community School District in southeastern Iowa where an estimated 4,300 students are enrolled in one of eight schools.
Education authorities there spent $1,100 to purchase 13 body cameras in July 2015 but only principals and assistant principals were allowed to use them, not teachers.
Police forces in the US also use body cameras in an effort to make officers more accountable to the public.
Shares of Taser International jumped 2 percent after the company announced a deal to provide Louisiana State Police with 1,500 body cameras in December.
Body cameras have been used in the UK for a decade by the police force as well as many Accident and Emergency (A&E) staff and even parking wardens.
However, the use of cameras in schools raises privacy concerns.
The Information Commissioner's Office (ICO), the UK body responsible for enforcing the Data Protection Act 1998, said that the trial was lawful — as long as the surveillance of pupils was "legitimate, proportionate and necessary and address a pressing need not addressed by other measures."
"This is a very high bar to clear," the ICO added.
The footage from schools involved is encrypted to ensure that only the appropriate parties have access to the recordings.
"Schools will need meticulous policies and procedures in place to cover, secure storage of the footage, appropriate time scales for its retention, disclosure of the footage, appropriate staff training and how to deal with subject access requests they could receive from a student," Joanne Bone, a partner at law firm Irwin Mitchell LLP specialising in data protection.
So far, teachers and parents involved in the pilot scheme have praised the use of cameras as an effective deterrent for badly behaved pupils.
A spokesman from the Association of School and College Leaders (ASCL) criticised the use of body cameras in schools as a way to improve pupils' conduct in lessons, which depends on the effectiveness of a school's classroom policy on a case-by-case basis, not surveillance.
The main benefit of a body camera is that it could provide clear evidence when an incident occurs in a school and you have two different accounts of what happened, he told Verdict.
"The vast majority of youngsters in the vast majority of schools in the UK behave in a perfectly reasonable way. Some, on occasion, demonstrate more challenging behaviours leading to incidents either between pupils or between pupils and a member of staff."
"So the question is, would the use of a body camera be helpful in terms of clarifying what went on and how best to deal with the incident?"
However, professor Ellis disagrees.
"The opinion expressed by ASCL is a very narrow view based on partial knowledge. An emphasis on incidents is mainly true when it comes to the use of body cameras in policing, but not in schools. The camera's function in a school environment is not primarily for evidence," he told Verdict.
"The whole point is to give pupils the chance to reflect on their behavior. With the pupil's permission, the cameras can also be used to record positive behavior in the classroom."
Teach First, the biggest UK-based social enterprise tackling education inequality, declined to comment on the use of cameras in secondary schools.
The pilot scheme started two weeks ago and will take place in the two schools over a three-month period.