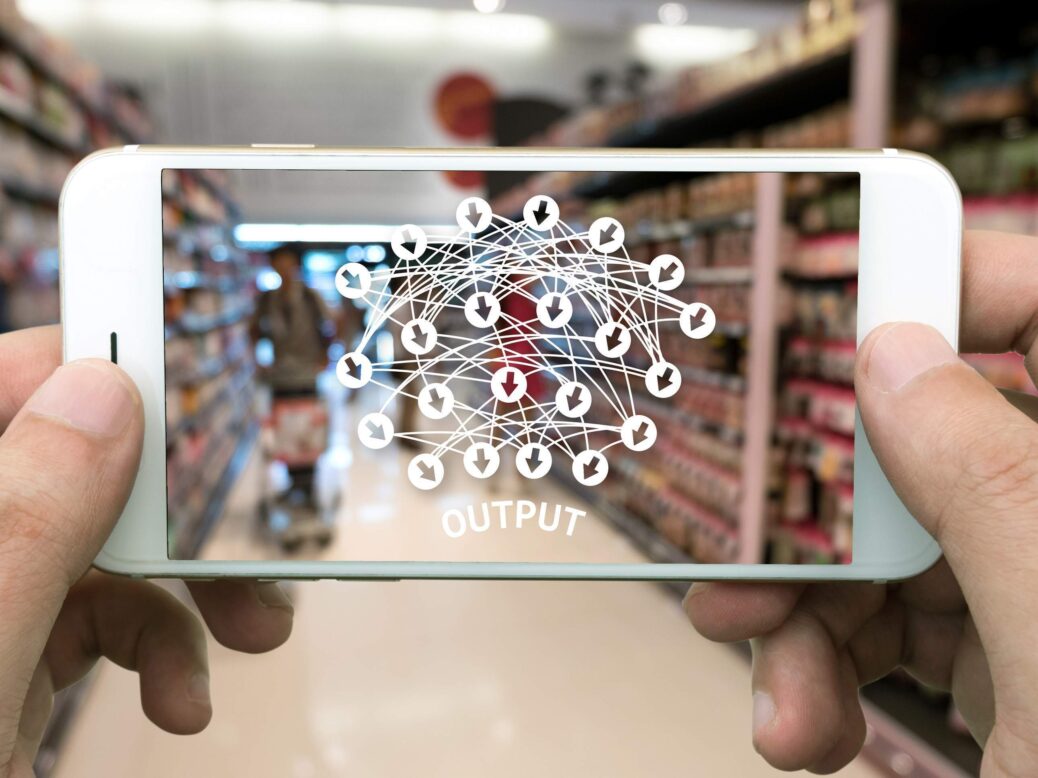 Artificial intelligence (AI) has been doing some pretty cool things of late.
From transforming language translation online, to being used to diagnose and treat cancer, different industries are utilising the possibilities of this futuristic technology.
One area where it is starting to have an impact is retail. Companies from ASOS to John Lewis and North Face are using AI to improve the customer experience and make its businesses more efficient.
And this is only set to grow, according to research by Gartner predicting that 85 percent of customer interactions in retail will be managed by AI by 2020.
Bring on the fashion robots.
The trends AI is driving in retail
Instead of bell sleeves, ruffles, and backless mules, AI is driving different trends in the retail industry.
Ai is being used to improve behind the scenes work, such as in supply chain and logistics. The technology is at the stage now where it is profitable for retailers to invest in, says Zoe Mills, associate retail analyst at GlobalData.
"Whereas before, it was more laborious, and not so well executed, it wasn't worth their while to be investing in that yet. AI now is at the point where it is making retailers' production a lot more efficient," she tells Verdict.
The technology can be harnessed in so many different ways, particularly when it comes to forecasting.
In forecasting and stock management, an intelligent system can look at weather patterns and compare it to quantities and stock and consumer behaviour.
When it is going to be a sunny day, retailers who sell sunglasses, for instance, can be notified that they need to prepare for a peak trading time.
"When there is going to be a hot spell, retailers will be able to have a week or so to make sure their stock management is at the right levels to counteract demand," explains Mills.
"You're always leftover with forecast error usually," says Greg Girard, program director of retail analytics strategies at IDC. "AI machine learning offers a way to reduce that forecast errors and to get much better at buying.
"That really drives efficiencies on the retailer's side so they get utilisation of their money and better investment in their inventory."
As well, retail is changing the way customer service works and is creating more meaningful interactions with customers.
Starbucks is one of the leading companies in this space.
The Seattle-based coffee brand launched the Starbucks app with its own AI-powered barista.
The app's barista is powered by technology from MindMeld. Customers can order their favourite coffee on the app using text or speech to this virtual barista before going to a store to pick up their freshly-made drink.
All-weather coat brand North Face uses IBM's Watson AI assistant on its website to help consumers find their "perfect jacket".
"The real area [AI] is transforming retail is the customer experience," says Charlotte Walker-Osborn, partner and head of Eversheds Sutherland UK TMT Sector. "It is hoped by retailers that innovative use of technology will drive customers into stores."
She believes that this strong focus on technology will help to engage customers and hold their loyalty.
Sure it may sound gimmicky, but on a high street or online where there is so many options and so much choice, the retailers that make the experience worthwhile will be the ones that stand out.
How are companies getting involved in the technology?
One of the exciting aspects of AI in retail is the way it is opening up the sector to new players.
British high street giant John Lewis runs an accelerator programme, named JLAB, that gives funding and mentoring to retail tech startups.
In 2016, one of the chosen companies was DigitalBridge, a startup that uses computer vision and machine learning to enable customers to see how new furnishings would look in their homes.
The accelerator was founding to bring innovation into the retail industry and allows new companies to develop their business more rapidly than they would have been able to do individually.
In addition, Aspectiva is another startup that saw the opportunity to combine AI with technology.
Aspectiva's founders, Ezra Daya and Eyal Hurwitz wanted to take advantage of the power of online reviews, without customers having to shift through endless comments to get the information they want about a product.
"Reading the reviews is a very important part of the online customer journey, but people are tired of reading reviews and looking for product information over the web," Daya tells Verdict.
Together Daya and Hurwitz created machine learning technology that analyses massive volumes of consumer opinions across the web for any product and service, which online browsers can use to make wise decisions when shopping online.
"Aspectiva's solution revolutionises the way people interact with reviews and opinions across the web, making it easy and effective for everyone," he says.
The startup has worked with the likes of HomeDepot, Schuch and Shop.com and is seeing a growing demand in providing these sorts of AI tools in the user-generated content (UGC) space.
Just this week, eBay announced that it was incorporating AI. It is the latest company to launch its own Bot, the eBay ShopBot, an AI-powered personal shopping assistant on Facebook Messenger.
Shoppers can use this technology to find the best deals on the site, and particularly when eBay has over 1bn listings, this could prove particularly useful.
As well as "conversational commerce" as eBay calls its new bot, it will continue to experiment in AI. President and chief executive of the auction platform, Devin Wenig, wrote on LinkedIn about this, saying:
"We're focusing on the areas that I believe will define the next wave of e-commerce – artificial intelligence and machine learning, virtual and augmented reality, and Internet of Things. These are significant platform shifts – not just new features and gadgets."
Check out ShopBot, our #AI shopping assistant! Watch how it works. #ShopTalk17 pic.twitter.com/RxFLDcxasF

— eBay Newsroom (@eBayNewsroom) March 20, 2017
What about in the offline space?
Here the technology is being using in more low-key and subtle ways.
A growing use of AI is the use of facial recognition in stores. KFC is using this in China: it teamed up with Baidu to create the first smart restaurant in Beijing that uses facial recognition software to help customers make decisions. It takes into account their age, gender and facial expression and uses this to recommend food choices.
While it may be exciting to see technology being used in creative new ways, some may be concerned about how customer data could then be mis-used – particularly when it relates to faces.
Rules concerning this differ between the UK and the EU and are starkly different from those in China.
"The laws vary from country to country but in the EU and the UK there are clear rules around gaining consent to use personal data where it is not strictly necessary or otherwise exempt from needing consent. Most retailers we work with are very switched onto the privacy concerns and factor this into the technology build and into their customer journey," says Walker-Osborn.
However, retailers need to ensure they are incorporating these privacy concerns into the technology they use in order to not be subject to a backlash.
"Some of the newer technology does play at the edges around privacy and it will be very important to bear in mind how to build in opt ins, information, data security and other data compliance," she adds.
Instead of using of using faces, a startup called Hoxton Analytics is analysing footwear to work out the kind of people walking past stores. Brands can then use this data to tailor their stores to their customers.
Will all this automation lead to job losses?
If you can speak to a chatbot to find out information or have a computer pick out a coat for you, surely the widespread adoption of this technology could lead to job losses in retail?
According to a recent survey by Jobsite, retail was thought to be the eighth most at risk sector because of automation.
Though around 43 percent of respondents believe automation will ultimately enhance their jobs, 72 percent said they were not uneasy about the growth of this tech in the workplace.
Perhaps more worryingly, a new report published by PwC says that around 44 percent of jobs in the retail sector are at risk of automation by 2030.
Companies who eventually replace employees with AI could face a number of employee and industrial relations issues, says Naeema Choudry, human resources practice group partner at Eversheds Sutherland.
"We have recently seen a lot of strike action in the rail industry in response to a proposal to remove train guards; it is not difficult to imagine similar action if the removal of train drivers were to be proposed, for them to be replaced with robots," she tells Verdict.
As well, there could be a kickback in the workforce from employees not wanting to implement technology that they believe could lead towards their redundancy.
"Employers may find that staff are slow to install technology or deliberately sabotage it in order to either prolong their employment or place enough doubt in their employer's mind as to the reliability of the technology that they do not proceed with their plans," says Choudry.
At the moment, however, the technology in the retail sector is still in its early stages and this means that there is still a reliance on human employees to work the technology.
"I think it could be plausible in the future but I don't think it is really viable at the moment," says Mills. "It's still very much in its infancy; there is still the management of these systems that do need to be done by someone human. [AI systems] are not fully sufficient at the moment."
Are we on the brink of a revolution?
AI is a big business and it is set to grow even more over the next few years. US market intelligence firm Tractica predicts that the global revenue from AI will be around $36.8bn by 2025.
"One of the big forces here is that consumers already have it," says Giard. "We're consuming AI every time we use a Google search or Alexa or Pandora. We don't know it, but it's building expectations.
"The challenges of retail are at the point where old-fashioned, first rate, rules-based analytics to prescribe the next best action, have always fallen short. And now with AI, we can create better decisions to tell retailers what's the next best action to take along the customer journey."
This piece is part of a series exploring how artificial intelligence is transforming different industries. Read about the impact AI is having on healthcare and the finance sector here