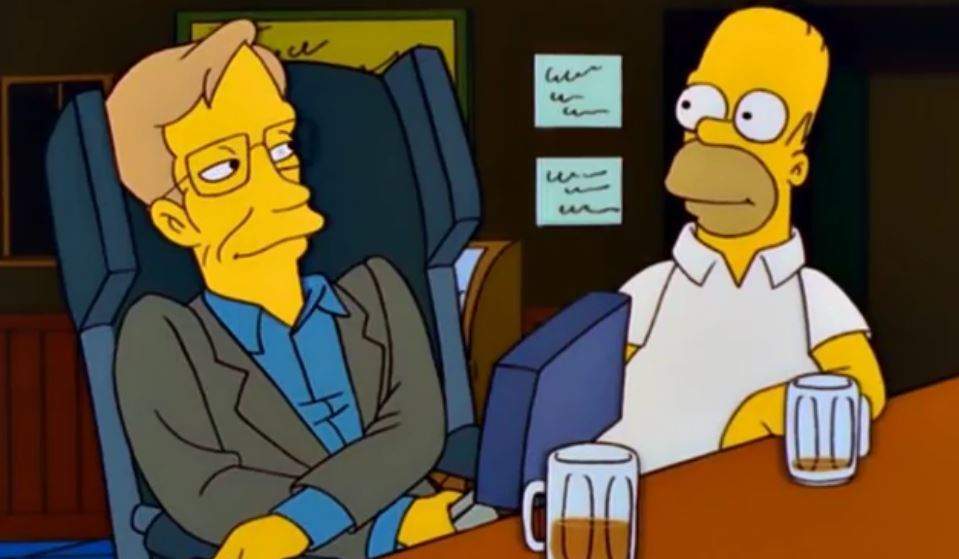 His name crops up in iconic shows and movies from Doctor Who to The Avengers. He is sampled in songs and acts in adverts.
After more than two decades of television appearances, Hawking has a filmography that stands up against many successful Hollywood stars.
He passed away not only as one of the most respected scientists of all time, but also as a pop culture icon.
Here are some of the big shows and movies that the famed physicist made an appearance in over the years:
The Simpsons:
Having made four appearances on The Simpsons between 1999 and 2010, Hawking once quipped, "as many people know me through The Simpsons as for my science".
The Simpsons plays up the scientist's role as one of the smartest people to have lived. In one episode he saves Lisa from the high-intelligence society Mensa using a flying, gadget-equipped wheelchair and in another he raps alongside comedy band Flight of the Conchords.
How well do you
really

know your competitors?

Access the most comprehensive Company Profiles on the market, powered by GlobalData. Save hours of research. Gain competitive edge.
Company Profile – free sample
Thank you!
Your download email will arrive shortly
Not ready to buy yet? Download a free sample
We are confident about the unique quality of our Company Profiles. However, we want you to make the most beneficial decision for your business, so we offer a free sample that you can download by submitting the below form
By GlobalData
In one episode ("Don't Fear the Roofer"), in which Homer is deemed insane for having an imaginary friend that eventually proved to be real, Hawking's theory on black holes helps to clear up a major plot hole.
However, rarely vital to the plot, the character is usually the source of a quick joke. The character, voiced by Hawking, wasn't all that different to the real thing.
Despite The Simpsons history of predicting major events, there were few Stephen Hawking predictions made during his appearances. However, he does commend Homer on his theory of a doughnut shaped universe (a theory that might not be as ridiculous as it first seems).
Appearances:
S10 E22 – They Saved Lisa's Brain
S16 E16 – Don't Fear the Roofer
S18 E20 – Stop! Or My Dog Will Shoot
S22 E01 – Elementary School Musical
Futurama:
Hawking was clearly a fan of Matt Groening's work. As well as his appearances on The Simpsons, he also made a number of cameo appearances in Groening's less popular (but some would say better) show Futurama.
Given Hawking's relationship with space, Futurama's sci-fi genre was a fitting match. Hawking made three appearances, voicing his own character each time.
Much like his appearances in The Simpsons, Hawking was seemingly more than happy to make light of his career achievements. In the Futurama movie, The Beast with a Billion Backs, he jokes that he actually knows little about the universe.
In the year 3,000, Hawking is leading the fight to protect the space time continuum from harm. He sits alongside a team containing former president Al Gore, former Star Trek actress Nichelle Nichols, Dungeons and Dragons creator Gary Gygax and Deep Blue, a chess-playing computer developed by IBM. Unsurprisingly, throwing bumbling protagonist Fry into the mix sees Hawking's worst nightmare come true as the universe collapses around him.
Appearances:
S2 E16 – Anthology of Interest I
S6 E26 – Reincarnation
Movie – Futurama: The Beast with a Billion Backs
The Fairly OddParents:
While not voiced by Hawking, the scientist did make an appearance in hit Nickelodeon show The Fairly OddParents in 2005 as the former college roommate of protagonist Timmy's teacher, Denzel Crocker.
As Timmy attempts to prove that two plus two equals five, who better to help him out than one of the most celebrated brains of our time?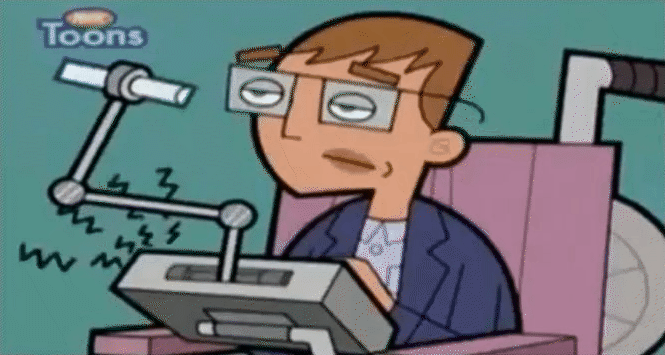 Appearances:
S5 E16 – Remy Rides Again
Family Guy:
Family Guy has made numerous references to Stephen Hawking since it first aired in 1999. While the scientist was never named, a character known as Steve, who makes occasional appearances, is seemingly based on Hawking. The character has motor neuron disease, is a professor and they share the same name.
The show's creators did eventually seem to refute the idea that Steve is Stephen Hawking, as the actual scientist went on to appear in an episode ("April in Quahog"), aired in 2010.
Following an interview with the local news, Hawking stands up and says, "I'm telling you man, this shtick is getting so old. That chair smells dude", before walking away.
Family Guy does joke at the expense of those with motor neuron disease. However, given the show's willingness to cause controversy, its portrayal of Hawking is fairly tame.
Appearances:
S8 E16 – April in Quahog
S8 E19 – The Splendid Source
The Big Bang Theory:
It's often difficult to watch a show about something that you're passionate about and enjoy it without picking out numerous inaccuracies. However, that isn't the case with The Big Bang Theory. It is down to David Saltzberg, a physics professor at the University of California, to ensure that the science in the hit series holds up.
It was this that made Hawking a fan of the show. He answered yes when asked whether he would be open to making an appearance by TV Guide Canada and it went from there.
During his first appearance in season five, he causes Sheldon, who believes himself to be smarter than all, to faint when he finds a mathematic mistake in one of his papers.
He went on to make six more appearances in the show, featuring in every season since apart from the eighth. His last appearance was in September last year, where he made a brief appearance to offer Sheldon some relationship advice.
Hawking essentially played himself — a quick-witted intellect — throughout his time on the show, striking up a good relationship with the cast. Following his death, The stars of the show posted a tribute to the late scientist on its social media channels.
In loving memory of Stephen Hawking. It was an honor to have him on The #BigBangTheory. Thank you for inspiring us and the world. pic.twitter.com/9rWoYqIToy

— The Big Bang Theory (@bigbangtheory) March 14, 2018
Appearances:
S5 E21 – The Hawking Excitation
S6 E6 – The Extract Obliteration
S7 E20 – The Relationship Diremption
S7 E14 – The Troll Manifestation
S9 E17 – The Celebration Experimentation
S10 E9 – The Geology Elevation
S11 E1 – The Proposal Proposal
Star Trek: The Next Generation:
This was the performance that kicked off Hawking's television career and introduced the world to his sharp sense of humour.
Five years after the release of his book, A Brief History of Time in 1988, Hawking, playing himself, competes in a game of cards with fellow physicists Isaac Newton and Albert Einstein on board the USS Enterprise.
To this day, Hawking remains the only person to have played himself in the Star Trek Universe.
The Theory of Everything
English actor Eddir Redmayne won an Oscar for his portrayal of Hawking in the 2014 film about the scientist's early struggles and successesThe film currently has a score of 78% from critics on movie rating website Rotten Tomatoes.
The reactions to Redmayne's performance were positive. However, Hawking was his biggest fan.
Commenting via his official Facebook, Hawking said:
"I thought Eddie Redmayne portrayed me very well in The Theory of Everything Movie. He spent time with ALS sufferers so he could be authentic. At times, I thought he was me."
These are just a few of Hawking's film and television appearances, but he has made plenty more over the years, including a part in one of those infamous GoCompare adverts.