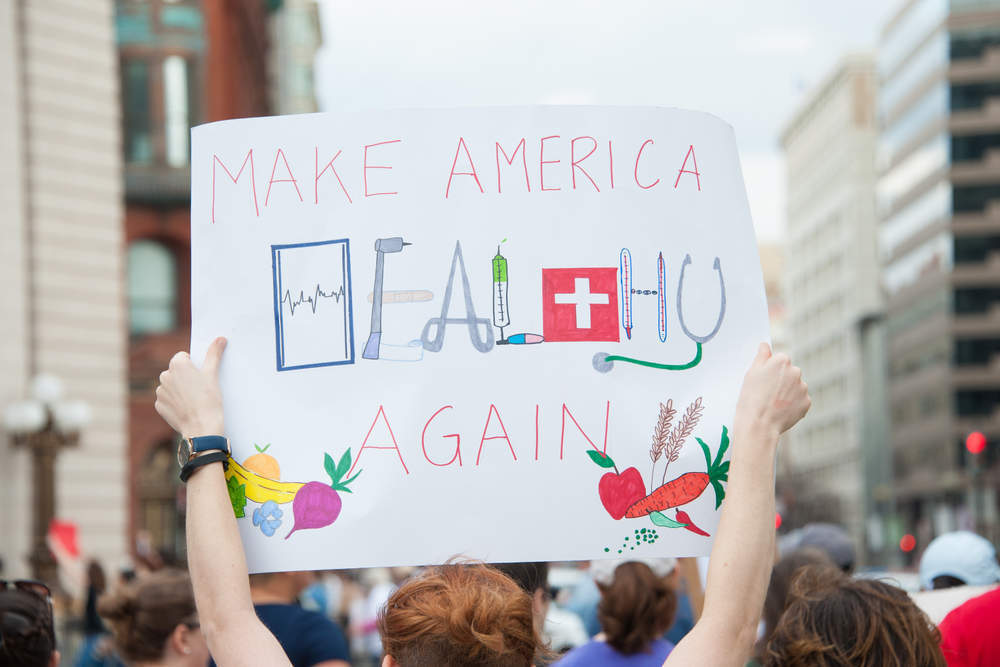 Today the 45th US president will receive his first physical examination since taking office. It will also be the first official check on his former doctor's claim that he would be the "healthiest individual ever elected".
Trump's physical is scheduled to take place at the Walter Reed National Military Medical Center in Bethesda, Maryland, with the post-physical readout to be given by the current White House physician Ronny L Jackson.
Trump, at 71, is the oldest US president to be elected and rumours have long been swirling that he is among the unhealthiest.
While George W Bush was famed for his love of mountain biking and Obama's regular runs and disciplined diet became an integral part of his image, Trump's penchant for fast food and soft drinks have been the source of much media attention.
As with so many other things, his attitude is at odds with larger social trends — with most of the world obsessing over the ingredients and sourcing of their food, Trump's diet harks back to a less disciplined time in American dining.
Here's some of the unhealthy things Trump is reported to do that may have an impact on his physical health.
He consumes up to 12 cans of Coca-cola per day
In the past Trump has stated that he has Diet Coke on tap at the White House, being able to conjure up the drink with the push of a button.
Considering that one can of Coke contains 42mg of caffeine, if he does indeed drink 12 cans every day he would be consuming 504mgs of caffeine daily, 104mgs more than the recommended intake for adults. 
He has a voracious love of fast food
In their book Let Trump be Trump, former campaign aides Corey Lewandowski and David Bossie said that the president's typical order from McDonalds included a chocolate milkshake, two Big Macs and two Filet-o-Fish (which Trump has strangely referred to as a fish delight in the past).
https://twitter.com/realDonaldTrump/status/760299757206208512
In the same book it says the four major food groups on Trump's campaign plane were "McDonald's, Kentucky Fried Chicken, pizza and Diet Coke".
According to CNN this McDonald's order alone contained almost a day's worth of calories and sodium, and  almost double the recommended daily dose of saturated fat he should eat in a day, according to US Dietary Guidelines. It totals 2,400 calories in one meal (the NHS recommends that men consume no more than 2,500 calories per day.)
Trump has even suggested fast food could be an effective time saving measure:
We should be eating a hamburger on a conference table, and we should make better deals with China and others and forget about state dinners.
His love of fast food chains apparently also stems from the element of anonymity they provide.
As a guest on The Tonight Show Starring Jimmy Fallon he told Fallon "I don't want [someone] to go into a restaurant and say, 'Mr Trump would like a hamburger to go because if they don't like me…" he trailed off, suggesting he could be poisoned.
He shuns almost all exercise
The only sport Trump is known to indulge in is golf, though he is said to use his cart to get around the majority of the court.
His reticence to exercise was noted at a G7 summit meeting last May, when he took a golf cart for a short distance of 700 yards while other leaders walked. 
Get gets little sleep
Rumours vary as to how little Trump sleeps, with some saying it's as little as five hours. In Michael Wolff's Fire and Fury he said that the president would regularly retire by 6:30pm to enjoy a cheeseburger and his "three screens" in bed.
Annual physicals for presidents date back to Jimmy Carter, though few have garnered as much media attention and speculation as Trump's.
His volatile activity on Twitter in addition to accounts given by those who have worked with him have led many to raise doubts over his physical and mental well being.
Such concerns reached fever pitch with the upcoming release of Wolff's Fire and Fury which is said to give new insight into Trump's inadequacies as president.
However, the White House have said that Trump will not undergo a psychiatric exam and did not comment on whether he would take other cognitive testing.
In response to those questioning his mental health, Trump described himself on Twitter as "a very stable genius" and stated that his two greatest assets are "mental stability and being, like, really smart".
https://twitter.com/realDonaldTrump/status/949619270631256064
Presidential physicals have often been utilised to support the image of the president as offered throughout their campaign and previous instances have seen illnesses being misrepresented or completely hidden from the public.
Senior adviser of the Trump campaign Kellyanne Conway has already said that Trump's love of fast food "goes with his authenticity", making him a relatable figure and is not a cause for real concern.
Though many are looking to the results of the physical to answer questions on the president's health, anything revealed from the examination is ultimately up to Trump.