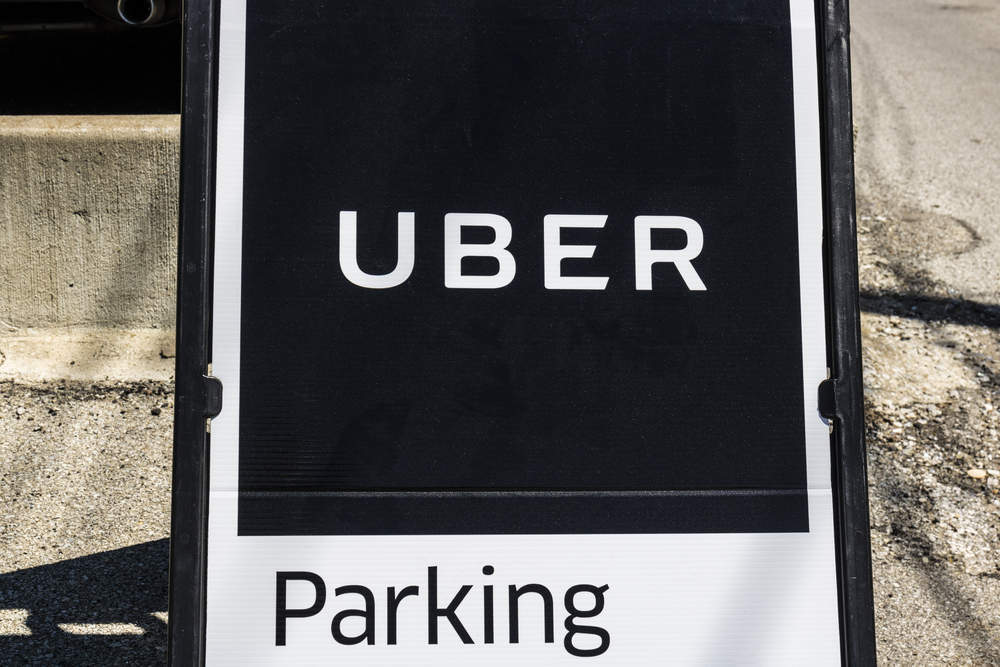 Uber CEO Travis Kalanick is taking a leave of absence from the private car hire company he founded as struggles to overcome a host of scandals and he comes to terms with the death of his mother.
His mother died in a boating accident last month and was buried just last week.
Kalanick announced his plans to step down for a indefinite time in a company-wide email. He wrote:
The ultimate responsibility, for where we've gotten and how we've gotten here rests on my shoulders. For Uber 2.0 to succeed there is nothing more important than dedicating my time to building out the leadership team. But if we are going to work on Uber 2.0, I also need to work on Travis 2.0 to become the leader that this company needs and that you deserve.
Here's the full letter (first seen by Buzzfeed News).
Click to enlarge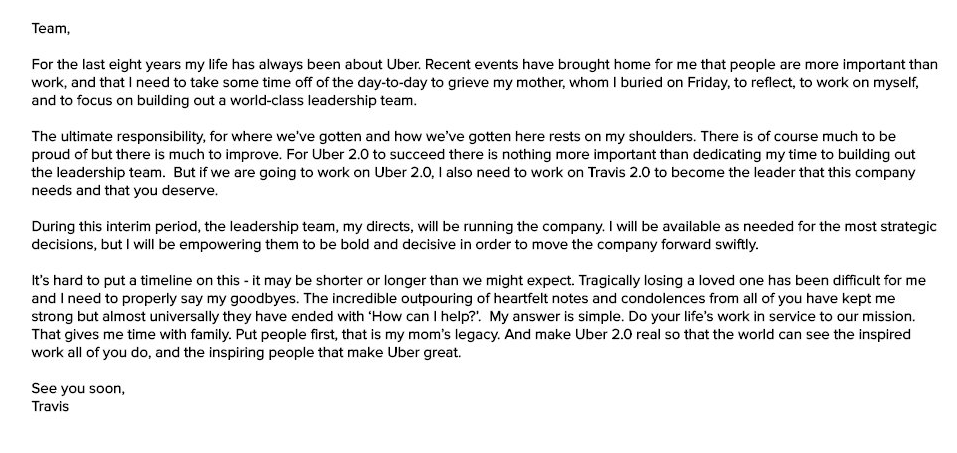 How has it come to this?
Today Silicon Valley, tech investors, and the world's taxi industry have been waiting for the findings of report on Uber's culture to be delivered to employees.
The report — carried out by former US attorney-general Eric Holder — is the result of an external investigation into claims of sexual harassment and a "bro culture" at Uber that have developed in the short time Uber has exploded from a daring up-start to the world's most valuable private company and ultimate investor unicorn.
It was sparked by former engineer Susan Fowler's allegations of sexism and harassment.
Over the weekend Uber's board of directors met to try to salvage the situation, voting unanimously to adopt all the recommendations from the investigation, which they hope will draw a line under the series of scandals and setbacks that have engulfed the company.
Read more: Uber is on the rocks – here's what's happening with its competitors
The board also ousted senior vice president of business Emil Michael and have reportedly put Kalanick on a leave of absence.
The latest departure is the seventh senior exec to left the company since the beginning of the year.
James Cakmak, an analyst at Monness Crespi Hardt, said Michael's departure reflected Uber's need for a "fall guy" and could help protect Kalanick.
Cakmak told Bloomberg:
If Kalanick did leave, we think it would be very difficult for him to come back.
The San Francisco-based ride-hailing service has more than 12,000 employees and thousands more drivers — who are defined as contractors — around the world.
What has the management collapse meant for the company's performance?
Uber Technologies isn't required to report its finances publicly as it is privately held company however it did update the market in March, signalling it wants to move attention away from its recent scandals and could be considering selling shares in a stock market float.
In March Uber said its revenue growth is outpacing losses. While revenues hit $6.5bn last year, it is yet to make a profit, with some analysts suggesting it will never happen.
The ride-hailing giant more than doubled gross bookings in 2016 to $20bn, according to Bloomberg.
It racked up losses of a staggering $2.8bn however. That is excluding the China business, which it sold last summer.
Do people expect the latest negative publicity to hit revenue?
Earlier this year the #DeleteUber campaign gained widespread exposure but ultimately failed to change customer behaviour who have come to expect and even depend upon Uber's ease of use and low prices.
While Lyft saw a brief uptick in the number of new app downloads following the backlash Uber's rivals have failed to capitalise on the company's problems in a meaningful way.