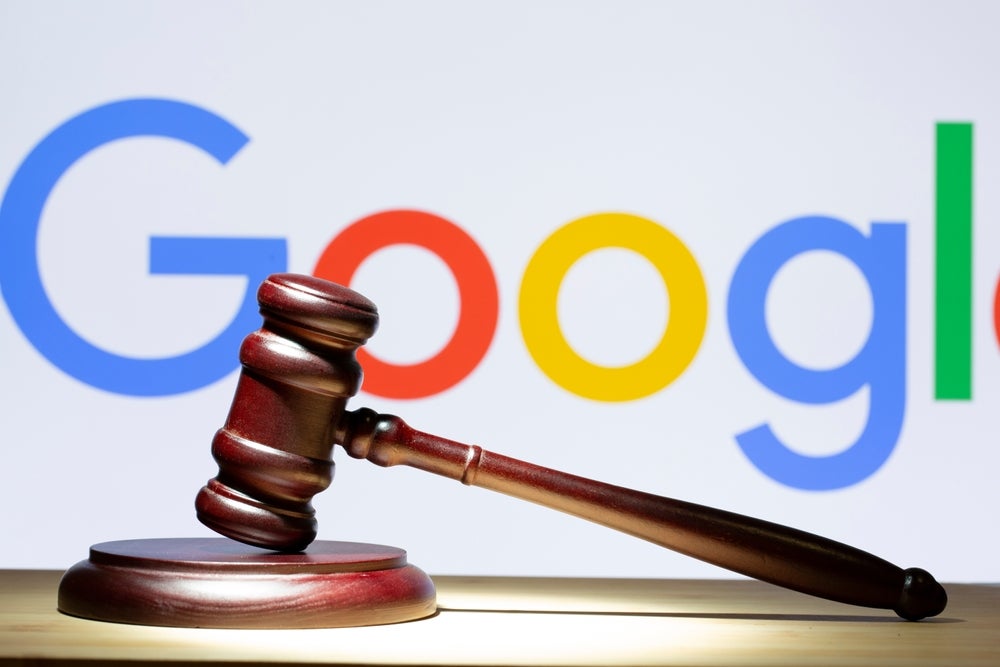 The US Department of Justice (DOJ) and a coalition of state attorneys began their landmark antitrust trial against Google on Tuesday (12 Sept), as lawmakers accuse the tech giant of abusing its power by monopolising the search engine business.
The 10-week court battle marks the US government's first monopoly case of the modern internet age to go to trial – and could change the way the internet currently operates.
On the first day of the trial, DOJ lawyer Kenneth Dintzer, told the court: "This case is about the future of the internet and whether Google's search engine will ever face meaningful competition."
According to the DOJ, Google has unfairly shut out competition by illegally orchestrating its business dealings so it is always the first search engine people see when they open their web browsers.
The DOJ's case against the search engine giant focuses on the deals the company has made with phone makers and web browser firms. Apple and Samsung, for example, allegedly receive billions of dollars paid to them by Google to keep it as a default browser.
The DOJ argues that Google has kept its market share through a feedback loop that makes it too difficult for rivals to enter.
How well do you
really

know your competitors?

Access the most comprehensive Company Profiles on the market, powered by GlobalData. Save hours of research. Gain competitive edge.
Company Profile – free sample
Thank you!
Your download email will arrive shortly
Not ready to buy yet? Download a free sample
We are confident about the unique quality of our Company Profiles. However, we want you to make the most beneficial decision for your business, so we offer a free sample that you can download by submitting the below form
By GlobalData
The feedback loop is as follows: Google pays for defaults on devices and software, which gives them more search queries. This provides more data, which improves the search quality. This gives the company more money – which they can then use to buy defaults.
Google claims it is superior to other search engines
On Tuesday, Google argued that the DOJ was wrong for claiming the company had broken the law with their business dealings.
Google currently controls an estimated 90% of the US search engine market. The US tech giant has continually claimed the reason for this is because it is simply superior to others on the market.
John Schmidtlein, one of Google's trial lawyers, claimed the billion dollar payments made to web browsers and phone companies were to compensate for security updates and maintenance.
Schmidtlein added that users just need to make "a few easy clicks" if they wanted to change browser. The lead lawyer also claimed that "the large majority of Windows PC users search on Google, not (Microsoft's) Bing."
Schmidtlein also said that browsers and phone makers like having a default search engine, and will actively choose the best one for them and their customers.
"Apple repeatedly chose Google as the default because Apple believed it was the best experience for its users," Schmidtlein said.
Google's lawyers also argued on Tuesday that advertisers were motivated by a return on their investment, and are prepared to go elsewhere if they think they would get a better deal.
The trial may change the internet forever
The mass reach of Google can be felt in almost every device and every corner of the internet. Any outcome favouring the DOJ's arguments will surely be felt by most users in some way.
The last antitrust tech case of this size to make it to trial was in 1998, when the DOJ sued Microsoft. Twenty-five years ago the DOJ won that case.
The DOJ accused Microsoft of illegally grouping products together which hurt competition and pushed people into using its products.
"If the DOJ prevails, it will be a great chance for the US regulator to show that it can enforce existing antitrust laws and bring successful antitrust cases in the digital age," Laura Petrone, analyst at research company GlobalData, told Verdict.
Petrone notes that it will be interesting to see the remedies that the DOJ will be seeking from Google, which are expected to be "tough".
Jeff Watkins, CPTO at xDesign, believes that if the DOJ wins it will spook other tech giants like Meta and lead to "more scruitiny in the industry".
"It may encourage different business models, driven more through federation than acquisition, which could also be good for fair competition," Watkins said.
Petrone explained that one of the possible outcomes could be the a break up of the business to end its monopoly.
"The company's break-up or the break-up of part of its business is a possibility, but breaking up Big Tech companies is easier said than done, and in general, arguments in favour of it have lost momentum over the last few years," Petone explains.
Adding: "There is serious doubt about whether separating companies would increase competition."
If Google was no-longer the default search engine for Apple, the platform's power would be reduced in the short to medium term, Petrone said.
But according to Petrone, the underlying market dynamics and economies of scale would continue to favour concentration.
Not all experts agree with this, however. Watkins says the "potential outcomes for Google could be pretty disruptive and lead to the breaking up of the company into independent entities."
Watkins also believes the trial could make force Google "to change its behaviours around how it brokers agreements – forcing it to become more transparent in both its negotiation and operation of them."
"It'll likely end up with increased oversight for them, with regular reviews and audits to force them into ongoing compliance," Watkins added.