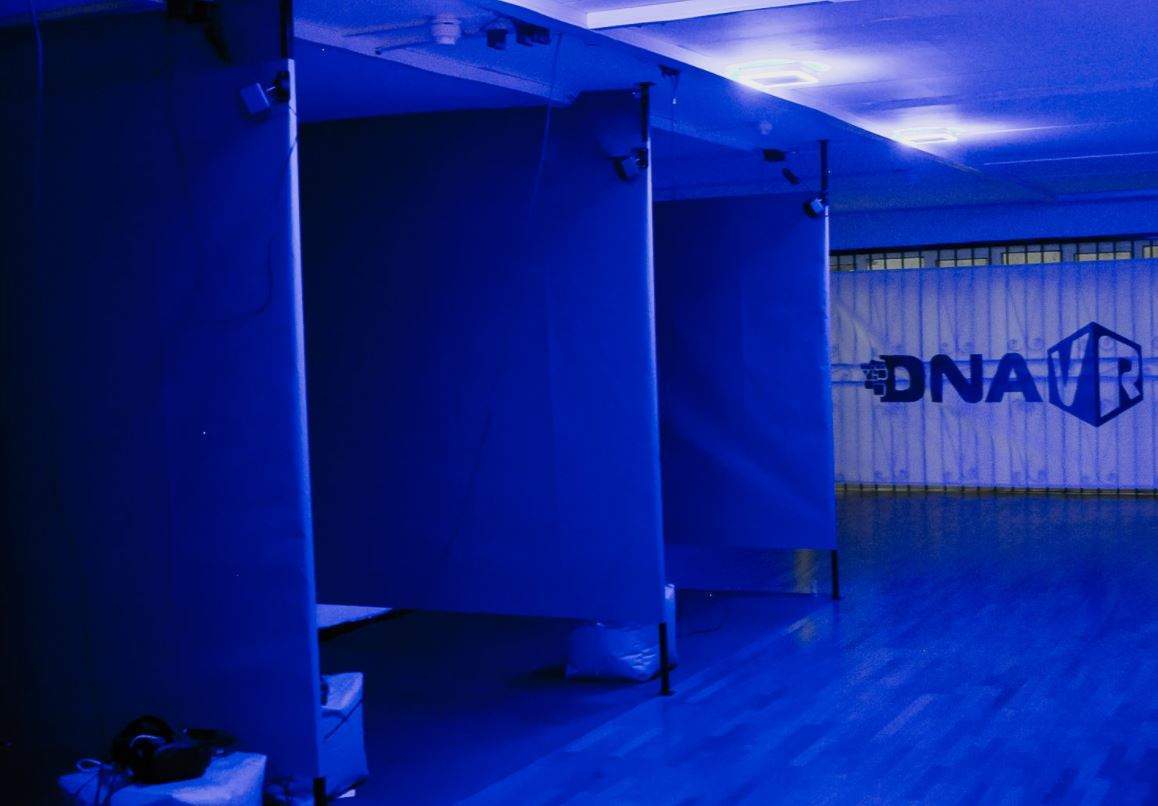 A shady-looking doorway in Islington, London, transports you into fantasy worlds, from alien planets to post-apocalyptic futures. It sounds like the stuff of movies and video games and that's because it is.
DNA VR, London's first virtual reality arcade, is pioneering new virtual reality technology to offer a catalogue of immersive experiences to those eager to try it out.
Since Palmer Luckey made the first Oculus Rift headset in 2010, virtual reality has gone from strength to strength. Oculus, bought by Facebook in 2014, HTC and PlayStation are now fighting to bring VR to the home. Virtual reality's big three sold 4.4m units between them last year.
However, while developers hope that VR takes over the home, companies like DNA VR are taking advantage of the tech's limitations, such as the need for space, high price and lack of interest among non-gamers, to develop virtual reality businesses that provide experiences to those less willing to buy into VR.
Keen to try out a virtual reality arcade for ourselves, team Verdict paid a visit to DNA VR.
DNA VR: our thoughts on virtual reality arcades
Traditional arcades tend to use bright, flashing lights to draw the attention of potential customers, but DNA VR has taken the opposite approach.
How well do you
really

know your competitors?

Access the most comprehensive Company Profiles on the market, powered by GlobalData. Save hours of research. Gain competitive edge.
Company Profile – free sample
Thank you!
Your download email will arrive shortly
Not ready to buy yet? Download a free sample
We are confident about the unique quality of our Company Profiles. However, we want you to make the most beneficial decision for your business, so we offer a free sample that you can download by submitting the below form
By GlobalData
Wedged in between two shops is an wholly run-of-the-mill door which leads down to London's first VR arcade. If you weren't planning on visiting, you would likely walk past it without noticing that it was there. We were looking for it and we still managed to miss it.
Inside isn't all that impressive either. It has a light, minimalist interior that borders on futuristic, but not quite. Aside from the curtain dividers and the odd beanbag for spectators to lounge on, the arcade was basically empty.
It's almost as if DNA VR's founders know that no matter how impressive the arcade looks, it will never match up to the visuals on offer inside their HTC Vive headsets. That is what customers are paying for and in that department it delivers.
We all made our way to DNA VR with mediocre expectations, having had our own experiences of unpolished VR in the past, or heard the frequent complaints of pixelated and blurry graphics from early VR adopters.
If the visuals were blurry, I was too distracted by the hordes of aliens and zombies coming at me to notice.
Once our hour was up, we were all left wanting more. According to DNA VR co-founder Alexander Tsyurupa, most of DNA VR's customers leave feeling the same way:
"They love it. They really do. Customers especially like being able to interact with each other. That really erases the boundary between the game and reality."
While, as a co-founder, he has to say that, the arcade's TripAdvisor reviews support his claim. The arcade has a five star score from 41 reviews written.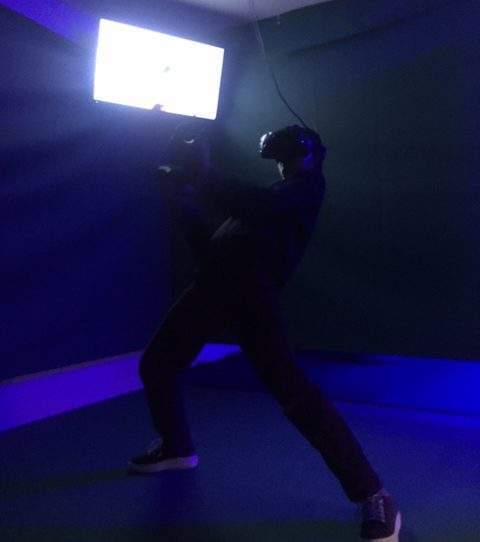 Despite lifestyle writer Jack Rear's best efforts, we didn't manage to play our way through DNA VR's entire catalogue. However, the ones that we did try, from Matrix-like first-person shooter Superhot VR to mobile classic Fruit Ninja VR, were all equally as impressive.
With a range of titles on offer, from horror titles to 3D drawing games, DNA VR are doing well to support their claim that virtual reality is "for everyone regardless of interests, age or tech-knowledge".
The usual complaints
While issues such as motion sickness and poor tracking are frequent complaints among users, that wasn't the case here. As Tsyurupa explained, a lot of effort went in to ensuring that the arcade provides its customers with a good experience of VR.
 "Motion sickness is something many of our customers are really afraid of. To be honest, I can relate to that. I have experienced it a couple of times while trying out the technology."

"We tried out every single game that we offered for at least 20 minutes ourselves. We disregarded the games that cause motion sickness. Worst performers here are any VR rollercoasters, flying simulators and similar experiences. We're not saying that we don't want to include these titles at some point, but we would prefer to ensure our customers' health and safety."

"On the hardware side, we chose the best VR headsets that offered the best graphics available on the market. We also invested heavily in high-end PCs as well. Likewise, we also built the venue in a way that prevented tracking issues. That was one of the biggest challenges for us, but we have managed to build a venue free of these problems."
Virtual reality businesses: the next big thing?
"We believe that this market will continue to grow further. With technology becoming better and cheaper, we will definitely see more virtual reality businesses opening soon," Tsyurupa told Verdict.
We're already starting to see variants of the DNA VR business model springing up elsewhere. Vienna has a virtual reality bar and Amsterdam has a virtual reality cinema.
Our visit to DNA VR was an enjoyable experience and I would highly recommend trying it out. However, I'm still uncertain that virtual reality experiences are anything more than an, albeit fun, fad.
Can I see virtual reality working in a bar, for example? Not at all…
Reporter Scarlett Evans was stone-cold sober and still ended up on the floor at one point. I wouldn't like to imagine the outcome of mixing too much alcohol with this disorientating, often motion sickness-inducing tech.
Keeping it simple is definitely the way to go. If I wanted a drink, I would go to a bar, but I don't. I want VR, so give me VR. If these types of experiences are going to thrive, the DNA VR approach is the right one.
However, at £30 for an hour, this isn't something that I can see myself doing again and again. That isn't to say that it is overpriced – aside from access to virtual reality, you're also paying for the member of staff that has to be on hand to set you up and run you through the ins-and-outs of each game.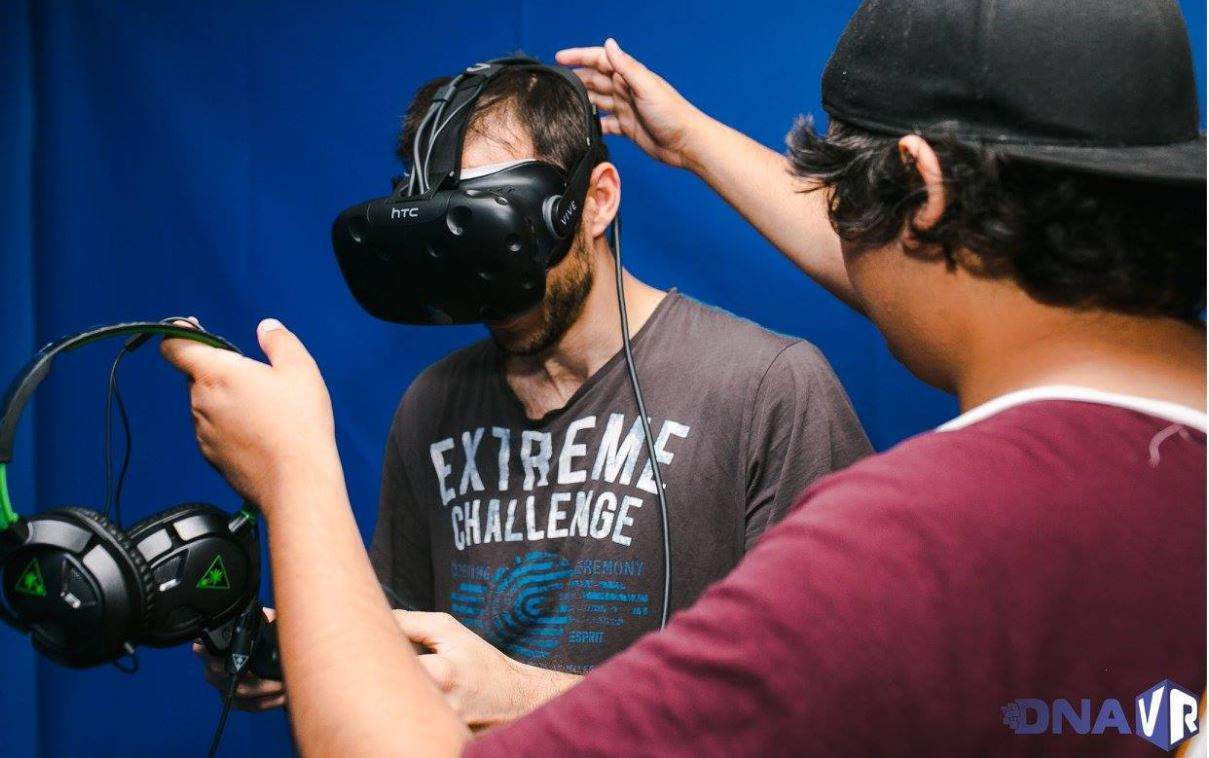 But when you consider that virtual reality headsets can now be picked up for under £300, its seems like only so long before home VR destroys VR arcades in the same way that home consoles brought an end to traditional arcades.
Tsyurupa doesn't share my view. According to the co-founder, virtual reality's many uses will allow such businesses to thrive regardless of whether or not VR becomes a common home gaming system:
"With VR becoming cheaper, more and more people will be able to buy a headset for themselves. However, most people purchasing VR headsets are gamers. What is unique about a venue like ours is that most of our customers are not gamers."

"They are often inspired by the idea of being in a different world, rather than pure gaming. We have a lot of artists drawing masterpieces in Google Tilt Brush, or people that have tried every escape room that London has to offer discovering new experiences in VR. These alternative uses will ensure that venues like DNA VR stay relevant."
Virtual reality as a social activity
As a group of four sharing a headset, it was fairly mediocre social activity. DNA VR provides everything that you need to relax – sharing rooms have beanbags for those watching and a television screen so that you can see what the current player is seeing.
This allowed us to shout ideas and suggestions at the person in the headset. However, once we were over the initial excitement, the mobile phones came out and the chat died down.
For me, at least, places like DNA VR are there to socialise inside VR, not over VR. Nobody wants to sit around watching somebody else play when they could be exploring virtual worlds.
We didn't get a chance to try out DNA VR's multiplayer titles. It is here, Tsyurupa told us, where the experience thrives. Games designed for two to six players, such as the Alice in Wonderland experience, allow friends to work together in virtual worlds to complete tasks and missions.
I can only imagine that it's a far better overall experience and, I must admit, despite my doubts about the future of virtual reality venues, I'm tempted to go back and find out.