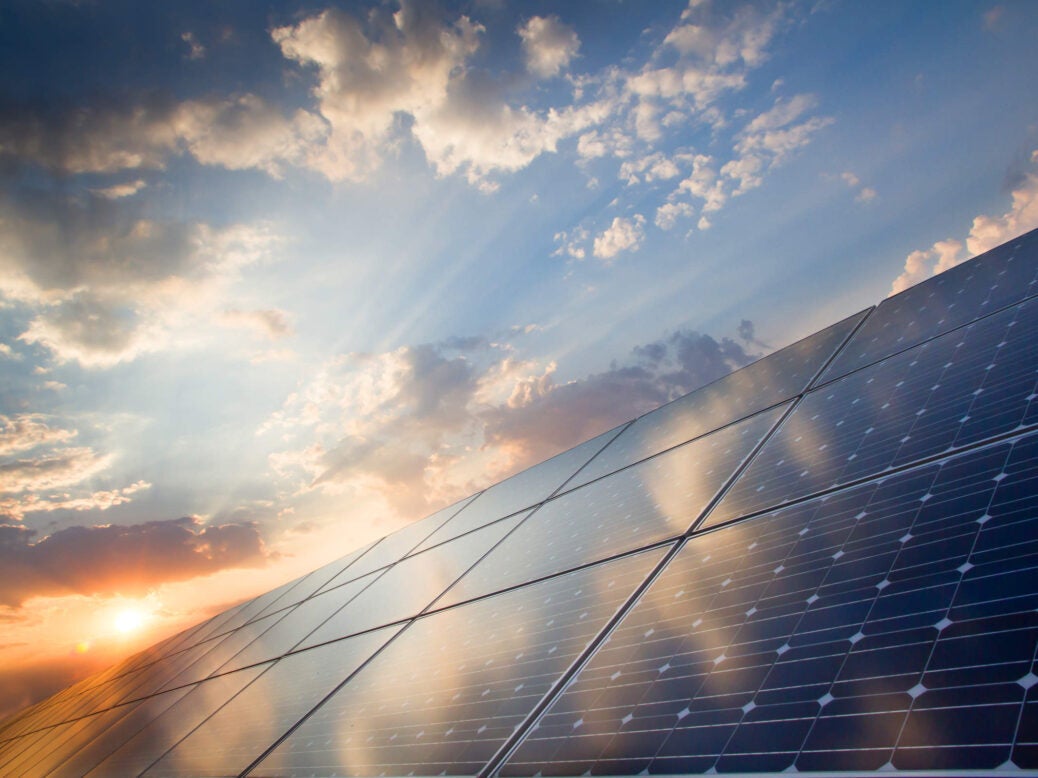 Amid radical subsidy cuts and network capacity constraints, the renewable energy sector in the UK is finding novel ways to stay commercially competitive.
A new research project will investigate if solar-powered trains could provide a much-needed boost to the UK's renewable energy sector.
The deployment of solar power has grown in the UK over the past few years, and is now one of the most popular renewable energy technologies among the British public.
But a recent set of drastic government cuts to all decentralised renewables have left the sector scrambling for a new business model.
On 1 February, researchers from the Imperial College of London, together with climate charity 10:10 will start the Renewable Traction Power project, a world-first investigation into the use of track-side solar panels to power trains.
The project, funded through Innovate UK's Energy Game Changers programme, comes at a crucial moment for both the renewable energy sector and the rail industry.
The plan is to connect solar panels directly to the lines which provide electricity to trains, and completely bypass the grid.
If successful, the innovation could contribute to the setup of multiple small and medium-scale solar farms, and provide a stable financial model for both the rail and energy sectors.
"The big prize here is that it is a means to support subsidy-free renewable energy deployment in the UK," says Leo Murray, director of strategy at climate change charity 10:10.
A struggling sector
Over the past three to four years, there has been encouraging growth in the solar market which saw UK photovoltaic (PV) capacity almost double from 2.8GW to nearly 5GW in 2014.
But in December 2015, the government announced a 64 percent subsidy cut on small scale solar electricity panels, a highly criticised move that hit the sector hard.
"The government has prematurely thrashed subsidies for small and medium-scale renewables," Murray says. "That's had a terribly damaging effect on the British native renewable energy sector and we've had 12,500 solar job losses since the Conservatives won the majority government in 2015 and went about removing all the subsidies."
The move came at a time when the UK is struggling with network capacity constraints, especially in many rural areas across the south of England.
Across large parts of the country, particularly in the south of England, the electricity distribution networks are at their voltage maximum, which imposes constraints on the supply of power to rail companies. This means delivering less capacity on key rail routes, which are already struggling with overcrowded trains.
"I know from conversations with franchise bidders that on the south-west route out of London, they would like to add trains and carriages but they have been told they can't do it by the distribution network operators who supply electricity to the line," Murray says.
Finding new ways to bypass the grid
As a result, the business model for making a profit in the clean energy sector has completely changed. In order to commercially function in the absence of the subsidies, the UK's renewable energy sector is now looking at ways to install and displace grid imports.
"In the absence of those subsidy payments, the only scenarios where it still makes sense commercially to deploy things like solar PV is where you could displace retail cost of power, as export to the grid is no longer sufficiently rewarded to recover capital investment," Murray says.
"What you want to do is limit your export to the grid because you cannot make your money back by generating power and exporting it onto the grid. That model no longer works."
In this new, uncertain landscape, pioneering companies such as Lightsource are developing power purchase agreements (PPAs), essentially direct contracts between the seller and the buyer of electricity.
These companies are looking for long-term, high-energy users which will remain on a fixed location for a long time – and rail networks are the ideal contenders.
"The railways are staying put. There are no plans to re-route and so what you have there is a very stable customer who you know is going to remain in-situ and keep needing electricity for decades to come," Murray says. "That's exactly the kind of profile that you need to support a PPA-based solar development."
"From our point of view of a climate change charity, we're very excited about this, not just because it will permit more solar deployment, but because it supports modal shift and more journeys taking place in rail, particularly electrified rail."
Verdict deals analysis methodology
This analysis considers only announced and completed deals from the GlobalData financial deals database and excludes all terminated and rumoured deals. Country and industry are defined according to the headquarters and dominant industry of the target firm. The term 'acquisition' refers to both completed deals and those in the bidding stage.
GlobalData tracks real-time data concerning all merger and acquisition, private equity/venture capital and asset transaction activity around the world from thousands of company websites and other reliable sources.
More in-depth reports and analysis on all reported deals are available for subscribers to GlobalData's deals database.