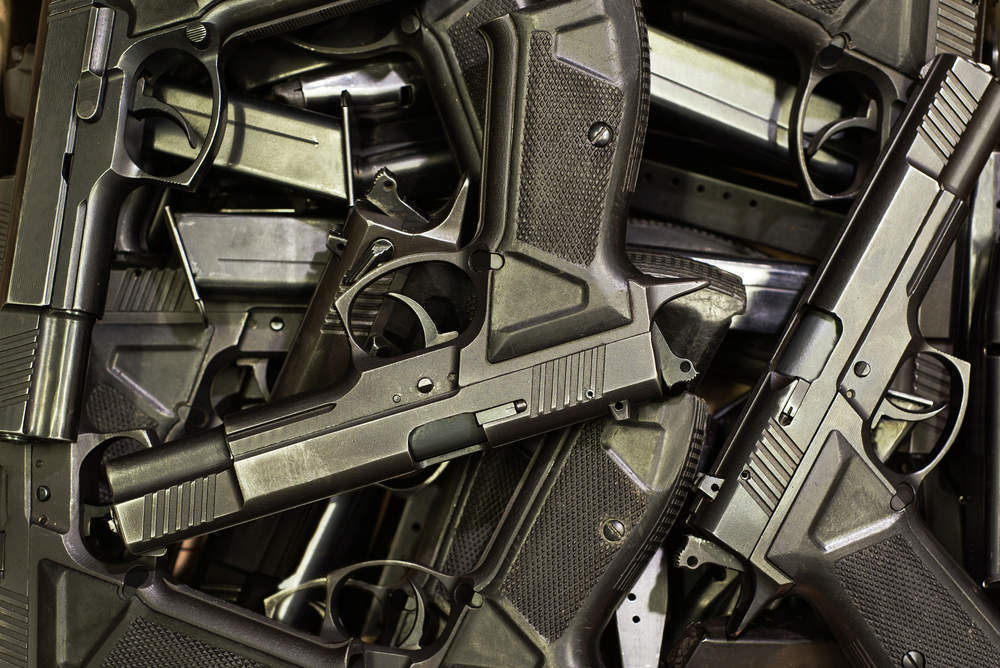 The debate over US gun law flares up following each mass shooting..
In 2017 there were 346 mass shootings in the US according to the Gun Violence Archive. More broadly, in the same period, the US saw 61,539 incidents of gun violence claiming 15,596 lives – according to the same source.
After every mass shooting there are calls for stricter gun regulations.
A study published in the New York Times found that these calls for more gun restrictions actually drive gun sales. That same study found a general trend showing that Americans buy more guns after mass shootings due to fears of regulatory crackdowns.
But while plenty call for greater gun regulation in the US, many are not aware of the exact rules around gun ownership in that country.
The rules around purchasing and owning guns in the US are all based around the Second Amendment to the US constitution.
How well do you
really

know your competitors?

Access the most comprehensive Company Profiles on the market, powered by GlobalData. Save hours of research. Gain competitive edge.
Company Profile – free sample
Thank you!
Your download email will arrive shortly
Not ready to buy yet? Download a free sample
We are confident about the unique quality of our Company Profiles. However, we want you to make the most beneficial decision for your business, so we offer a free sample that you can download by submitting the below form
By GlobalData
This amendment reads:
A well regulated militia being necessary to the security of a free state, the right of the people to keep and bear arms shall not be infringed.
Essentially, this amendment was added due to certain 18th century politicians' mistrust of a centralised federal government.
They were concerned by the inherant dangers of a central government controlling the nation's army. The idea of a militia was central to controlling that standing army.
The politicians believed that if the federal government ever turned on a state or the US as a whole, they could raise a militia to defend themselves.
The law has been used to protect Americans' rights to own all guns.
This is regardless of any intent to form a militia or otherwise. In the landmark court ruling District of Columbia verses Heller, the US Supreme Court ruled that the Second Amendment protects an individual's right to possess a firearm unconnected with service in a militia for traditionally lawful purposes, such as self-defence within the home.
At the time, Washington DC had a handgun ban and requirement that lawfully-owned rifles and shotguns be kept "unloaded and disassembled or bound by a trigger lock".
This case successfully argued that Washington DC's laws contravened the Second Amendment.
District of Columbia verses Heller set a precedent that firearms people could not be banned from carrying firearms in DC and, by extension, the rest of the country.
And that case brings us to today, where it is almost impossible to ban people from owning guns in the US.
Of course, there are various arguments on either side of the debate which are not worth getting into here. Below, you'll find the rules concerning gun ownership in all 50 states.
A glossary of terms:
Long guns: A long gun is a category of firearms with longer barrels than other classes. These include but aren't limited to rifles, shotguns, muskets and submachine guns.
Handguns: A firearm designed to be handheld and operated with either one or two hands. These include pistols and revolvers.
Assault weapons: Military grade firearms including semi-automatic weapons and those with magazines that can hold a certain numbers of rounds of ammunition.
NFA weapons: A certain designation of weapons under the National Firearms Act. These include machine guns, short-barreled rifles and shotguns, heavy weapons, explosive ordnance, silencers and "any other weapon" (AOW), such as disguised or improvised firearms.
Permit/license: Some states require gun owners to have a permit/license to own or purchase a weapon.
Registration: Some states require individual firearms are registered with local law enforcement officials.
Concealed carry: The carrying of a concealed firearm in public.
Open carry: The carrying of an unconcealed firearm on one's person or in one's vehicle. Essentially, you can walk or drive down the street with a gun in your hand.
State preemption of local restrictions: In states with preemption laws, only the state can regulate gun laws. In states without preemption laws, local governments can pass laws which necessitate stricter regulations on guns than the state's own laws.
Peaceable journey laws: Additional leeway for the possession of firearms by travelers who are passing through to another destination.
Background checks: Federal law requires background checks for sales by licensed gun dealers, and for any interstate sales. However, not all states require these background checks when buying from private sellers.
General laws regarding gun ownership:
Each state has different gun laws as will become apparent. However, in general, the rules are as follows:
All US citizens are entitled to own a gun.
Permanent residents of the US who are not citizens can own a gun.
Those visiting the US for sport or hunting can own a gun with a license.
In general, convicted felons, those with serious mental illness, and people on the no-fly list cannot own guns. However, this varies by state.
Most states require a background check to purchase a gun. This check examines three data bases: the National Crime Information Center (NCIC), the Interstate Identification Index (III), and the NICS Index. If there are no matches, the sale can be completed. If there are matchers, the gun seller must get in touch with local law enforcement/judicial agencies to get more information.
Those who fail the background test are as follows: people convicted of crimes punishable by at least one year in jail, people under indictment for such a crime, fugitives from justice, unlawful users of drugs, is subject to a court order to prevent them from stalking or harassing others, people dishonourably discharged from the army, people who renounced US citizenship, people who have been convicted of domestic violence offences.
Some 'unusual' gun laws:
As every state is entitled to make its own gun laws, there are a few states with decidedly odd gun laws which don't seem to have any real reasoning. Here are just a few of those laws:
Alabama doesn't ban any firearms except those disguised as walking canes.
Local governments in Alaska can make their own laws regarding gun control. Those laws must be exactly the same as state legislature or they are null and void.
Most states that ban certain kinds of weapon allow retired police officers to have them. These retirees need no good reason to have military grade weapons.
In Florida it's a felony for anyone to attempt to create a registry of gun owners of any sort.
In Kansas, any gun made in Kansas and stamped with a 'Made In Kansas' sign is not bound by any regulations.
Minnesotans can buy an assault weapon from 18 years old, but they must wait until they're 21 before they're actually allowed to carry it.
In South Carolina assault weapons are banned to everyone, except for anyone who can legally own a gun. If you can't buy a gun, you can't buy an assault gun either, but if you can buy a gun then you can buy an assault gun. Obviously this law required careful consideration.
Texas doesn't let you own a gun if you owe child support money.
Texas also let's you carry a gun unless you're doing so in a manner 'calculated to cause alarm'. They do not specify what this means.