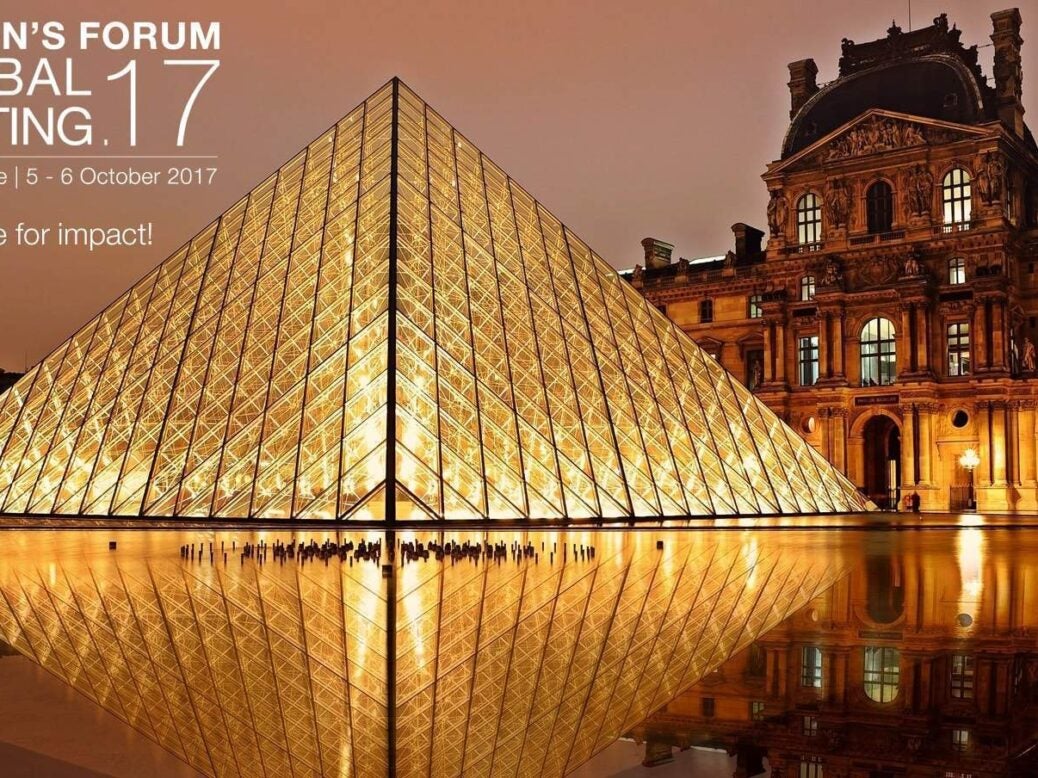 The Women's Forum for Economics and Society is coming together in Paris this week for its Global Meeting.
From today until Friday — at the Carrousel du Louvre — women from the top of business and politics will debate how to overcome issues faced by economic, political, and technological disruption.
This year's theme is Engage for Impact! Daring to lead in a disrupted world and is organised around four key areas: embracing humanity, harnessing technology, thriving through creativity and shaping the future of work.
The event is expected to draw up the world's recent political upheavals — from the UK's vote to quit the European Union and the trading blocs future to the election of US president Donald Trump — technology advances such as automation and artificial intelligence, climate change, and corporate responsibility.
According to the Women's Forum:
In the past year, the winds of change have blown over our economies and societies, upending norms that had underpinned the world order for decades…it is time to question your assumptions and re-engage on the impact you wish to create in the world. This is a critical moment – and an unprecedented opportunity – for leaders, both women and men, to bring fresh perspectives and shape the future of a world in transition.
What the Women's Forum says about the Global Meeting's four areas
Embracing our humanity
In a disrupted world, it is the people at the heart of institutions and organisations who will ultimately make them fit for the future. This pillar looks at the relationship between organisations and the people they employ and serve, and how businesses and institutions can embrace their humanity to lead through disruption.
Harnessing technology
The impact of technology is not a technical issue – it's a social one. We examine the social and economic implications of game-changing technologies, such as data analytics and artificial intelligence, how to diversify and enrich the environment that gives rise to new technologies, and how to better apply new technological developments to the pursuit of a better world.
Thriving through creativity
Creativity offers value at all scales – from personal fulfilment to world-changing invention. In this pillar, the most successful entrepreneurs, innovators, companies, and organisations share how they have systematically inspired and catalysed creativity and innovation.
Shaping the future of work
The future of organisations depends on talent: engaging the right talent, with the necessary competencies and skills, and giving them the environment to succeed. This pillar looks at the competencies of the future and how businesses will find them, as well as how workplace environments and cultures engage and support workers to be committed and productive.
Who's speaking?
Jose Angel Gurria — secretary general of the OECD
Gloria Guevara Manzo — President and OEO, World Travel & Tourism Council
Olivier Brandicourt — CEO of Sanofi
Thomas Buberl — CEO of AXA
Headline speakers from previous events are:
Christine Lagarde — managing director of the International Monetary Fund
Carlos Slim — chairman of Grupo Carso and America Movil (and the world's second richest person)
Isabelle Kocher – chief executive of Engin
Monique Leroux — president of the International Co-operative Alliance
Muhtar Kent — chairman and CEO of the Coca-Cola Company
Maria Leonor Robredo — vice president, Republic of the Philippines
Antonio Tajani — president of the European Parliament
Carlo d'Asaro Biondo — EMEA president of strategic relationships at Google