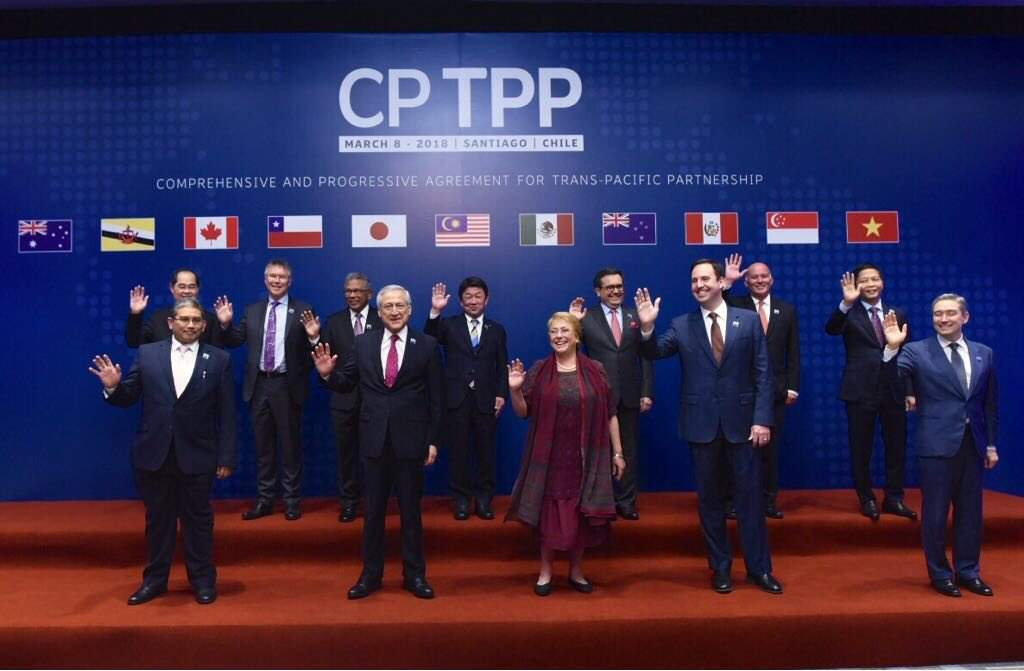 Trade ministers from 11 Asia-Pacific countries signed a major free trade deal in the Chilean capital on Thursday afternoon, that slashes tariffs and is seen as a challenge to Trump's growing protectionist policies.
The Comprehensive and Progressive Agreement for Trans-Pacific Partnership (CPTPP), was signed by Australia, Brunei Darussalam, Canada, Chile, Malaysia, Mexico, Japan, New Zealand, Peru, Singapore and Vietnam.
The deal, originally known as the TPP-11, was devised by the US in 2016 to counter China's growing dominance in the Pacific region, but Trump pulled out shortly after taking office.
The deal was revived under a new name in January, and signatories went ahead with the signing as Trump finalised a decision to impose trade tariffs on steel and aluminium imports into the country.
Chilean President Michelle Bachelet said the deal is a sign they are keeping the world open in a climate of increasing trade uncertainty:
"Today, we can proudly conclude this process, sending a strong message to the international community that open markets, economic integration and international cooperation are the best tools for creating economic opportunities and prosperity."
"Globally, there has been an increasing level of uncertainty, given the adoption of policies and measures by some key players that question the principles that have contributed to generating prosperity for our peoples."
"We need to stay on the course of globalization, yet learning from our past mistakes."
Japanese economy minister Toshimitsu Motegi said: "Despite the diverse and difficult challenges, the CPTPP is a historic achievement that creates free and fair 21st century rules in the Asia-Pacific region."
Why it matters:
The CPTPP's 11 member states make up 13 % of the world economy, with a combined GDP totalling $10 trillion. With America on board, the signatories would have accounted for a total of 40% of the  global economy.
Chile 🇨🇱 is already a part of the Comprehensive and Progressive Treaty of Trans-Pacific Partnership (#CPTPP)! Check here 👇 some images of this important milestone that occurred in our country 🇵🇪🇲🇾🇲🇽🇯🇵🇻🇳🇧🇳🇦🇺🇸🇬🇳🇿🇨🇦 pic.twitter.com/GKDhoVd4xu

— Chile MFA 🇨🇱 (@ChileMFA) March 8, 2018
Australia's minister for trade, Steven Ciobo said they hoped to see the deal implemented by late next year:
"We are very hopeful like others that we will see the CP TPP coming into effect about the end of the year or shortly thereafter."
Background:
President Trump signed a deal to impose steep trade tariffs on US steel and aluminium imports in a ceremony on Thursday, drawing a backlash from major US trading partners.
According to the deal, import tariffs of 25% on steel and 10% on aluminium will go into effect in 15 days in a move Trump says will rehabilitate US industries devastated by "unfair trade".
Trump said that Canada, the largest supplier of steel and aluminium to the US, and Mexico are exempt from the duties, while negotiations over another trade deal, the North America Free Trade Agreement (Nafta) are still underway.
China described the new measures as a "serious attack" on free trade, while their steel and metals associations demanded retaliation.
French minister of economy Bruno Le Maire denounced the tariffs, saying there's "only losers" in a trade war.
Canada welcomes their exemption but said they would still pressure the US to reconsider the policy.
The EU is also pushing for exemption from the tariffs, with EU trade commissioner Cecilia Malmstroem tweeting that, the EU should excluded from the trafifs as they are a close ally of the US.
Earlier this week the EU published a list of US goods they will tax if Trump imposes tariffs.
On tonight's announcement – the EU is a close ally of the US and we continue to be of the view that the EU should be excluded from these measures. I will seek more clarity on this issue in the days to come. Looking forward to meeting USTR Lighthizer in Brussels on Sat to discuss.

— Cecilia Malmström (@MalmstromEU) March 8, 2018