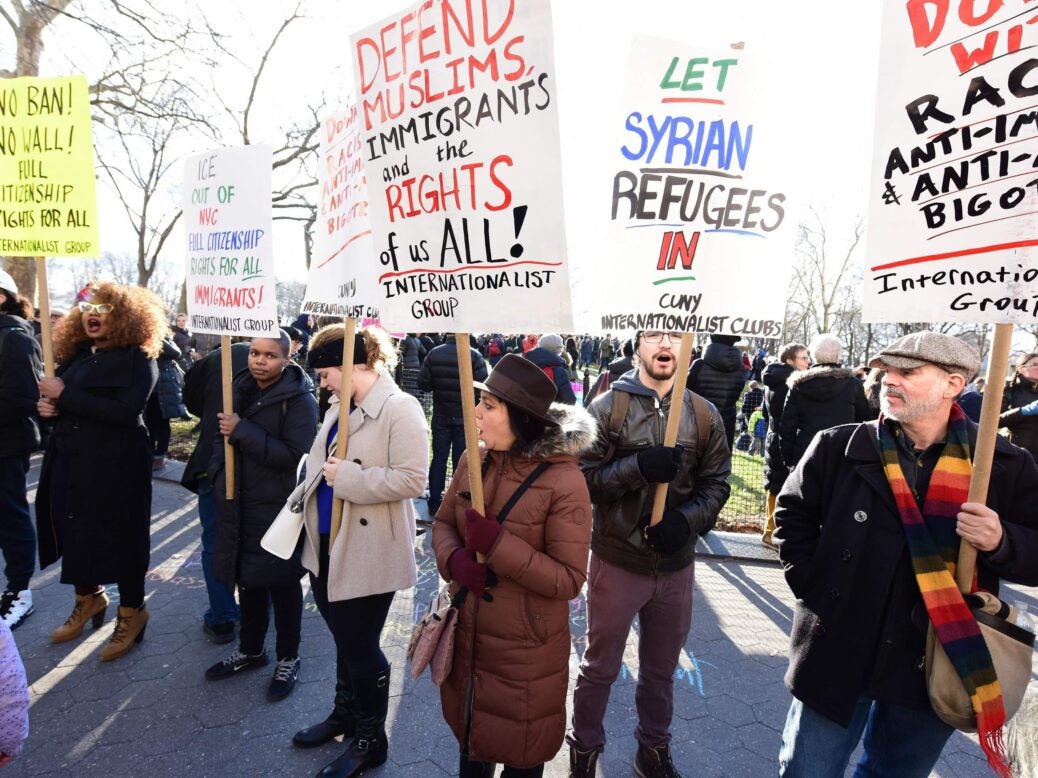 These three things will change the world today.
1. 97 companies filed a lawsuit against Trump's executive order on immigration
After teaming up together last week to denounce president Donald Trump's Muslim travel ban, 97 companies have joined together to file a legal brief condemning the executive order.
The brief was filed last night lead by tech companies including Airbnb, Facebook, Google, Netflix, Snap Inc and Uber.
"Immigrants make many of the Nation's greatest discoveries, and create some of the country's most innovative and iconic companies.

"America has long recognised the importance of protecting ourselves against those who would do us harm. But it has done so while maintaining our fundamental commitment to welcoming immigrants—through increased background checks and other controls on people seeking to enter our country."
The travel ban, which seeks to prevent immigrants from Muslim-majority countries including Syria and Iraq from entering the US, was blocked on Friday by a U.S District judge in Seattle.
The judge placed a temporary restraining order based on claims that Washington state has suffered harm as a result of the ban, for instance students and faculty at state-funded universities being stranded overseas.
An appeals court declined to reinstate the travel restrictions over the weekend, despite attempts by the White House to lobby for it to do so.
2. ECB president Mario Draghi will testify at European Parliament today
The European Central Bank's (ECB) president Mario Draghi will face EU legislators at the European Parliament's economic and monetary affairs committee later today.
Draghi is set to face questions about whether his stimulus policies of quantitative easing are working, the region's bank issues and what will happen if the pledges of populist parties proposing to leave the Euro zone will ring true.
The ECB faced criticism over the weekend from Germany's finance minister, Wolfgang Schaeuble. In comments made to Germany's Tagesspiegel, he said: "The euro exchange rate is, strictly speaking too low for the German economy's competitive position. The ECB must make policy that works for Europe as a whole."
3. French presidential election: Fillon under pressure to quit after fake job scandal
Francois Fillion, rightwing presidential candidate in France's upcoming elections, is under pressure to quit the race because of a fake-jobs-for-family scandal.
Rumours are circulating that Fillon will make a televised address tonight.
The former prime minister has said he would fight to end to defend his position as the party's nominee. However, his rivals Marine Le Pen and Emmanuel Macron have been vigorously campaigning this weekend in an attempt to force Fillon to withdraw.
The newspaper Le Canard Enchaine reported two weeks that Fillon's wife Penelope had been paid hundreds of thousands of euros as a parliamentary assistant – work she hadn't actually done. Since the scandal broke, he and his wife have been interviewed by the fraud police and the inquiry has been extended to include two of his grown-up children.
There are concerns that if Fillon is forced to withdraw from the presidential race, the election could turn in favour of Le Pen and her far-right, anti-immigrant stance.