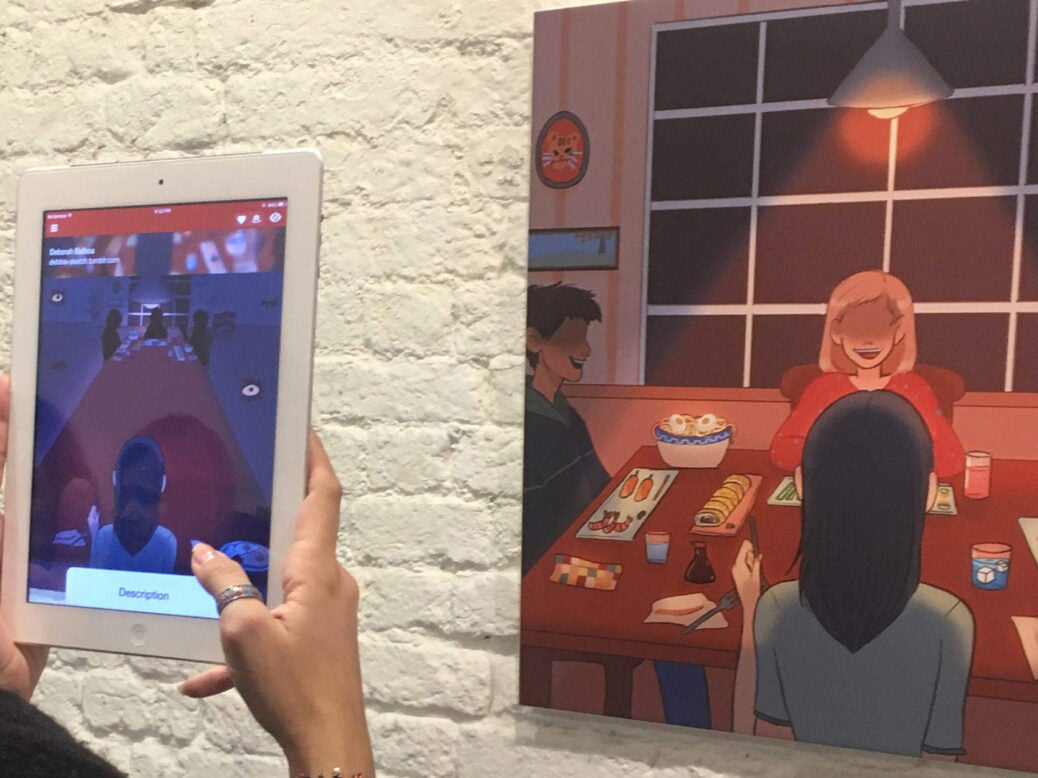 This week Tumblr, in collaboration with grassroots mental health platform Made of Millions, has launched 'Seen', an exhibition that seeks to harness augmented reality (AR) to lend new expression to perceptions of mental health. It showcases the powerful potential of AR in art.
Using art to discuss mental health is not new. With subjective perception providing an inescapable basis for artworks, the mediums of paint, sculpture and film to dissect and question our realities is an action repeated over centuries.
However, as technological advances spread to the world of art, virtual and augmented reality have become instrumental in offering new ways to engage audiences and immerse visitors in the experiences chosen by artists.
Seen's use of AR in art
In 'Seen', AR is used in a series of paintings with titles such as 'The Constant Demon' or 'Worlds Apart'. Each work depicts the seemingly innocuous scene of a sleeping girl or a dinner party, though when an accompanying iPad is lifted to face the canvas the screen shows a different picture. The sleeping girl is now surrounded by dark shadows, or the dining figure is faced with demonic guests seated on the horizon of a now endless table, scenes now intended to show the feelings of paranoia and anxiety.
In such examples AR offers a means of making the distinction between external and internal perceptions starkly obvious, with viewers only able to see the distorted, emotional vision through the small window of the iPad. It also has a more practical distinction from traditional mediums of showing multiple pieces at once, creating a multi-layered, chaotic artwork that hammers the point of differing realities home.
"Augmented reality allows everyday objects to tell their stories, reveal information and interact with users in real time," Nicolas Henchoz, director of the 2013 exhibition 'Gimme More, Is Augmented Reality the Next Medium?' at Eyebeam, New York, told art magazine Apollo. "What transpires as a result is a radical shift of interdependence between the object and the information it conveys."
Art and mental health
When discussing mental health, bringing it to the forefront of people's awareness is a crucial part of understanding its effects and helping sufferers. As such, using a medium that allows viewers to engage with the work – picking parts of it up and watching it change under their touch – forces an interaction and a role in the piece that is absent in more traditional forms. It also somewhat speaks to the use of digital media to explore mental health in the public sphere, as Tumblr and Made of Millions are attempting to do.
According to Tumblr head of social policy Victoria McCullough mental health has always been the focal point of conversations on the platform, with over 600 million online interactions on the subject each year. Tumblr CEO Jeff D'Onofrio says drawing these conversations into the public realm is a necessity and a duty from social media sites.
"We control spaces on the internet that have scale," D'Onofrio says. "It's not just enough to have a platform because we know there are people out there we know need looking after."
Similarly Yumna Al-Arashi, a photographer whose works feature in the show, says she often questions the way social media handles mental illness. "It's important to create spaces that are doing something that sites like Facebook and Instagram, which can be quite detrimental to people with mental health, aren't."
AR is perhaps the perfect medium to bridge the gap between digital and human connection, allowing viewers and artists to reach out to one another via the screens placed in front of works and creating a virtual space where the instabilities and fears beneath the art's veneer are fully exposed.
The show also features painter Will Barras creating a 'live mural', works from Al-Arashi, and a ten minute video documentary from Made of Millions' co-founder Rose Cartwright, depicting her experiences with OCD.