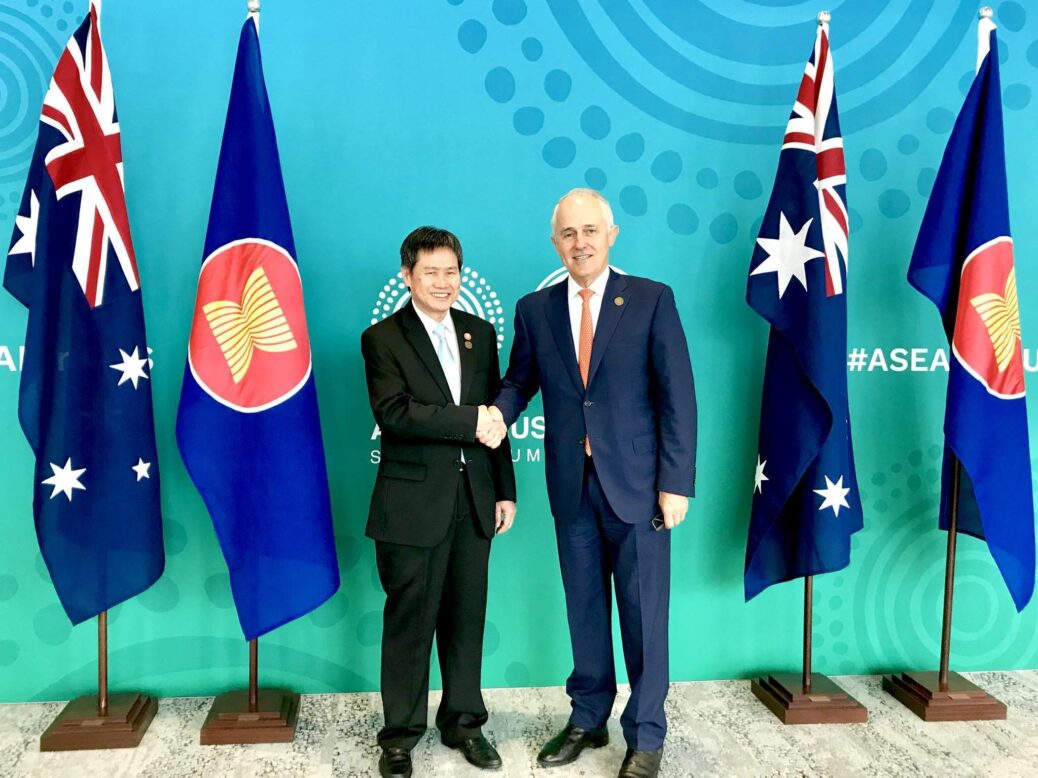 A group of East Asia states have criticised US President Donald Trump's protectionist policies at a summit today, announcing plans to move ahead with a regional trade pact that would isolate the US in the region, and urging members to embrace globalisation.
One the first day of a special three-day meeting of the  Association of Southeast Asian Nations (Asean) in Sydney, Australian Prime Minister Malcolm Turnbull said:
We absolutely believe that free trade is the key. Protectionism is not a ladder to get you out of a low growth trap, it's a shovel to dig it a lot deeper.
He added that with the winds of protectionism blowing stronger than ever states should not turn their backs on globalisation:
You don't grow stronger by closing the door to other markets. Protectionism is a dead end. It is not a ladder to get you out of the low growth trap, it is a shovel to dig it much deeper.

We must face the world, not turn from it. Embrace free trade, not retreat from it.
In his opening address, Singapore Prime Minister Lee Hsien Loong urged member states to resist the tide of anti-globalisation:
I know the global mood may be heading in the opposite direction but within ASEAN we are working to deepen and deepen interdependence to work together to open up markets.
The East Asian group is also working on a new trade pact, the Regional Comprehensive Economic Partnership (RCEP), which is expected to be signed in November 2018 during the ASEAN Summit and Related Summit in Singapore.
Turnbull said:
We are relentless in doing everything we can, to open up more markets and more opportunities for Australian businesses and Australian exporters.
Why it matters:
The statements come after Trump has stiffened his trading position by imposing a fleet of tariffs of Chinese solar power goods in January, triggering a potential trade war with China.
Earlier this month, Trump signed a deal to impose steep trade tariffs on US steel and aluminium imports drawing further backlash from major US trading partners.
Trump said that import tariffs of 25% on steel and 10% on aluminium will rehabilitate US industries devastated by "unfair trade".
He later threatened to tax EU cars, escalating tensions and threatening the outbreak of a trade war.
Market sentiment has also been dampened as concerns linger over the possibility of further tariffs from the Trump administration and as China mulls retaliatory measures.
In addition, the massive China-led RCEP trade pact, aligning 16 countries with a collective GDP of GDP of $49.5 trillion, comes on the heels of another trade pact, of Asia Pacific countries — the CPTPP.
Together the two pacts isolate the US in Asia as he presses ahead with tearing down the bridges of globalisation.
Background:
CPTPP — signed by 11 Asia Pacific countries last week — was originally the brain child of the US, but Trump withdrew from the deal three days after taking office.
The member states make up 13% of the world economy, with a combined GDP totalling $10 trillion.
With the US on board, the signatories would have accounted for a total of 40% of the  global economy.
RCEP member states include Japan, Australia and the 10 members of the Asean, accounting for a population of 3.4 billion people and for 39% of the world's GDP, in 2017.