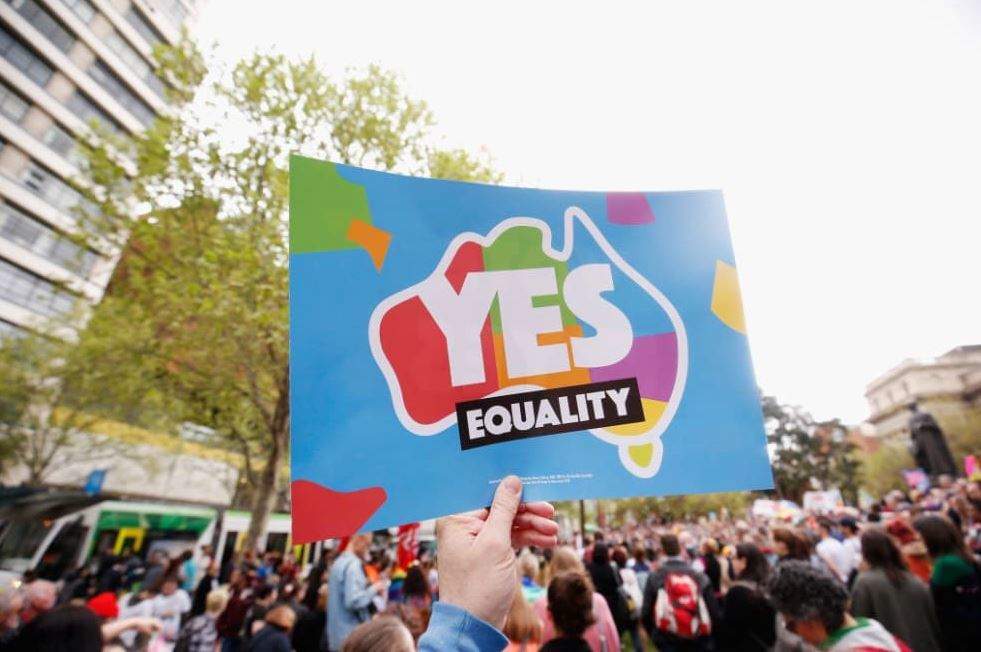 The result of the Australia postal vote on legalising same-sex marriage came through today: a resounding "yes" from voters.
The ballot was open between 12 September to 7 November and some 60 percent of Australia's 12m citizens who voted were in support of marriage equality, while 38.4 percent voted against — about 7.82m people against 4.87m people.
The yes vote won in every state and territory, with the highest percentage in favour from the Australian Capital Territory, with 74 percent yes responses, followed by Victoria at 65 percent, then Tasmania and Western Australia with 64 percent.
Responding to the results Australia's prime minister Malcolm Turnbull said:
The Australian people have had their say. They voted overwhelmingly for fairness, for commitment, for love. And now it's our job as the Australian parliament, all of us here, to get on with it, to get this done before Christmas.
At least two-thirds of Australians were known to be in favour of the bill prior to the vote, but opposition from conservative forces in Canberra hindered progress.
A 2004 amendment made to the law specified that marriage was a "voluntarily entered-into union of a man and a woman to the exclusion of all others".
Since then, 21 same-sex marriage related bills were introduced and rejected by parliament, while in this time over 20 other nations saw the legalisation of marriage equality.
Australia joins the list of 25 other countries around the world to have marriage equality.
Same-sex marriage is currently legal in Argentina, Belgium, Brazil, Canada, Colombia, Denmark, Finland, France, Germany, Iceland, Ireland, Luxembourg, Malta, Mexico, the Netherlands, New Zealand, Norway, Portugal, South Africa, Spain, Sweden, the UK, the U.S. and Uruguay.
Who will be next to join the list? Verdict has taken a look at some of the likely candidates.
Chile
Gay sex was decriminalised in Chile in 1999, and civil unions have been legal since 2015.
President Michelle Bachelet submitted a marriage equality bill in August this year.
"We can't let old prejudices be stronger than love," she said.
Though it's unlikely she will see the measure's passing by the time her term ends in March 2018, her move was hailed as a historic step in the move toward marriage equality.
In the run up to the 2013 presidential elections Bachelet voiced her support of same sex marriage and declared she would seek to legalise it during her presidency.
A poll conducted for Cooperativa e Imaginaccion between 24 and 27 August 2017 found that 62.2 percent of Chileans supported same-sex marriage, with 34.8 percent against.
Venezuela
The Supreme Court announced in April 2016 that it would hear a lawsuit which declares Article 44 of the Civil Code unconstitutional as it outlaws same-sex marriage.
Proposals allowing for either civil unions or marriage for same-sex couples are currently under debate in parliament.
Austria
Registered partnerships have been legal in Austria since 2010.
A July poll this year for Österreich magazine found that 59 percent of Austrians supported same-sex marriage, with 25 percent against and 16 percent who did not answer.
The snap election in October of this year saw the conservative People's Party taking control and sparked fears that the push for marriage equality would be hindered as a result.
However, the Green party have consistently fought for the legalisation of same-sex marriage and it is currently under debate in parliament, with a ruling on the issue expected by December.
Switzerland
Registered partnerships have been legal in Switzerland since 2007.
A constitutional amendment was first proposed by the Green Liberal Party in 2013 and later approved in 2015.
Though the Swiss People's Party wanted to block the initiative, the National Council voted in favour of its continuation, with the vote at 118 to 71. The drafting committee has been given until 2019 to prepare a bill.