Whether a sumptuous bed, a spectacular view or service beyond compare – choose from our stunning selection of hotels
W BARCELONA
A stunning piece of postmodern architecture, the W Barcelona rises into the sky like a windsurfer's sail in the breeze.
A creation of the world-famous architect Ricardo Bofill, this hotel is one of the trendiest in Barcelona. Located on the seafront, floor-to-ceiling windows allow for a near 360° panoramic view of the whole city. The hotel's interior design is equally as impressive as its outer shell, and the highly professional staff offer exceptional service. The hotel features a top-class restaurant, state-of-theart fitness center and the world-famous Bliss spa, while the sleek Eclipse bar will have you ready to hit the town. With the beach in front and Barcelona behind, W Barcelona is the stylish way to enjoy luxury in the Catalan capital.
TOP SUITE EXTREME WOW SUITE
Why we love it: The Extreme WOW Suite represents the pinnacle of luxury in Catalonia's capital city. With 360-degree wraparound floor-to-ceiling windows offering stunning views of the city and the Mediterranean Sea, and a private 635-square-foot terrace from which to enjoy the sunset, guests are sure to be as impressed by the quality of the view as they are by the exquisite facilities. With the suite conceptualized by Ricardo Bofill and featuring three luxury bedrooms in addition to the spectacular master bathroom, complete with two sinks and a rainfall shower with frosted glass doors, as well as a Hammam, bidet and elliptical bathtub, comfort and style are never in question. A full home entertainment system with mood lighting and a Bang & Olufsen sound system ensure you will never be left wondering how to pass the time as you enjoy the spectacular luxury of the W Barcelona's most exclusive suite.
Square footage: 3,174
Nightly rate: $10,800
MANDARIN ORIENTAL
Opened in 2009, the Mandarin Oriental has already established itself as one of Barcelona's finest hotels.
Situated on the Passeig de Gràcia, Barcelona's most exclusive shopping avenue, guests are perfectly placed to take advantage of all the city has to offer. The Mandarin Oriental scores top marks for comfort and service, and the rooftop swimming pool terrace allows you to take a refreshing dip whilst gazing at one of the world's finest cities. In addition to a bar, exclusive rooftop terrace, atrium and the artistically landscaped Mimosa Garden, the hotel has its own gourmet restaurant which serves fresh Catalan cuisine. The Mandarin Oriental boasts its own luxury spa and also has generous meeting and conference facilities to satisfy even the most demanding business guest.
TOP SUITE PENTHOUSE SUITE
Why we love it: Occupying the top floor of the Mandarin Oriental, the Penthouse Suite is a cut above the rest in terms of sumptuous luxury and relaxing comfort. The suite's stunning balcony offers a superb view over the bustling Passeig de Gràcia, and is decked out with comfortable couches, making it perfect for a quiet drink while watching the sun set over the Barcelona skyline. Designed to offer the utmost privacy, the suite's two bedrooms are separated by a corridor, with the master bedroom featuring its own separate private living room, terrace, dressing room and exquisite bathroom with designer fittings and a full size spa bath. The second bedroom comes complete with an ensuite bathroom and guest powder room. The suite also features a personal dining room and a 24-hour butler service, to ensure that all needs are catered for, at any time of the day or night.
Square footage: 2,542
Nightly rate: $6,890
Paloma Aldalgo
+34 93 151 8000
Passeig de Gràcia, 38-40
GRAN HOTEL LA FLORIDA
The Gran Hotel La Florida, a beautifully restored haven situated 500 meters above Barcelona, provides guests with an oasis of calm in Spain's most fashionable and fast-paced city.
From its lofty location, the hotel offers breathtaking views of the Catalonian capital and the sparkling Mediterranean beyond. The design is equally grand, a sophisticated blend of art, style, and architecture which gestures to the glamour of the 1950s, and a time when the hotel was a favorite of the jet set. Despite its five-star luxury, the atmosphere is one of intimacy and warmth. With just 70 rooms, a glowing hearth in the lobby and sleek, hardwood floors, Gran Hotel La Florida gives the impression of a stylish private residence, enforced by discreet and intuitive service. Downstairs is a world-class spa designed to soothe and relax, while eclectic restaurants enchant even the most fastidious foodie with gourmet cuisine and outdoor terraces. Located just 15 minutes from the city center, this timeless five-star Barcelona hotel offers the best of both worlds for those seeking all that Barcelona has to offer, but who also value peace and respite.
TOP SUITE PRESIDENTIAL SUITE
Why we love it: This spacious suite, bearing all the hallmarks of meticulous design by the legendary Cristina Macaya, boasts two bedrooms and two Macael white marble bathrooms, allowing guests to relax in complete luxury high above the city. With its own private lounge area, complete with grand arched windows leading onto an exclusive terrace with a Jacuzzi, dining area and sun beds, and sweeping views of Barcelona and the sea beyond, the Presidential Suite is the perfect place to experience a Barcelonan dream.
Square footage: 2,141
Nightly rate: $2,140
Andreu Canals, General Manager
+34 93 259 3000
Ctra Vallvidrera Al Tibidabo 83-93
ABAC
With just 15 rooms, ABaC is a more intimate hotel than many of its competitors.
It is situated in the building that formerly housed the United States Consulate and is widely regarded as one of the most elegant concept hotels in Europe. ABaC's unique blend of styles and intriguing design certainly make it a standout destination, with elegant and soothing cream and off-white shades providing a feast for the senses as soon as you have crossed the threshold. The lounge area and rooms are exquisitely decorated, with sumptuous drapes by Gastón and Daniela and sublime velvet upholstery, which provide the hotel with an air of unrivaled elegance. The hotel boasts world-class facilities including a Zen garden and prestigious spa, and security services are extensive, with a proximity card access system that ensures utmost peace of mind.
TOP SUITE PENTHOUSE SUITE
Why we love it: ABaC's Penthouse epitomizes luxury in keeping with the principles the hotel was founded on. The bathroom juxtaposes white limestone tops with beautiful Corian walls and features rainfall-effect showers with large sprinklers and a personal selection of Hermès cosmetic products for men and women. The suite also features a Jacuzzi, living room and dining area.
Square footage: 968
Nightly rate: $655
José Mª González
+34 93 319 6600
Avinguda del Tibidabo, 1
MAJESTIC HOTEL & SPA
A prime location is combined with utmost luxury at the Majestic Hotel & Spa, where guests discover a paradisiacal retreat in the heart of the city.
Situated on Passeig de Gracia in the center of Barcelona's shopping district, the Majestic is located close to the city's famous Gothic Quarter and just yards from Las Ramblas, one of Europe's most famous shopping streets. However, to experience fine dining and evening entertainment, guests are not required to leave the hotel, as two gourmet restaurants and three luxurious bars are on site. A luxurious spa service enables you to indulge in one of the luxury body treatment packages on offer, while the rooftop swimming pool and terrace is the perfect place to wile away a few hours in the sun. For those who prefer to bask in artificial illumination, the hotel also features a solarium.
TOP SUITE PENTHOUSE SUITE
Why we love it: Voted Europe's top suite in the 2007 World Travel Europe's Awards, the Penthouse Suite combines elegance with outstanding service and comfort. Featuring two private terraces with incredible panoramic views of Barcelona, the suite effectively includes two separate apartments; Penthouse "Paseo de Gracia" and the Penthouse "Sagrada Familia". Each suite is luxuriously fitted with top-ofthe- range amenities and contains a private living room, marble bathroom and master bedroom. Each apartment has a private Jacuzzi as well as an exclusive home entertainment system, with flat screen televisions in every room, even in the exquisitely fitted Philippe Starck bathrooms, which come complete with hydro-massage bathtubs and Bulgari beauty products. Daily champagne and canapé receptions guarantee guests an elite experience whilst staying in the Penthouse Suite, one of Barcelona's most exclusive retreats.
Square footage: 3,230
Nightly rate: $6,700
Gemma Ravasi
+34 93 488 1717
Passeig de Gracia, 68
HOTEL CASA FUSTER
Situated in the heart of the city, Casa Fuster is one of celebrated Catalan architect Lluís Domenech i Montaner's most famous works.
The glorious modernist structure has been beautifully restored, allowing the hotel to offer a luxury service to rival any other. The hotel's reputation and place in Barcelona's history are practically unrivaled, with the Vienna Café once a spot where intellectuals would gather to debate and philosophize. The hotel's lavish Belle Époque-style rooms, stylishly decorated and tastefully equipped, have balconies overlooking the sought-after Passeig de Gràcia, while 11 lounges offer a sumptuous alternative to the privacy of your suite, allowing guests to read, relax and contemplate in peace.
TOP SUITE GRAND SUITE
Why we love it: The luxurious Grand Suite is the finest Casa Fuster has to offer, and is sure to more than satisfy even the most demanding of guests. The suite consists of two bedrooms and two exclusive lounge areas, providing guests with ample space to relax, and each bedroom boasts its own fully fitted bathroom equipped with a hydro massage bathtub. The suite is beautifully finished off with a balcony overlooking the stunning Passeig de Gràcia below.
Square footage: 1,045
Nightly rate: $3,220
Ferran Rojo, General Manager
+34 93 255 3000
Passeig de Gràcia, 132
CLARIS HOTEL & SPA 5*GL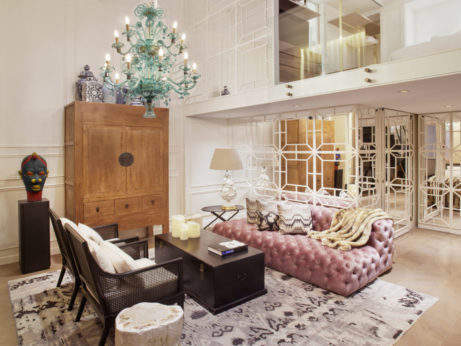 In addition to its luxurious five-star facilities and award-winning spa, the Claris' location in the heart of the fashionable Eixample neighborhood makes it one of Barcelona's most sought after hotels.
Situated just yards from the emblematic Passeig de Gràcia, guests are perfectly placed to appreciate the many delights the Catalan capital has to offer, such as top class dining and vibrant nightlife, within easy reach. Occupying the Palau Verduna, a majestic early 20th-century palace, the Claris features three excellent restaurants and a tapas bar for those who want to experience traditional Spanish cuisine cooked by some of the city's best chefs. A gym, sauna, swimming pool and solarium provide the ideal facilities to relax and recuperate, while the hotel's Egyptian museum is a unique touch where you are certain to learn something new.
TOP SUITE SUITE DUPLEX
Why we love it: Straddling two floors and taking pride of place at the Claris, the Duplex Suite features a dining room, bathroom, sauna and dressing room on the lower level while the upper floor houses an open-plan master bedroom complete with king size bed and bathroom. The suite's décor is a tasteful blend of styles from different cultures, combining old with modern and European with Asian to create a truly unique environment.
Square footage: 580
Nightly rate: $3,970
Jose Luis Fernandez, General Manager
+34 93 487 6262
Pau Claris, 150
HOTEL ARTS BARCELONA
Considered an icon of modern-day Barcelona, Hotel Arts' waterfront location affords stunning views of the Mediterranean Sea or city skyline from every room.
Also a choice culinary destination, the Hotel Arts is home to two Michelin-starred chefs: Paco Perez's Enoteca restaurant offers a true gastronomic experience, and Sergi Arola's trendy Arola serves cutting-edge tapas. Located on the 42nd and 43rd floors of the hotel, The Spa by Six Senses embodies the spirit of urban elegance combined with the serene Mediterranean vibe that is typical of Barcelona. The 455-room hotel also features 28 luxury duplex apartments that occupy the top ten floors of the 44-story structure.
TOP SUITE THE arts suite
Why we love it: Located on the 30th floor, on the Club level, this elegant one-bedroom hotel suite occupies the entire seafront facade of the hotel. The crowning glory of this suite is the view. Wrap-around windows look out onto breath-taking, panoramic views of the Mediterranean sea and the marina, which you can enjoy throughout the suite. The suite has a contemporary look and feel, with interiors specially created for the hotel by Josep Juanpere of GCA Architects Barcelona. There is also a lounge area with a cosy fireplace, a dining room with an open bar and separate kitchen area, and a spacious bathroom with dressing room, separate rainshower and bathtub. All the exclusive services of the Club are included.
Square footage: 4,305
Nightly rate: $9,000
HOTEL OMM
Hotel Omm is situated in the heart of Barcelona, just off Passeig de Gràcia.
The hotel is a family-owned enterprise and was founded by the Tragaluz Group, which has been bringing its own unique ethos to the world of hospitality since 1987. Hotel Omm was opened to the public in 2003, combining culinary excellence with high-quality hotel facilities, and has rapidly taken its place as one of Barcelona's finest establishments. In addition to sought-after rooms and suites, Omm also hosts two restaurants, a bar and a nightclub, which draws in a vibrant young clientele all year round. A luxurious spa with exceptional natural light is also top on the list of Omm's attractions, and you can experiment with one of the hotel's personalized relaxation treatments, guaranteed to make your stay a soothing one. The spa makes a point of exclusively using organic health products, so you can be sure that your beauty treatments come from an entirely natural place.
TOP SUITE SUITE PASEO DE GRACIA
Why we love it: This exquisite suite's master bedroom comes equipped with a king size bed, while the separate work and relaxation area features a sumptuous sofa and work desk, allowing you to keep abreast of business matters during your stay. Ample natural light combines sublimely with the thoughtfully decorated interior, and guests can gaze at the view of Passeig de Gràcia below, a constant reminder of the hotel's proximity to the best that Barcelona has to offer.
Square footage: 646
Nightly rate: $1,827
Jordi Maestro, General Manager
+34 93 488 4000
Rosselló 265