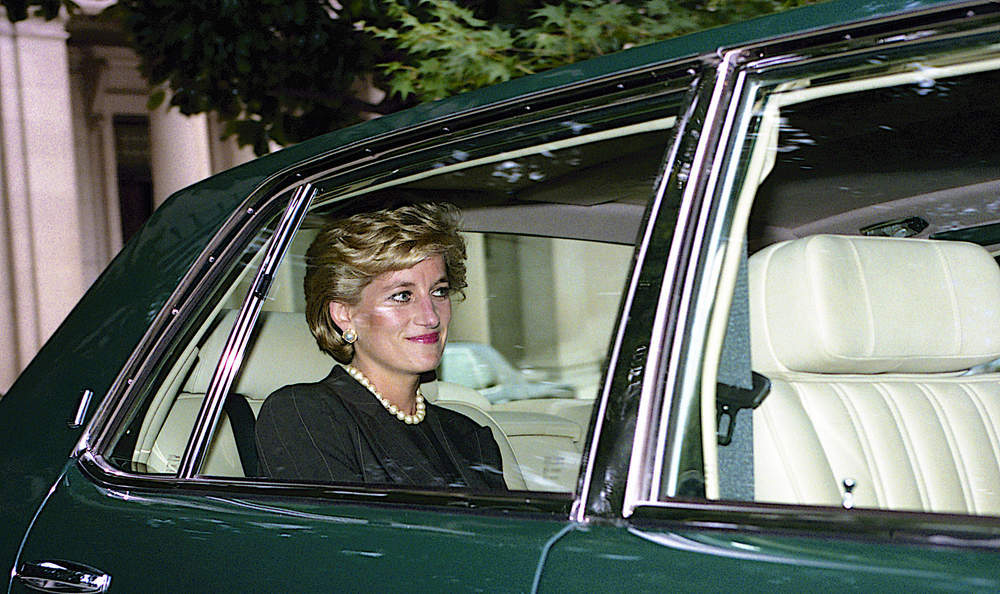 Sculptor Ian Rank-Broadley, responsible for the Queen's effigy used on British coins since 1998, is going to create a new statue of Princess Diana.
The piece will commemorate 20 years since Diana's death and will be unveiled in January next year, intended to be installed in the public gardens at Kensington Palace.
Diana already has a memorial in London, a 210 metre long fountain in Hyde Park, built in 2004.
In a joint statement Princes William and Harry said:
We have been touched by the kind words and memories so many people have shared about our mother over these past few months…Ian is an extremely gifted sculptor and we know that he will create a fitting and lasting tribute to our mother.
The Duke of Cambridge and Prince Harry are pleased to announce that they have chosen Ian Rank-Broadley as the sculptor to create the statue of their mother Diana, Princess of Wales. pic.twitter.com/bvHIH80yMF

— The Duke and Duchess of Cambridge (@KensingtonRoyal) December 10, 2017
While being immortalised in stone or bronze was previously an honour reserved for war heroes and historical figures, there are now numerous cultural icons whose likeness' have been erected all over the world.
Ranging from the gaudy to the bizarre, often these works lack the grandeur of historical pieces, though for many they offer a welcome tribute to those whose impact is still felt in their field.
Verdict takes a look at some of the weird and wonderful sculptures made in honour of cultural icons
Freddie Mercury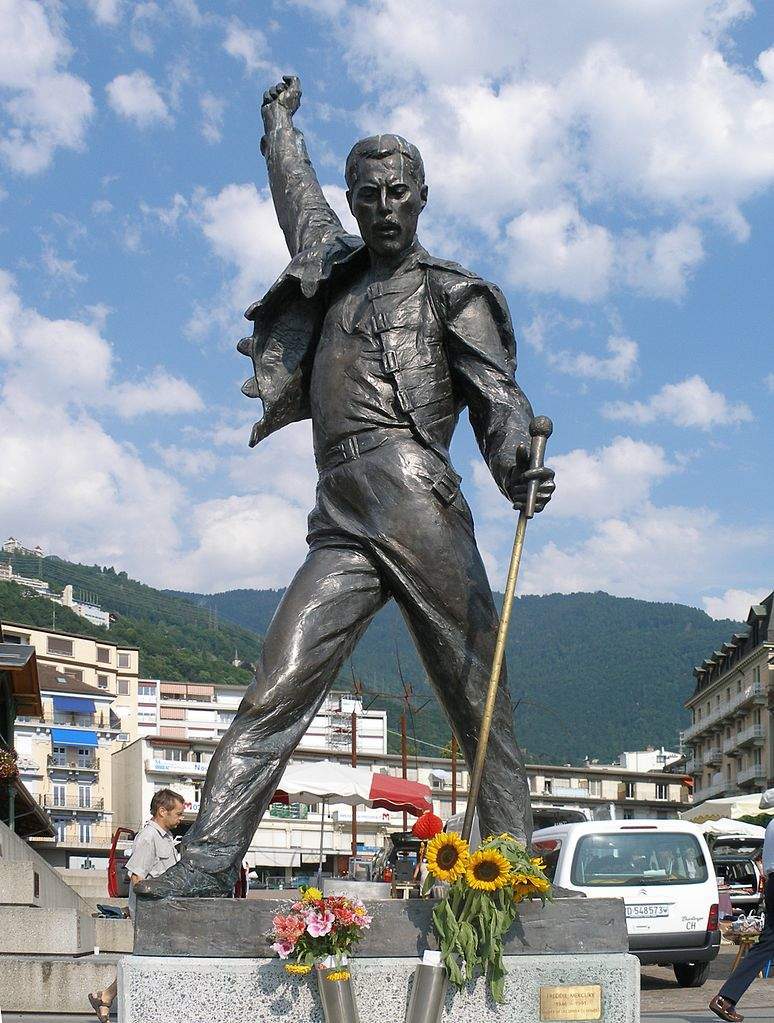 After the frontman of Queen's death, a 10 foot bronze statue was built overlooking Lake Geneva in Switzerland.
The area chose to commemorate the singer as the band recorded their last album 'Made In Heaven' at the Montreux studio and Mercury once said:
If you want peace of soul, come to Montreux.
Michael Jackson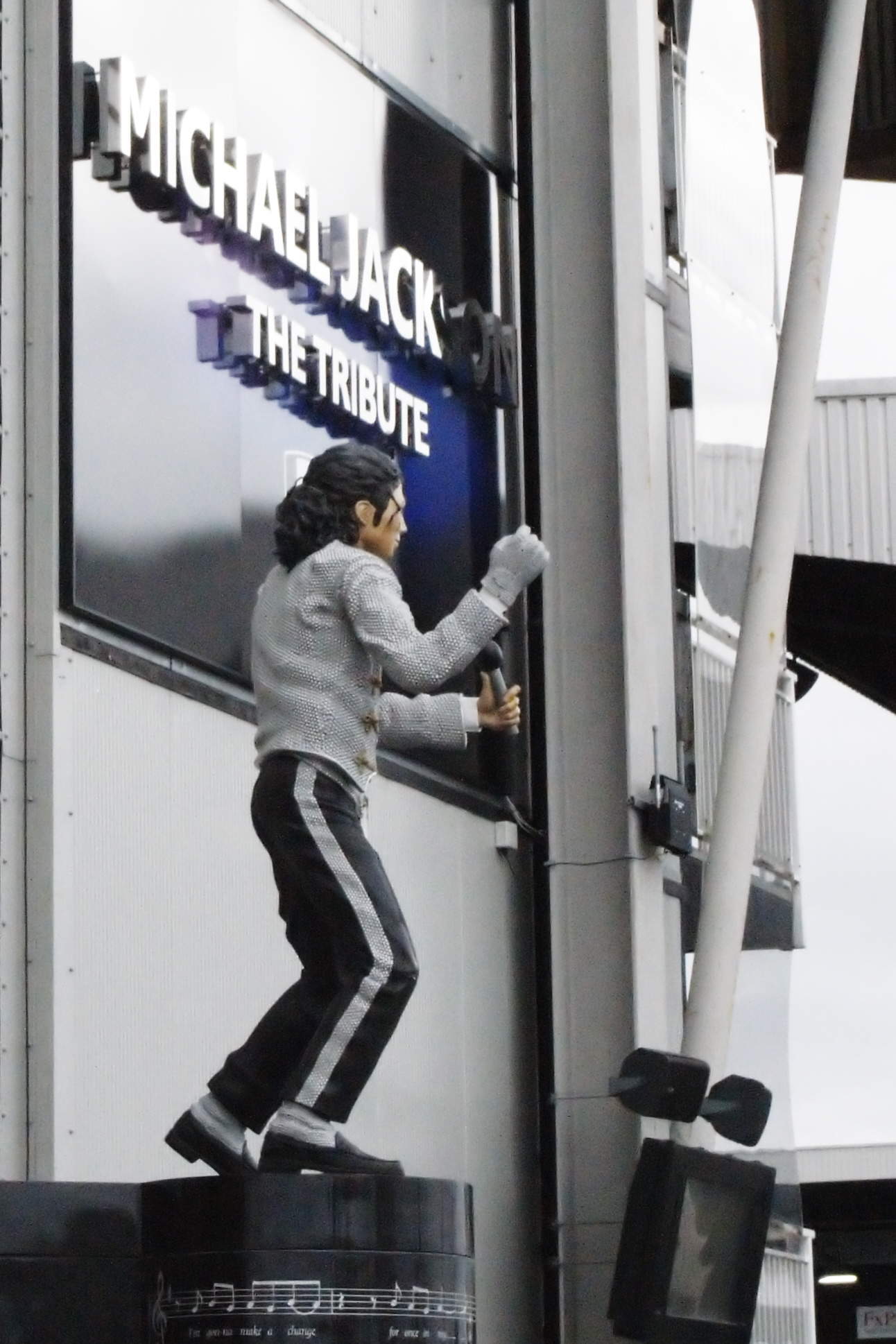 This 7.5 foot statue was commissioned by Michael Jackson's friend and chairman of the Fulham Football Club, Mohamed al Fayed.
His original plan was to have the piece inside Harrods in Knightsbridge, however after it was rejected from the department store it was placed in front of the Fulham football ground in 2011.
Its unveiling received mainly negative comments, with some criticising it for being inappropriate for a football stadium, and others calling it kitsch.
However Al-Fayed rejected such comments, saying:
Football fans love it. If some stupid fans don't understand and appreciate such a gift they can go to hell.
Dolly Parton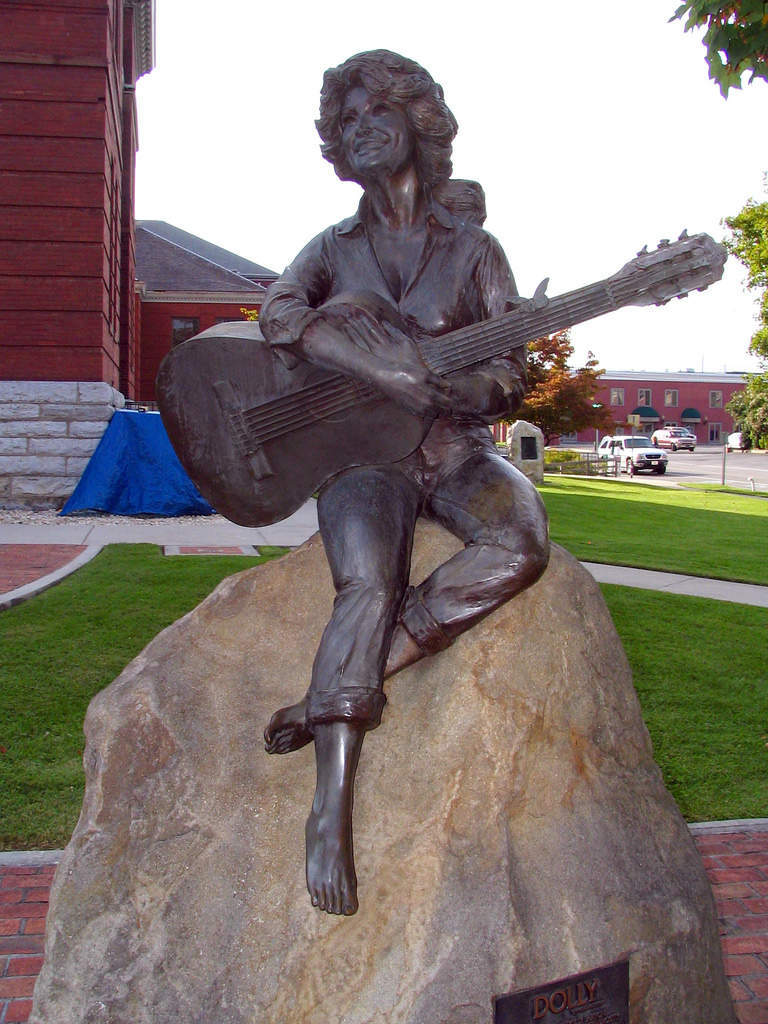 A life-size bronze likeness of the singer sits outside the Sevier County Courthouse in Sevierville Tennessee, her hometown.
Created by Jim Gray it was unveiled by Parton in 1987 and was intended as a tribute to how she used her fame to give back to her hometown over the years.
It is part of a 28-stop walking tour of Sevierville and leads on to the Dollywood Theme Park.
Amy Winehouse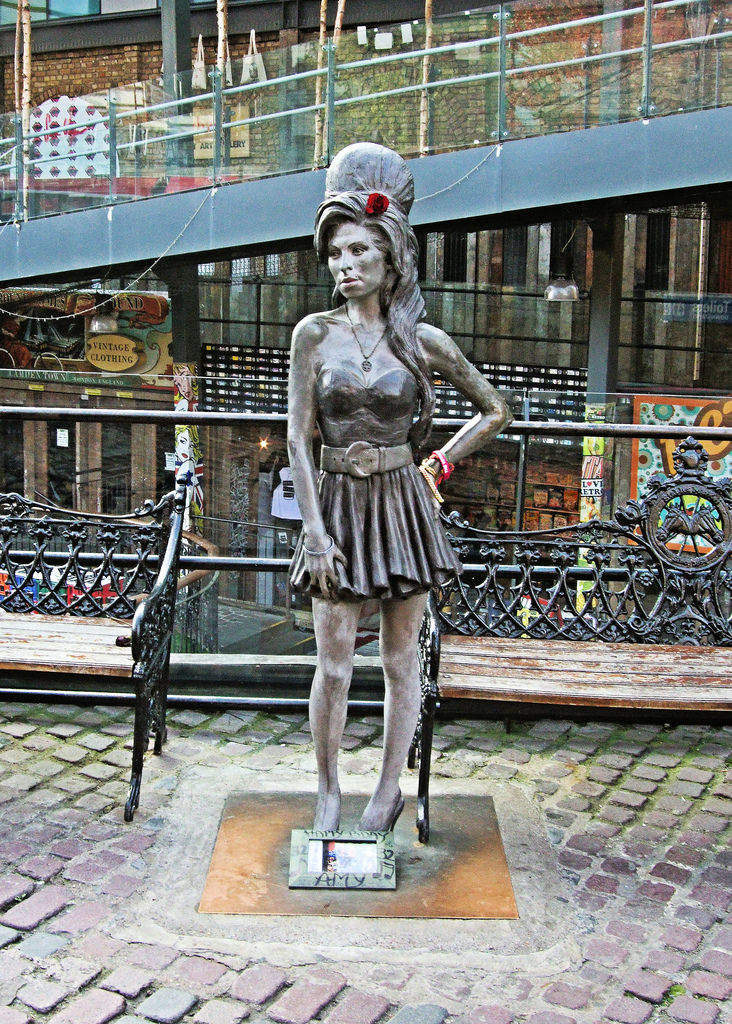 Created by Barbara Windsor, a friend of Winehouse's, the statue was unveiled in 2014 to hundreds of fans on the day that would have been the singer's 31st birthday.
It is located in the Stables Market in Camden Town, London and shows the singer with her signature beehive hairstyle and a star of David necklace.
Windsor said:
Amy loved Camden with a passion and Camden loved her so it's only right her presence should remain here.
Bruce Lee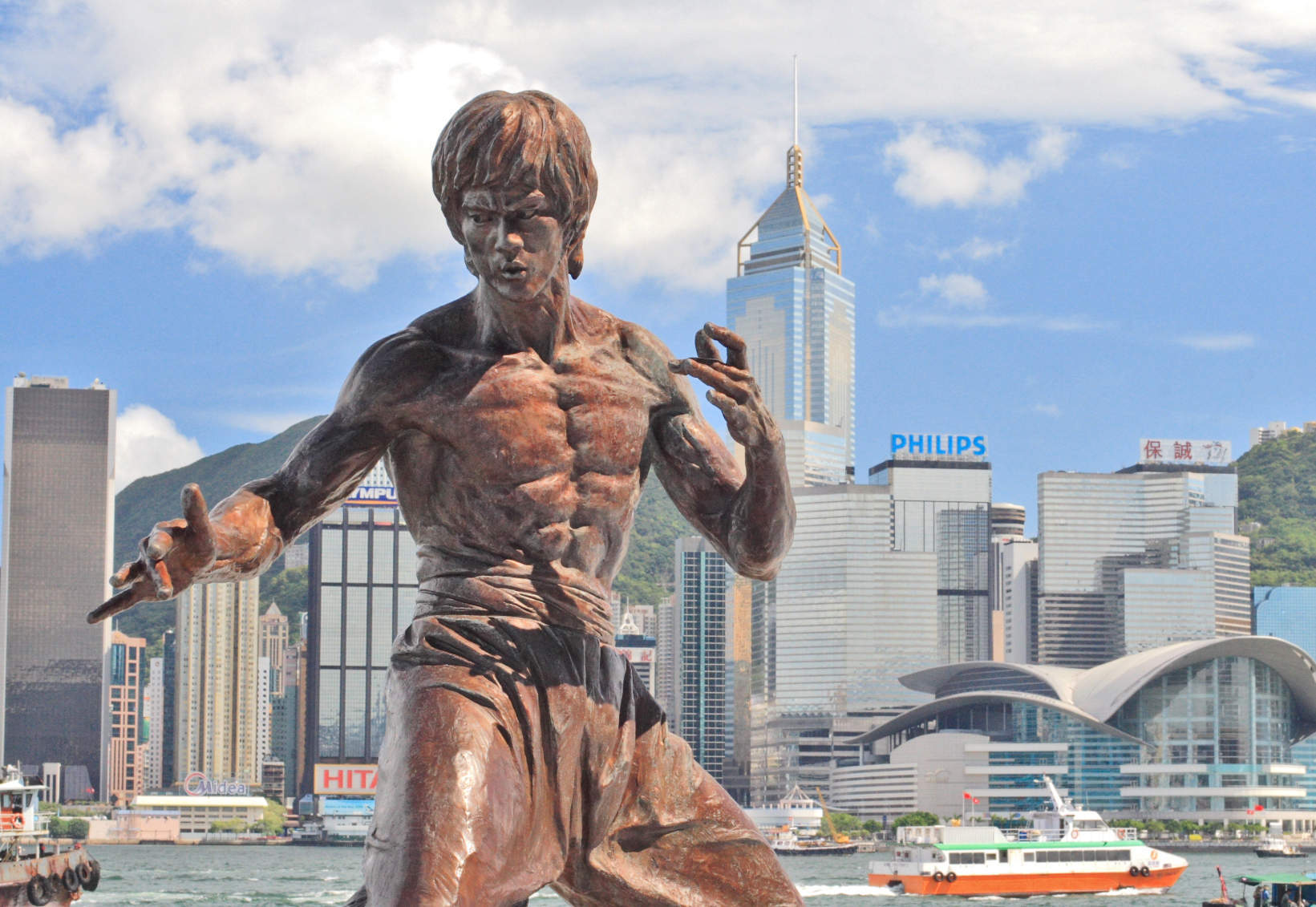 This memorial statue was built in 2005 on Hong Kong's Avenue of Stars (equivalent to Hollywood's Walk of Fame).
The money for its construction was raised by Hong Kong-based Rubão Fan Club, paying for artist Cao Chong-en to make the 2.5 metre bronze figure.
It shows Lee as he appeared in the 1972 film Fist of Fury and was unveiled on what would have been Lee's 65th birthday.